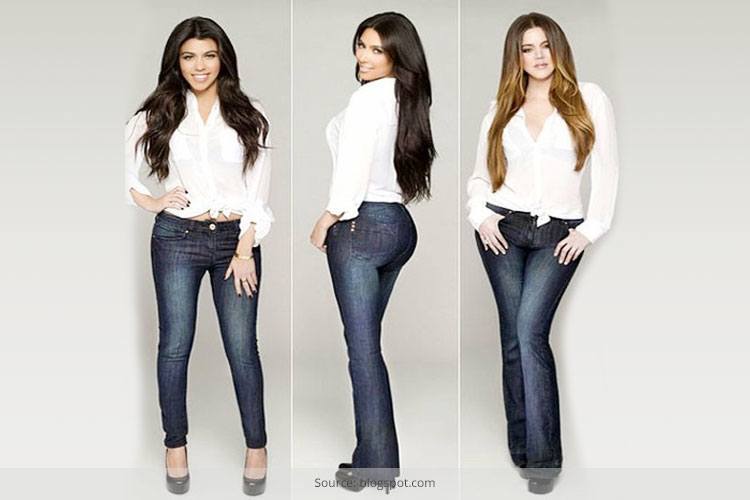 If you're a curvy woman who loves wearing jeans but are a little lost when it comes to picking the right one for you, then this article is for you. Whether you're skinny or curvy, there are some style tips to keep in mind when wearing denims. You need to wear jeans that flatter your body type. Jeans can make you look really good, provided you take the time and effort to find a pair that work well for you.
Colour and Wash
Opt for darker shades and try to steer clear of all the fancy "washes" that are available. Washed out or shaded jeans tend to emphasize certain parts of the figure, which often times is the part that you don't particularly want to call attention to. So you're best bet would be to stick to dark solid colours without any fancy washes or patterns.
Fit
Always, always ensure that your jeans fit well. While loose jeans will make your figure look shapeless, overly tight jeans could result in bulging and result in the much dreaded 'muffin top' scenario. A mistake that most women make is to stick to jeans that they've grown out of. If your jeans are a tad too tight, then it is time to move to the next size. Being in denial is not the way to go. In the end, when people look at you all they will see is how well your jeans fit you and not the size of your jeans. So let go of all your hang-ups with size and hunt for jeans that make you look good.
Straight cut jeans are a great option for curvy women. The problem with skinny fit jeans is that it tapers near the ankles which can end up making you look heavy around your waist and derrière. In contrast, straight cut jeans offer a more balanced silhouette.
[Also Read: Denim on Denim]
Tops
Pt for tops that hug your curves and show them off to their best advantage. This includes peplum tops, empire-waist tops, and any other fit that you think looks good on you. A common mistake that most women make is to opt for loose fitting tops in the hope that it will hide their curves. But the problem with this approach is that a loose-fitting top will end up making you look shapeless and flabby. So instead of trying to hide or camouflage your curves, embrace them and celebrate them by wearing tops that show them off in the right way.
[sc:mediad]
Accessories
Consider wearing a blazer or a shrug to add some layer to your clothing. This will help add some dimension to your look and will break the focus from being entirely on your jeans. As far as shoes are concerned, opt for low heels that give you a good posture while at the same time being comfortable. Not only will high heels start hurting your feet in a couple of hours, they have the added risk of enhancing your curves a little too much, making you look overly curvy. So stick with low heels to play to your strengths.
[Also Read: Tips on How to fold Denims the Right Way]
When it comes to fashion and clothing, the first thing to keep in mind is to dress for your body type. In order to do that, you need to take some time to learn what works for your frame and structure and then adopt the fashion trends and styles to suit your body. As for denims, they are a staple in every woman's wardrobe which makes it all the more crucial that they fit well and look good on you. We hope this article has helped shed some light on how to wear denim for the curvy woman. Be sure to keep these styling tips in mind when you go shopping for jeans the next time!