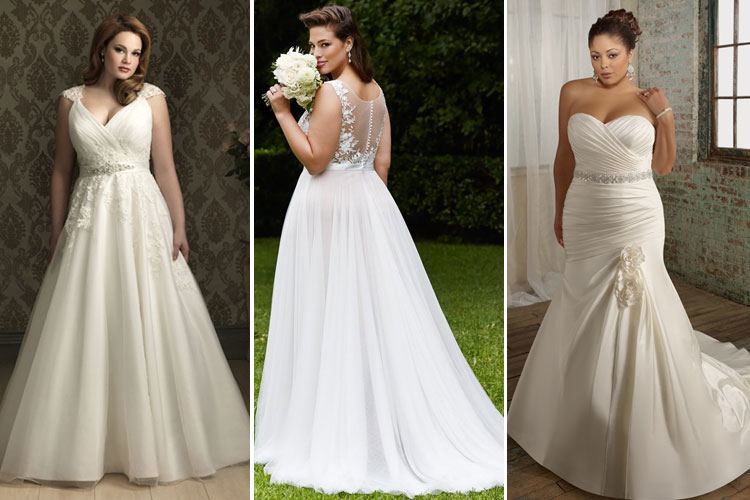 Congratulations to the young ladies who are about to tie the knot. But there isn't any need to panic if you are looking for a plus size wedding dress. Before we take you through the do's and dont's of shopping for a plus size dress, remember not to do online shopping in this case. After all, when you are getting ready for the big day in your life, wouldn't you want to personally check out the size dimensions, the fittings etc. in your bridal dress. Now get a glass of water or some lemonade and cheer up as we take you through the selection tips of plus size wedding dress.
Basics of Plus-Size Wedding Dress
Whenever you are on a shopping spree for a wedding dress, it is important to know the basics. Whatever the size be – plus or plus plus, a bride should go for a wedding dress that accentuates her beauty (can't be contours in this case!) and hides her flaws.
So to get a dress that can do both the functions, it is essential for a bride to evaluate her wedding dress style, fabric, and colour. Here are the fundamental parameters that a bride needs to consider while choosing the bridal gown that would fit her well.
Plus-Size Wedding Dress Styles
Style matters a lot when it comes to picking a wedding dress for plus sized bodies. We outline here the most common wedding dress styles that are most flattering for plus-size brides.
Ball Gown
This type of gown has wide flowing skirts. They are fitted at the waist area and then flow out into an elegant looking skirt. In fact, ball gowns are seen to be the most traditional types of wedding dress. No wonder they are most flattering for brides who tend to have wide hips or larger legs as they camouflage them well while keeping the classic silhouette intact.
Empire Waist
This kind of bridal gown is fitted just underneath the bust line. Though they have long and flowing panels, they are not ideal for the plus-size bride as they can accentuate the stomach and hips giving you plump look. Yet if you as a bride insist on buying empire waist dresses, then by all means avoid thin or stretched fabrics.
[Also Read: What To Wear Under A Wedding Dress]
Sheath
Sheath dresses do not have a separation panel between the torso and the skirt. They are made of several vertical fabric panels. Since they can overemphasise the hips, stomach, and legs, they are generally recommended.
A-Line
An A-line wedding dress has a narrow neckline that widens into a full skirt. They are mostly referred to as natural waistline gowns. The best thing about them is that they flatter the plus-size brides with hourglass figures.
[sc:mediad]
Dropped waistline
Dresses with dropped waistline fit the hips and flare far below the natural waistline. They are ideal for brides who do not have wide hips.
Choosing the Fabric
Next to style is the fabric when it comes to choosing a wedding dress. It's the fabric that largely determines how the dress would fall on the body and whether it will be able to camouflage the bride's flaws.
Silk
It is a beautiful, lustrous fabric used for bridal gowns. Since silks are heavy, they are ideal for fall and winter weddings. Lightweight silks go well for spring and summer but may not be perfect for plus-size women.
Chiffon
Since chiffon is lightweight, it is a good choice for spring and summer weddings and go well on plus-size women.
Lace
Lace is an all-time classic wedding dress fabric. It flatters most women's bodies as it helps camouflage the problem areas well.
Satin
This is a high-sheen fabric that's generally comfortable and can be flattering on a plus-size bride.
Polyster
While polyester dresses are comfortable and go well with women of all body types, as a fabric they don't breathe well and may not be cut out for spring and summer weddings.
Organza
Organza is largely used as a secondary layer when it comes to a bridal dress. Since it is not an elastic fabric, it may not be ideal for a plus-size bride.
Choosing the Costume Colour
While white is the classic colour for Christian brides, it might not go well with other communities. This is why off-white or cream dresses are suggested in order to camouflage the plus sized body contours.
Choosing the Neckline
A high neckline might look unflattering. The plus-size brides should avoid wearing too low necklines that may reveal cleavage. A scoop neck or sweetheart neck gown is tasteful for bust line of plus sized brides.
[Also Read: Wedding Guests Dress Ideas]
Choosing the Sleeves
Now this is where the conflict comes in, particularly for those ladies who are keen for strapless gown. Those brides who have extra heavy arms or upper backs should go for gowns with straps or sleeves. In fact, plus-size brides should avoid wearing sleeves with puff out at the top. Brides who want to choose full-length sleeves should see to it that they fit close to the body and are not tight enough.
Buying Tips for Plus-Size Wedding Dress
Keep the following things in mind while going for bridal dress shopping.
1. Know Your Body Shape
As a bride, make sure you know whether you have square, pear, apple, or hourglass figure. Those with pear and hourglass figures look good in A-line and dropped waistline dresses. However, those with square or apple figures look best in ball gowns and empire waistlines.
2. Keep some time out for Alterations
Don't make the mistake of buying a wedding dress at the last minute. Leave at least two-three months gap between the purchase of a dress and the wedding date. This gives room for dress delivery, initial fitting and trial, and subsequent alterations, if any.
3. Go for Comfort
While most brides-to-be spend long hours shopping for their wedding dresses, it's equally important to be comfortable in them. Therefore, go for a style and fabric in which you can move around comfortably.
Let's look at some plus size wedding dresses:
This plus size wedding dress is marvelous. The V-neck with lace gives a beautiful structure to the body and shoulders. The A-line dress falls well making the hips look smaller than they actually are.
If you have broad shoulders and want to minimize skin show, then this plus size dress style that has lace over the shoulders and an intricately embroidered bodice is what you need. To add to the elegance are the ruffles on the A-Line dress.
If you are one of those who love to show off their upper body, then this satin plus size wedding dress will melt your heart. The applique work, bead work and embroidery makes this ruffled dress unique in its own way.
Here's raising a toast to plus size wedding costumes. Remember, you have to feel both comfortable and confident in wearing it, never mind the oversized dimension of the dress. After all, good things come in big packages too!