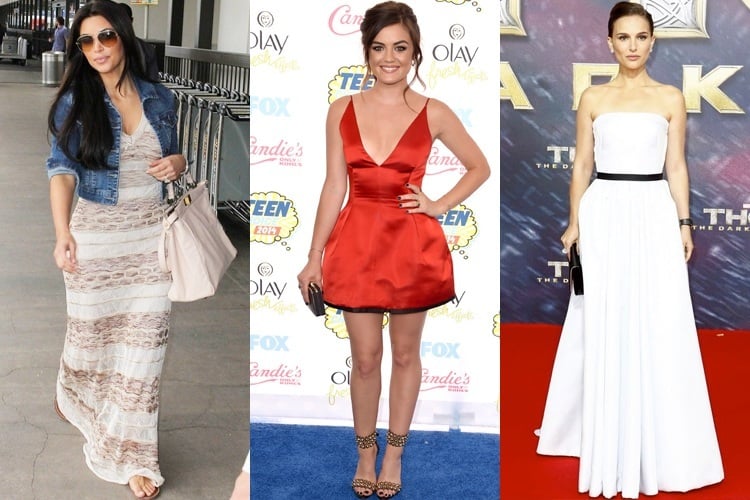 I am just 5'3" and I shamelessly confess that I have once spent hours dressing up in front of the mirror to look a little taller than what I am. I have been leafing through the pages for style magazines, collecting advices from our fashion icons who are no better than me in the department of height. I was in fact surprised that many of our Hollywood celebrities are shorter than me, but it is their impeccable styling that creates the magic.
Below are some of their style tips which I have been religiously following over the last couple of years.
Let's start on fashion for short women
1. Swear by Monocrome
By limiting your outfit to a one or two colors, like what Selena has done here, you can easily create an illusion of an elongated silhouette. This would add some height to your appearance, though not your body. If your outfit showcases a galore of colors, you silhouette gets a blocky appearance and looks fragmented.
2. High Heels are Your Bestie
Apart from the 4 besties she hangs out with in her popular show, Pretty Little Liars, Lucy Hale a.k.a Aria never misses to wear those high heels. They might not be the most comfortable things to be in, but they sure help you in looking a tad taller than what you are. As, the old saying goes, No Pain – No Gain! But the good news here is, high heels come in a variety of choices. If you are a beginner you may try on platforms. Block heels are also comfortable enough to be worn the entire day to office. Before you ace rocking the stilettoes, try practicing with kitten heels.
3. High Waists are for You
The next on our outfit ideas for short women are high waists. Yes! Be thankful they are back in fashion! Because nothing can cheat a false height like a pair of high waist denims. The high waist jeans would make your legs look longer and slender. Get the perfect cut according to your body type and wear it with a statement blouse. Ariana Grande looks slimmer, taller and not to mention cuter in her high waist jeans with she has teamed up with matching full sleeve sweater and heeled pumps.
[Also Read: How to Wear High Waist Denims]
4. Go for Maxi Dresses
The maxi dress is a must in the closet of every girl with a shorter height. Who would guess that Kim Kardashian is just 5'2", from this look of hers? The maxi dress works perfect for shorter silhouette as it lends a willowish appearance to your figure. But when I say maxi dress I would also suggest that avoid too much flare or pleats in your dress. Too much of pleats or flare would make you look broader, and cut down your height.
5. Get The Right Fit Or Fit-It
Mila Cunis shows you what to do right when you pick up pants for yourself. If you are a short girl, you have to embrace really well-fitted pants. Boot cuts or bell bottoms can eat up those inches from your look.
6. Pick up Slimmer Belts
Choosing the write belt is a risky business, more so if we are vertically challenged. Though accessorizing a plain dress with a stylish belt can never fail you, using a broader belt can just divide your entire figure into two halves, not in favor of your shorter body. Our Hollywood stars opine, it is always better to wear a tiny belt as compared to a broader one. Stick to a slimmer belt that will serve the purpose and yet not hamper our effort of looking taller.
[Also Read:  African Street Style]
7. Darker the Better
Wearing dark colors will make your entire body look streamlined and sleeker. Dark colors also help you in hiding any extra flab that you might have on your waist or tummy, and in turn makes you look slimmer. Slim people actually look taller than they are. Thus, the trick is done!
8. Solids Won't Ditch
Who doesn't love to go floral or polka? But if you are going to attend a special party or event, it is always preferable to stick to solids. Prints according to their density, range of colors, size of prints, can make or mar your entire look. At times busy prints end up highlighting your problem areas more. Solids, on the other hand, will always land you in a safer corner. You will thus see most of our Hollywood stars sticking by solids in award functions, especially if they struggle with their height.
[sc:mediad]
9. The U/V neckline
Dresses or tops that are styled in a V neck or U neck help girls with petite height in getting a comparatively taller look. Broad collars are as it is not in fashion and turtle necks won't be a too flattering to your body type. A deep V neck will add sexuality to your look, covering up for the shorter size. So, don't shy from this tip on fashion for short women.
10. Avoid Over Size
Yes, our stars too go wrong. And more than often, just to go with the fashion flow they just mess it up. Like Lea Michele did it here, totally. Large bags are in vogue, but you need to understand your body type before you surrender to any particular trend. Get your bag that is in proportion to your height. Carrying an oversized handbag can be a trouble to handle and make you look messy. Of course it will draw people's attention to the fact that you are too small for that huge purse you are showing off!
11. Say 'NO' to Crops
I am sorry to be this blunt, but neah….crops are not for us. Neither tops nor pants. Cropped outfits create an appearance of thicker bodyline or legs. But if you really want to buy that cute crop top you saw at the mall last weekend, try to team it with a high waist well fitted pair of bottoms. Crop pants or pants that end just above your ankles won't do much for you. You would rather go for pants that cover the most of your footwear and add proportion to your legs, making you look taller.
But one accessory that you just can't afford to leave your house without is your confidence. And the best thing about it is – you don't have to go to the store to buy it or pay a single penny in exchange. You have it in you and in abundance. Remember girls, nothing works to give you a higher stature than you taking pride in yourself and displaying your smile confidently.
Hope this article on fashion for short women, tips and ideas is helpful to you.