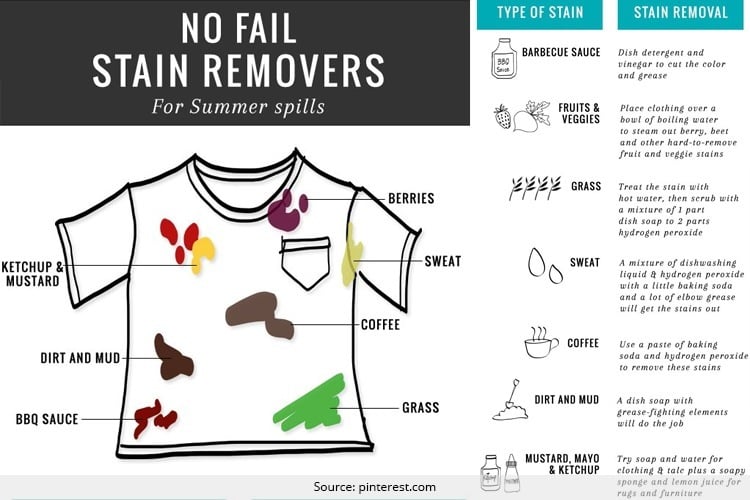 Coffee, curries, icing and more, these are stains all too stubborn that would ruin your expensive clothing. You may have spent a bomb on that red number, but at the party last night, the kid next to you bombed the look by spilling sauce (accidentally) on the hemline. It's a no-brainer here, where one should instantly dab the affected area in cold water to minimise the damage. However, later on is when the real deal of getting the stain out begins. You either need a professional laundry service to help you out, or forget wearing the sexy number again! Here are five easy-weasy hacks to remove various stains from your clothes with DIY methods. Read on and save a dress today!
[Also Read: Unusual Beauty Hacks]
Chewing gum and ice
The wonders of ice cannot be underestimated, especially with beauty, health and lifestyle. Yes, ice can help remove chewing gum stains too. Even if there was adhesive tape stuck to your clothing, the ice cube is what you'd need. Apply a cube of ice to the surface of the stain so that it hardens and then scrape it off with a blunt knife. Use a pre-wash detergent thereafter and rinse in cold water!
Rubbing alcohol and lipstick stains
We love to meet and greet, and shower kisses too. But what if someone's bright red lipstick sits ugly on your clothes? The pesky stain wouldn't just go away with water and detergent, now would it? This is where the role of rubbing alcohol, dabbed in a wet towel comes in handy. Dab a little and rub gently, the stain would be gone in a jiffy.
[sc:mediad]
Cosmetic stains
Hate it when your mascara or eyeliners smudge, and worse still when they happen to travel onto the collars of your shirts or tees too? Here's a hack to save that dress! A cup of dish detergent and two tablespoons of stain remover. Mix them well and apply on the affected zone, wash it off with cold water using gentle hand rubs thereafter. Stain gone and the dress is saved!
Nail polish stain remover
Toothpaste not only whitens your teeth and cares for oral hygiene overall, but it also helps with removing the pesky nail polish stains. The next time when you paint your nails, and by mistake touch your party dress, do not panic. Use a tablespoon of toothpaste over the dried-messed up area on the clothing and wash it off in warm water thereafter. The stains would be a thing of the past.
[Also Read: Top 5 Fashion Hacks ]
Food and spice stains
Very annoying to have a dab of mustard splattered over your whites and light-coloured clothing, which is why while cooking with mustard, you need to be very careful. Turn the fabric inside out to begin with, and use a pre-stain treatment lotion to soak into the affected area. Use hot water (a bucket) to which a cup of chlorine is added. Wait for an hour and then remove the garment from the water. If the stain still shows up, wipe it off with glycerine!
So, here were five easy ways to remove stains, and we hope you could share some more with us if you have stain removal hacks you've used in the past. Save that dress ladies, because we have the power to remove them all!