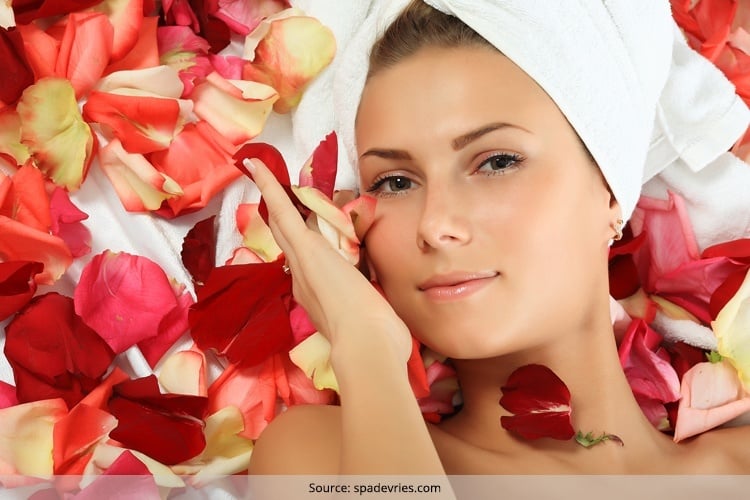 How do we know the winter days have come? Our skin tells us the stories, with itchy, dry, flaky and chapped skin. While we can layer up for warmth and hide the hideous signs of winter on dull and dry skin, can we do the same for our face? Would you wear a monkey cap all day long and party the evenings out, just to hide that dry chapped face? Why not work on it from now, and use rose face packs that can help bring back the glow and radiance?
The Benefits Of Rose

For every skin type, there is a rose face pack that can work like magic. For example, should you have very sensitive skin and wouldn't want to use commercial and conventional creams or face packs; you could use a mug of rose water to wash your face with.
[Also Read: Rose Benefits for Skin]
Sunburns too can be done away with, and redness as well, when rose water is used to bring down the inflammation and to tone the skin.
For winters especially, the dryness factor can be brought down since rose water or a rose face pack can help do the same.
Beat signs of ageing using rose face packs, since the flower has antioxidants in it which can defeat the onslaught of free radicals and the harmful UV rays of the sun.
[Also Read: How To Bleach Your Skin]
Finally, you could also get relief from the painful pangs of acne and pimples too, since rose water not only acts as a toner but also stops bacteria from growing and multiplying.
5 Face Packs That You Could Use And Bring Back That Radiant Glow
We've told you about the benefits of rose water and roses for our skin, so let's learn more about how to use rose face packs to bring back the glow and to keep the skin supple, soft and hydrated all through the winter days.
Rose Face Pack For Fairness
For PYTs who love their light skin and would like to maintain it as well, or for those who would like natural skin lightening treatments at home sans the use of bleach, a rose face pack for fairness is the answer. A cup of rose petals and half a cup of sour curd is needed to form a paste in the blender. Apply this paste on your face for half an hour- thrice a week. Wash it off under cold running water and then tone the skin with rose water.
Goodbye Tanned Skin
Fed up of the conventional creams promising to remove tans but not doing so? We hear you loud and clear. This is why we say, go natural and use rose packs made at home. For this recipe you would need a cup of rose petals, quart cup lime juice and a few pinches of turmeric powder. Mix them all well and let it sit in the freezer for half an hour. Just before your bath, apply the frozen mix on your face as you would a cream. Let it sit for half an hour and then wash off with cold water. Do this thrice a week.
[sc:mediad]
Tone, Hydrate And Moisturize The Skin
Very important as the first steps before applying makeup, and in addition to that, important as a regime to follow when the nippy winds blow. What your skin needs the most at the moment is a facial spray that would tone and hydrate it all through the day and night. For the same, what you would need is a handful of rose petals crushed into paste and immersed in two tablespoons of glycerine and a drop of lavender oil. Mix the ingredients well and keep it in a bottle in the fridge. Apply the pack on your face as you would a cream every night. Wash it off the next morning and watch how the skin beams with radiance.
[Also Read: Winter Creams]
Indulge In The Goddess Scrub
Fit for the fashionista goddess in you, the Goddess Scrub is a healthy face pack made from a cup of rose petals crushed into paste, half a cup of oats, a pinch of chamomile essence and a tablespoon of honey. Mix the ingredients well and apply the face pack for twenty minutes on your face. In circular motions gently scrub it off with cold milk, and use rose water as a final rinse. Do this thrice a week to remove dead cells and to keep the skin moist and supple all through the wintry days!
Rose Ice Facial Treatment
The Rose Ice Facial Treatment would be one of the best toning and skin tightening regimes for the facial skin, but that's not all- it helps moisten the skin and fights signs of ageing too. The simple recipe comprises a tray of cold rose water frozen into ice cubes. The ice cubes should be rubbed all over the skin for a couple of minutes, and left for another minute or two to seep through the pores. Women in Iceland for centuries have been using this formula, and results have shown skin healing and no chapping!
So we have shown you the various rose face pack benefits and how you could also conjure these five easy Homemade Rose Face Packs too. Do you have your own ideas to share? Write in!