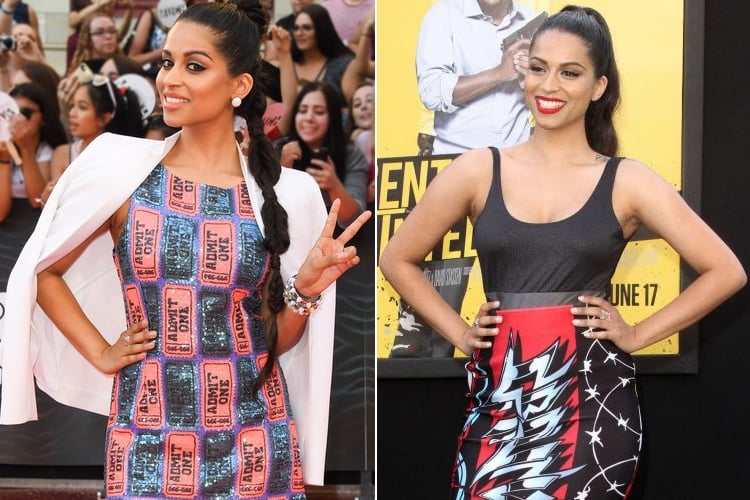 From a young woman in her early twenties, fighting depression, swinging between thoughts too dangerous for us to imagine, she has emerged into a Superwoman, true to every letter in that tittle. Here we are, talking about Lilly Singh, and if you share a love of the internet, you already know her – so, we'll cut out the introduction and save ourselves some time.
Her boyfriend jeans and baseball hat kept aside, the YouTube sensation Lilly Singh is quite an eye candy. Just look at that hot red jumpsuit she slipped into for the 5th Annual Streamy Awards. Is that the regular tom-boyish Lilly we meet every Monday and Thursday? You bet she is. And don't get all taken in that jumpsuit, do spare a moment of the pointy sandals in gold. Also, do we see some cleavage there? Hell, yes!!!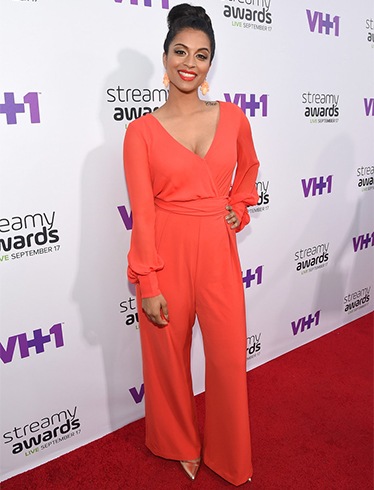 The teen session we Indians pride over arrived at the 2016 MTV movie awards in a pair of matching shirt and trouser. She stood like a Bawse in her black shoes, but to add some sex appeal she aired out a bit of cleavage and highlighted her look with a statement necklace.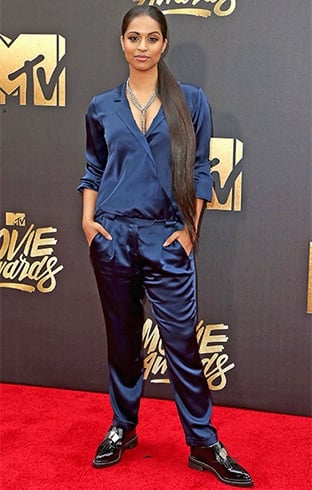 She looks 10 years younger in this cute mini skirt with its bountiful flare that she wore to the red carpet event hosted by People magazine. The lace pattern over the floral motif is super girly and the 3-D-esque fabric of her sleeveless top complements the black lace in the skirt. It was a wise decision to leave those wild manes open in waves.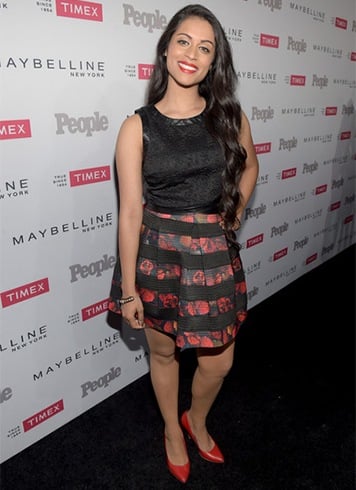 From a cute girl next door look in the previous shot, Lilly transformed magically into a high fashion diva, in a snap of the fingers. Maybe that's some kind of Unicorn magic we don't know of yet.
The premier of the movie Bad Moms, which also featured our desi diva in a tiny role, saw her turning heads in an uber fancy single shoulder jumpsuit. Can we all just contemplate that slanting slit on her décolletage allowing us to sneak a peek into her matching bra?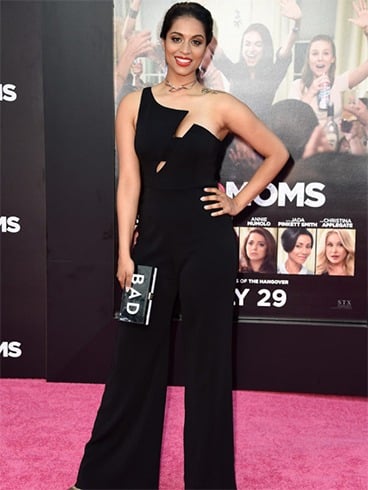 She joined the YouTube Fan Fest held at Sidney, Australia looking fresh in a green dress added with a floral jacket. We are impressed how she matched her sneakers to her clutch and also the shade of her lipstick. The look is very playful and casual with nothing super serious about it and resonates a hundred percent with the Lilly we see twice a week on our laptop screen, or phone screen – whatever you use to browse!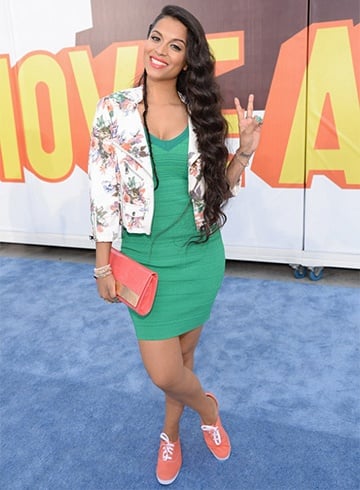 All the colors in the world settled on the flamboyant internet star as she rolled up at the Teen Choice Awards last year. One needs to note that Lilly Singh was also nominated for Choice Comedy Web Star at these Awards – no wonder she is effervescent at the bright blue carpet spread out at the Galen Center in Los Angeles. The Kimono styled dressed complemented with royal blue shoes – the choice of wardrobe for an event surrounding teenagers couldn't get any better.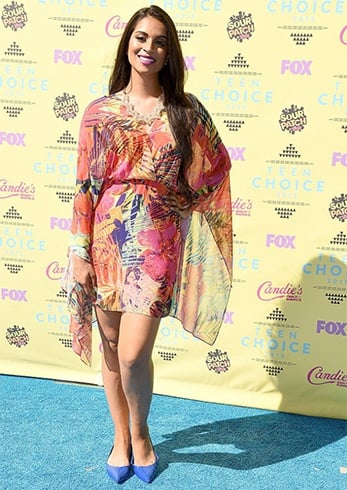 Our Unicorn Mamma brought some sensation back to the red carpet of A Trip to Unicorn Island's Premier dressed in an sensual red gown with a major slit. That slit is as red hot as the cleavage that decided to make an appearance again – do we hear anyone complaining? We better not! She slips into a heavily embelished black sandals and stacks up her wrist with a gazillion bracelets. We love those curls, girl!
[sc:mediad]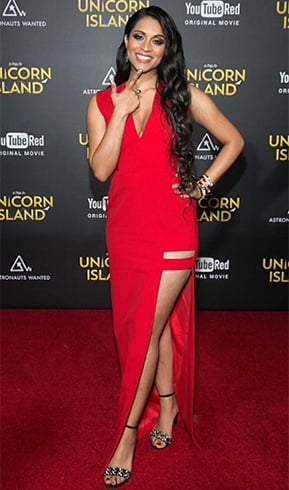 At the premier of Central Intelligence, Lilly was seen in a mid-length printed skirt teamed up with a black silk vest. The high-waisted skirt had an interesting situation going on and the comic-strip kinda pattern on it was definitely not something we had seen a lot before. We mostly see her long manes let loose, but we aren't minding that high pony tail either. Everything aside, do we notice how fascinating her black lace-up sandals are? They are so multiple purpose, you could walk in those on a red carpet and also wear them with a pair of casual denim.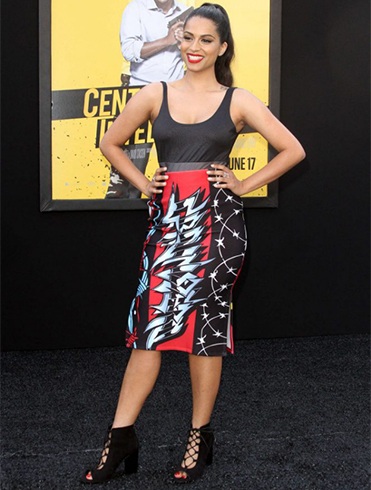 A self-made woman is a paragon of power, and that is my favorite way of describing Lilly. But one can also describe her as a fashionista is the making. Woman loves a good onesie and we are not stranger to her taste. The 28 year old super star was spotted in a monochromatic jumpsuit with a plunging neckline but to break the monotone she wore a rich wash of red on her lips.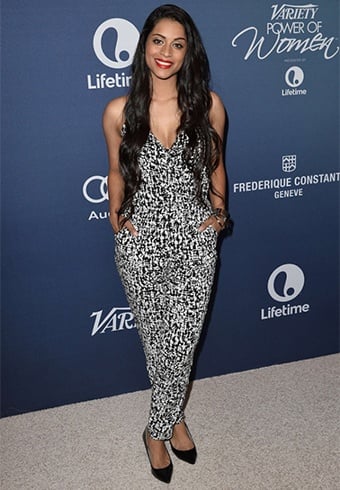 Did she just get herself a bunch of passes and stich them together to make a dress? Well, this skater dress surely insinuates the idea but we are confident it's a fashion forward step only a unicorn could try. Need to 'admit' – totally impressed by her jacket and dress designed by Hayley Elsaesser on the MMVAs red carpet. Only Lilly can wear sneakers on an event like this and we are digging it.
With over 10 million subscribers, the Canadian YouTuber of Indian descent is one of the most famous YouTubers in the world and is already going places. When red carpets become a regular, style gets cultivated on its own. Keep slaying, gurl! We are so proud of your success!!!
Images Source: pinterest, fashionbombdaily