All those girls out there sulking over the approaching thirties – hello to you all. If you thought 30 was too old, what do you think of 85? Well, not very juvenile I believe. It's time for you to get motivated by a model who is killing it on the ramps since over seven decades. Yes, you heard me right – 70 decades.
Carmen Dell'orefice was just 13 when she started off as a model posing for Salvador Dali in the post-World War II era. The first time she appeared on the covers of vogue, the super model was only a teenager at 15. She has graced the covers of numerous magazines since then, and quite surprisingly most of these gigs have come by in the later years of her career when she was already in her 70s. And our retirement age is 60, isn't it?
[Also Read: Basic Wardrobe Items That Can Turn You Into A Supermodel]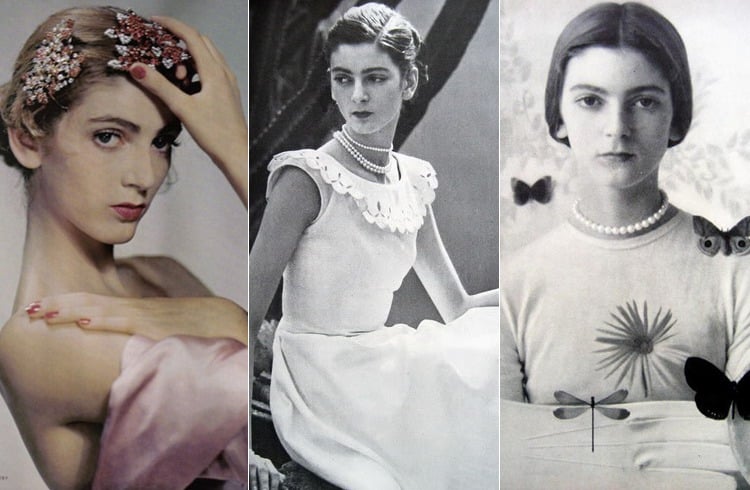 It was the time when American designers didn't have much of an access to the hi-fashion couture of Europe and thus were motivated to make their own. While most model strive to hide their age, the New York born model of Hungarian descent looks at hers as a testimony of her enormous experience that in itself is her greatest asset.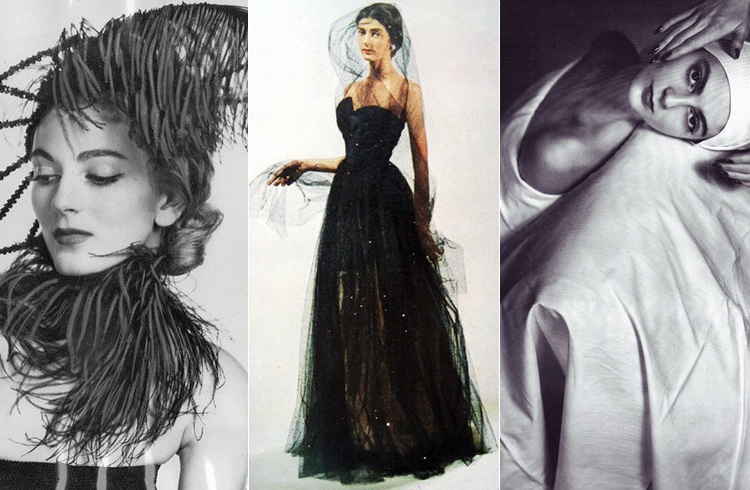 Back in 1950, Dell'orefice charged $300 for an hour's assignment. Despite the high compensation she demanded, she successfully stayed in demand. Carmen did take a transient break from modelling in her late twenties but around 1970s she returned to the arena and conquered it again. Since then she has been continually treaded the runway and dominated the pages of most prestigious fashion magazines.
[sc:mediad]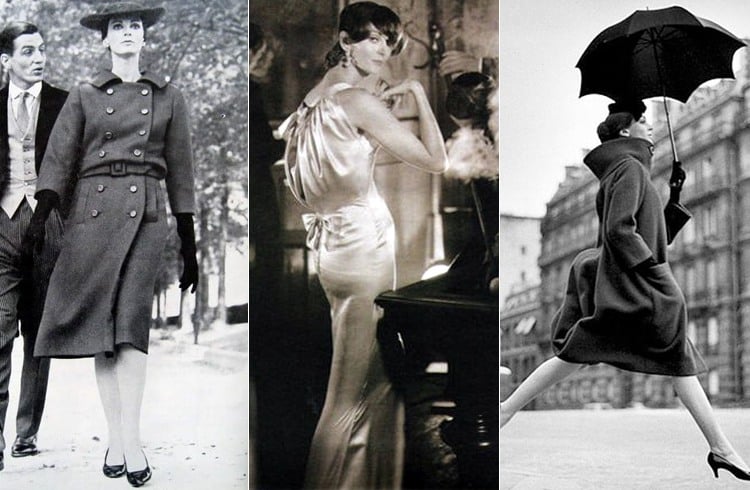 In an interview with New You, Carmen said, "I have had more magazine covers in the last 25 years than I have had in my whole elongated career." She is aware of the challenges that come with growing age, but she knew how to turn her age to her favor, this might not have worked for other models. But the octogenarian model boasts some enviable cheekbones and her bright white hair catches the sun every time, or as we can say the flash of the camera every time. In her words, "Today I am in a territory that business considers unmarketable: age and white hair. Slowly, however, I started to own that territory little by little because I stood up for age."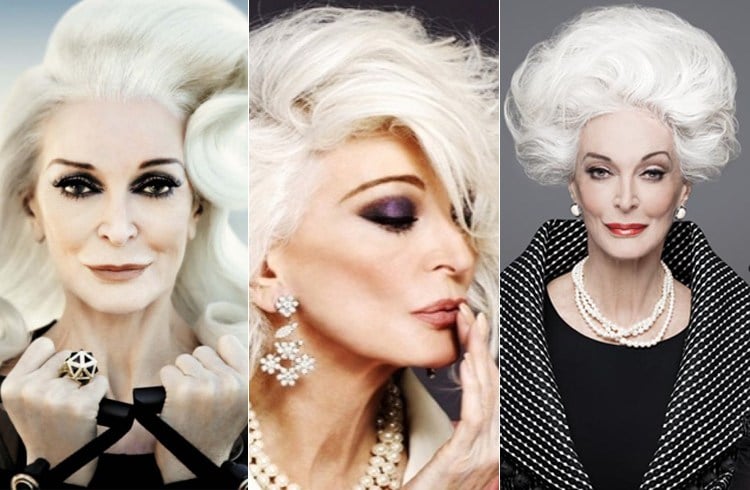 It has been a while since she first appeared on Vogue as a teenager in dark hair and deeply lidded eyes emulating a renaissance painting. She has literally grown up on the magazine. On a heart-to-heart with the posh magazine on her 85th birthday Carmen stated how she looks at her craft of modelling as acting, "I've always considered myself a silent actress. The story line is what a photograph is all about."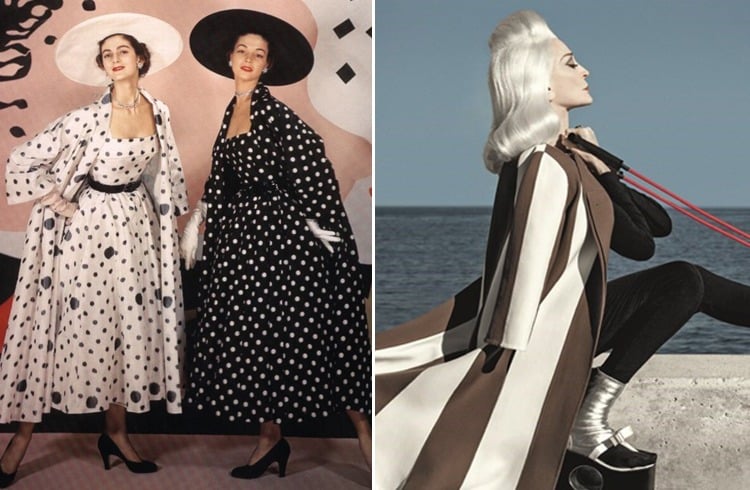 Irving Pen, John Rawlings, Cecil Beaton, and Richard Avedon are celebrity photographers who enjoy working with the veteran model. Here are a few glimpses of the magazine covers she has been featured.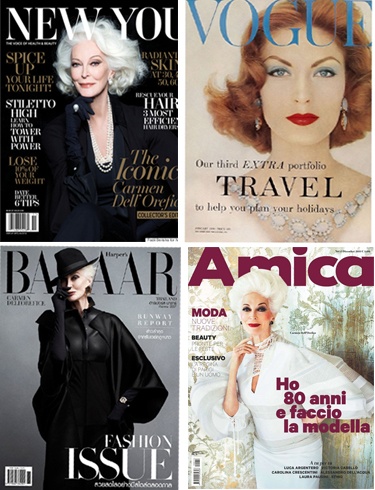 One can never decide if Carmen is better as a still photography model or if she rules the runway better. Here are a few pics from her runway shots, you may look and decide yourself.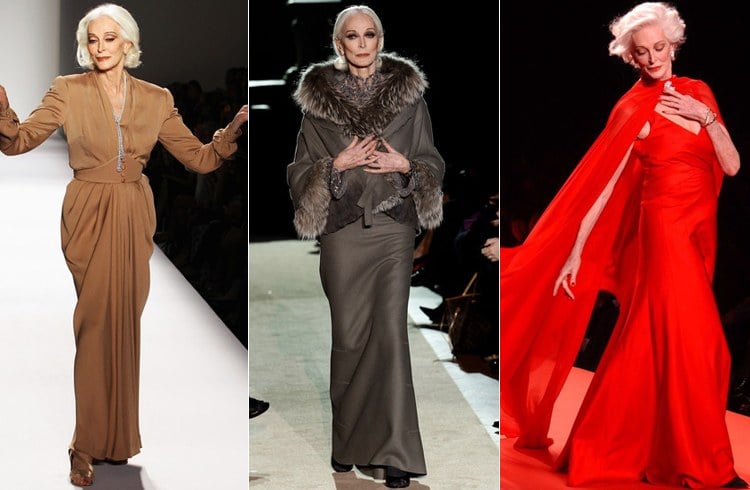 The designers she has worked with the most are Gianfranco Ferré, Isaac Mizrahi, and Thierry Mugler. Carmen has always epitomized glamor, but her glamor is not static. Despite her age her looks are not dated, she is modern with her choices and keeps up with the latest trends. You won't get all nostalgic reminiscing the past while leafing through her pictures. She would rather call herself an iconic beauty as opposed to a classic one.
Images Source: pinterest.com