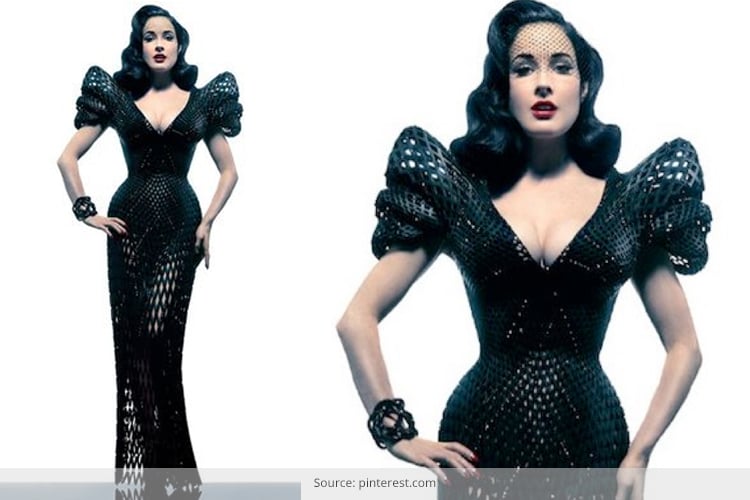 Despite resistance, the three dimensional fashion is pervading the fashion world – and it's tech-savvy young designers, who are setting the pace and should be blamed for.
When Dita Von Teese walked the ramp at the Ace Hotel in New York in a Swarovski crystal–encrusted "mesh" black dress, she turned more eyes than she usually does.
She had worn a dramatically woven floor-length gown flaunting elaborate shoulder extensions along-with a symmetrical frame which hugged her curvaceous figure – In sort, she had donned a 3D printed crystal-encrusted dress for the show.
3D fashion taking over Indian fashion domain
High-tech element has already made its presence felt in world of fashion and Indian fashion domain is of no exception.
The tend which was initially started only for risk-takers is now increasingly becoming popular among fashionista from all walks of life.
This couture-reliable advancing fashion fad can seem to be overwhelming if not styled right.
[sc:mediad]
This is the major reason why Michael Schmidt, designer of 3D dress worn by Dita Von Teese, had put in so much effort of detailing and technology. This designer is famed for using leather, suede and other traditional fabrics to create great pieces for pop icons like Rihanna, Lady Gaga and Madonna.
But when it comes to three dimensional printing, he rather chose to work with architect Francis Bitoni to digitally create the dress. The gown was printed out on layers after layers with powdered nylon by a specialized machine at New York-based 3D printing company.
To conceive this dress, 17 different parts were individually printed using more than 2,500 personalized designs. To give a dramatic effect, the converging sections were hand-linked and manually dotted with 12,000 black crystals to conceive a one-of-a-kind work of ensembling architecture.
The Iris fashion designer, Van Herpen, who is today the poster girl for high-tech fashion creations feels funny when asked on her 3D collections. Funny in the sense she was raised without TV, forget about computer and Internet.
This high-end fashion designer conceives incredible designs which have had Lady Gaga's stylists and Björk reaching for the phone.
Her basic funda lies in translating the 3D designs into two-dimensional format like old school drawing in order to present it.
This kind of skilled and avant-garde craftsmanship has come to Indian fashion domain as a total surprise.
For Summer/Resort 2013 collection, Indian designer Swapnil Shinde created a psychedelic effect similar to what Manish Arora does with his collections. Swapnil had used symmetrical 3D elements against traditional fabrics for 2013 fashion runway.
Stay tuned to check-out some more offbeat fashion fads!