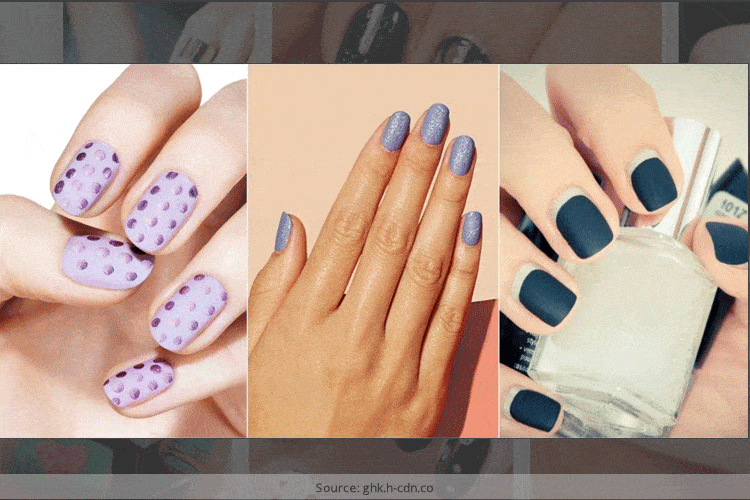 Women love to care about their looks from head to toe. Not that am complaining. But sometimes they forget to pay attention to their nails. It could be due to lack of time, or thinking nails to be not-so-important in their weekly or monthly beauty jobs.
But if there are any nail designs for you to copy this Fall, then matte nail designs is the answer in all fairness. Call matte nail designs the comeback nails for nail art lovers. Since a fall outfit is incomplete without a matte manicure, here are some cool, adventurous, saucy matte nails you can paint before you step out for the rock-n-roll party. When it comes to matte nail designs tutorial and how to apply matte nail polish, all you need is some excitement quotient and patience.
[Also Read: Nail Art To Showcase Your Personality]
Polka Dots
Polka dots have come a long way from the girlie frocks and how. Check out the playful polka dots mani which is a blend of two different textures. If you want to create a bigger impact, then go for contrasting shades of nail polish to make your nails a stunner.
Matte Moons
This colour reversal is a cool alternative when it comes to black matte nail designs. Can go well when worn for a retro party.
Negative Space In Neon
Negative space nail art might seem "seen and heard", but this neon design takes matte nail polish designs to a new height altogether. Should you want to make this matt nail art look subtler, then go for a single shade on each nail rather than putting two nail shades on a single nail.
[sc:mediad]
Shades Of Gray
There is a world beyond "Fifty Shades of Grey". And this grey-centred matte nail designs proves it. When you use shades of the same family, it helps making this geometric manicure look chic and a corporate asset. To achieve this look, you just need a tape, two colors and a bit of patience.
Look Green With Envy
With this cool ivy-green manicure, you are not only channelling the 70's but making it look very much 'it' when you complement it with a funky looking multi-colored chevron accent nail.
Glittery Flakes
Want to add a fun new twist to boring nails? Go for glittery flakes. While doing so, add the flakes to a chic matte lavender polish to get a multi-dimensional sheen.
[Also Read: Acrylic Nails tutorial]
Matte Nails could look no more terrific with this glossy stripes vs matte effect on nails.
Starry World
Heard of the cool Milky Way galaxy? This matte nail polish designs is no less a fun to wear on your nails with scattered stars dotted on each nail.
[Also Read: Here's An Easy Way On How To Make Nail Polish At Home]
Sunny Side
This matt nail designs would surely brighten up your nail tips. Just use a glittery topcoat to get that superb sparkle and shine.
Leopard Minus The Shout
And no, you need not get scared one bit looking at this matte nail designs which gives you a funky pattern to wear and flaunt. If you use two similar looking colors such as black and silver in matte, you can wear it any time of the day.
Long Burgundy Matte Nails
Dark matte nails are the perfect way to showcase Fall. You can either apply studs, rhinestones or other nail embellishments or do without them but burgundy matte nails look every bit royal and out of the world.
Army Green Matte And Rhinestones
Without doubt, this army green shade looks so stunning when combined with gold and sparkling silver rhinestones.
So funny honey, how did you find the matte nail designs? Already wearing or planning to wear them? Drop in your likes and comments on matte nail polish designs and let us know your fashion edge.