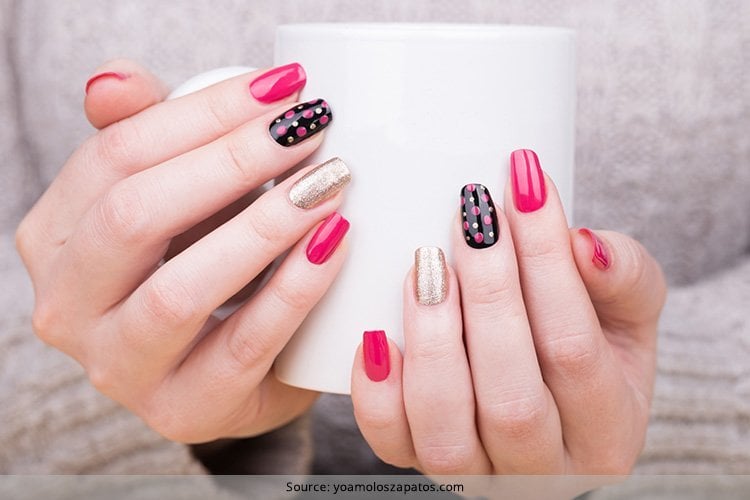 Nail varnish is one of those beauty essentials that is reasonably priced and an indistinct means of bedecking fashionable colors and styles. You probably have a whole collection of nail colors and art styles, but you probably prefer one style or color over all others. And that style or type of nail art portrays your true personality.
[Also Read: Striped Nail Art At]
How? The imagination, creativity and emotion presented via nail art is the person's true personality. So read on to find out what your nail personality really is!
[Also Read: 110 Beautiful Nail Art Designs Just For You – Hello Pretty Nails!]
Spatial Nail Art
Design: Your nails are designed with geometrical shapes or lines. It is immaculate and cleanly made, with special attention so that the fine lines are completely straight.
Personality Type: You are highly coordinated and want everything in place on time. Wherever you go or whatever you do, you keep the aim in mind and don't loiter. Any kind of mess or disarray cannot be tolerated. You are right on time for every event, no matter how insignificant.
Neon Nail Art
Design: Your nails are a mismatch of bright neon colors and random nail styles. They could be block colors or spontaneously created. No actual attention to details, the only care is done for them to be painted properly so that they look super rad.
Personality Type: Your energy and liveliness is out of control. You're always ready to party and go with the flow. Everyone is always counting on you for ingenious ideas. Your free spirit makes everyone around you instantly comfortable. You live life as it is the last day, and you're not hesitant to try out something new.
Animal Nail Art
Design: Your nails have different animals on them. They can range from a fox, rabbit, owl, cat, penguins to many other animal designs. You take your time to make sure the essence of the animal contours come out properly.
Personality Type: Well, you're obviously an animal lover and cute little animals really make you go 'Awwww'. But that's not all, you are overall a warmhearted soul and family and friendship means the world to you. You have all your antique belongings still stored up in boxes, because it is just so hard letting go of the happy memories.
Glitter Nail Art
Design: Your nails are covered with glitter nail polish, possibly in geometric or striped contours. You take time blending glitter with normal nail polish colors and creating the perfect manicure.
Personality Type: You are quite impatient and want to reap positive results instantly. But you are also the one person everyone turns to when it's time to have some fun! Be it any party, or adventure or anything that is thrilling – you are there! You have a bright, vivacious personality; which everyone loves to be around.
Dotted Nail Art
Design: Your enamel is painted with soft pastel colors and on it you have bright colored polka dots (or vice-versa). The shades used are rather contrasting and are really noticeable from a distance.
Personality Type: Always ready to have fun, you are. As a person, you have a more positive outlook in life, and believe in the good side of people. Your trust in your close ones is extensive and you will not give up on them, even when they have wronged you. You're the lively, amiable person everyone can rely on.
[sc:mediad]
Striped Nail Art
Design: You have either vertical, horizontal or maybe even inclined stripes on your nails. They are of contrasting colors and maybe even of different thickness; depending on your style.
Personality Type: Just like the ladies with the spatial nail art, you are also immensely organized. You love making to-do lists and checking off the things that have been done. You are patient and conquer each task on time, ensuring that it gets done correctly the first time itself. You are practical minded.
French Manicure Nail Art
Design: It is basically a design with usually nude base enamel color and a light colored streak on the tip of the nails, which is usually in white. However, the style could be varied by opting for glitter on the tip, etc.
Personality Type: You are very straight forward and practical. While shopping you have in mind what to buy – so no wondering and contemplating on what to purchase and what not to. You aren't a very quick thinker, but you are one of the most loyal and trusting people. In times of need, you're the one family turns to.
[Also Read: Different French Manicure Variations You Can Try]
Nail arts and your mani style are not just fun but are also great at revealing your personality!