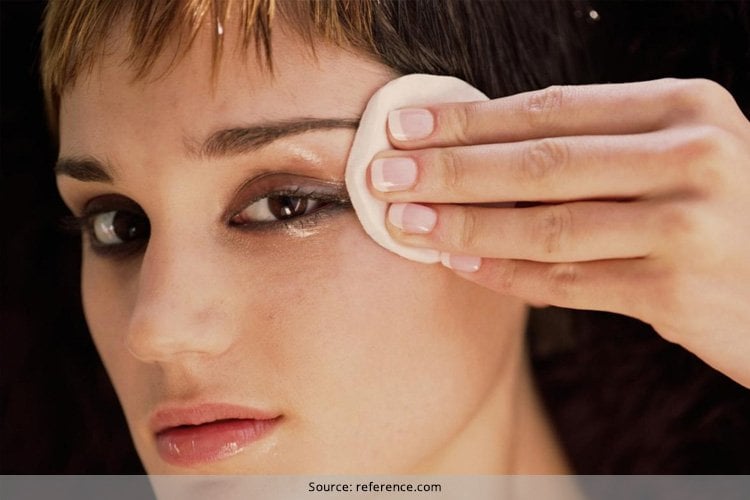 Love your eyes, yes, but when it's time to remove mascara, then neither your eyes nor you would be in a happy state of mind.
Many wonder the right way how to clean mascara, as it is a tough job than applying it. More so when it has clung onto your lashes through water, sweat, and tears. But, there are helpful tips on how to remove mascara smudge which help remove mascara easily. Read on…
How To Remove Mascara Smudge
Now get a pen and paper as I take you through some quick and easy steps to remove mascara, some of which are right there in your kitchen cabinet. Though there is an easy alternative in commercial mascara makeup remover, why not go the natural way in doing so?
Coconut Oil
Nature's gifted source, coconut oil is one of the best ways to remove waterproof mascara. The added benefit is that it moisturises the skin around your eyes. Just apply a dab of coconut oil over your fingertips or cotton swab and gently spread it around your eye to avail of how to clean mascara.
Olive Oil
Yet another natural way in getting the mascara off your eyelashes is olive oil. All you need to do is dip a cotton ball into a bit of olive oil, and gently rub it along your eyelashes. You will be surprised at how this homemade treatment works.
Baby Shampoo
Should you run out of your usual cleanser, then baby shampoo is a good way on how to remove mascara smudge. It's soft, gentle, and a good replacement in case you run out of an actual eye makeup remover. Try and use a chemical-and-fragrance free baby shampoo, if you can.
Petroleum Jelly
It is the most cost effective and easiest ways to remove waterproof mascara. Just coat your lashes with petroleum jelly using your fingers. After five minutes, remove the jelly with either a cotton ball or pad dipped in warm water. See to it that it doesn't get into your eyes.
Cold Cream
Cold Cream is yet another ways to remove waterproof mascara. It not only removes waterproof mascara, it also helps in removing all of your makeup.
[Also Read: Mind-Blowing Hacks How To Apply Mascara On Eyelashes Swiftly]
Makeup Removing Wipes
If you feel you can't make it to the sink, then makeup removing wipes help remove mascara easily. But try not to use them often, as they can get rough on the thin and sensitive skin around your eyes. Once again, I will ask you to go for alcohol-free wipes, to be on the safer side.
DIY Ways To Remove Mascara
1. First and foremost, wet a makeup pad with the makeup remover of your choice, which should be enough to saturate it, not over-saturate it. Refrain from using a cotton ball, since the fibers can detach and get into your eyes.
[Also Read: Mascara Wands]
2. Now press the wet side of the makeup pad to your closed eye for about 20 seconds. This will help the makeup remover to start breaking down the makeup on the eye.
3. It's time to wipe away the mascara. Use gentle downward swipes. Wiggle the makeup free pad a little by your lash line in order to break stubborn mascara.
[Also Read: Mascara For Eyelashes]
4. As a final step, wash off your face with a suitable cleanser. This will help in removing any makeup remnants that might have got left on your skin, from under your eyes to cheeks.
Few Dont's In Removing Mascara
1. Never make the mistake of pulling the mascara off by using your fingernails. It might pull off your eyelashes too. In a similar vein, avoid scrubbing or tugging at your eyelashes.
[Also Read: Ways Of Using Your Old Mascara Wand]
2. Don't go off to sleep with your mascara on. Or else it will clog your hair follicles and get you a stye or eye infection.
Hope you liked the tips shared above on how to clean mascara. Let us know your replies in the comments section below.