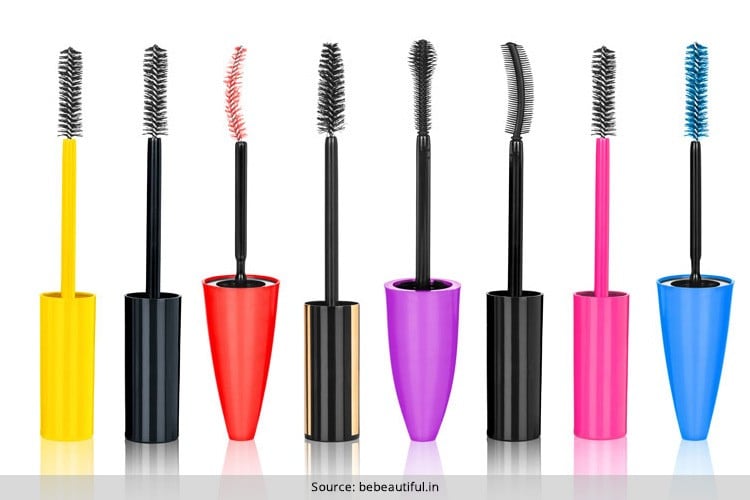 If eyes are a window to the soul, then mascaras are there to amp up the eyeful experience. There are different types of mascara wands or brushes to lengthen, curl, volumise and add definition to your eyelashes. Only thing you need to do is a bit of homework on how to use different mascara wands before you decide upon the different mascara wands.
[Also Read: Top 10 Gorgeous Mascaras That You Must Try At Least Once This Year]
Different Mascara Wands
I have put up a list of tried and tested different mascara wands that would be perfect to give you the doe-eyed look. There are disposable mascara wands too. The bristles that you see on most mascara wands are made of synthetic fibres which can be shorter, densely-packed bristles to add volume, whereas loosely-spaced, longer bristles lengthen and separate lashes. Find out the best mascara for you, which can be from investment pieces to beauty steals.
1. Thick Bristle Wand
Meant to give fullness to eyelashes, the thick bristle wand is one of the most common wands which can be used by ladies with shorter and thinner eyelashes. It means the bushiness of the brush gets you sufficient length and coverage without the fear of any clump. And yes, this kind of a mascara wand can actually make magazine cover models envious!
But yes, if you don't want exaggerated eyelashes, go for a mascara wand of medium thickness.
2. Thin Bristle Wand
This no mess, no fuss mascara is easy to use and brings a light and natural look to your lashes.
3. Straight Wand
Since the shape is straight, the straight wands are easy to use and versatile. So much so that you can tilt them and use them at an angle to get adequate coverage over every single lash of yours.
4. Comb Master Wand
Heard of the dreaded c-word 'clumps'? A comb shaped mascara wand is the best way to avoid those unwanted clumps in eyelashes. The plastic bristles in comb shaped mascara distribute the formula evenly in your lashes (just like evenly spaced out teeth) and gives you a natural looking lash length.
[Also Read: 16 Mind-Blowing Hacks How To Apply Mascara On Eyelashes Swiftly]
5. Curved Wand
This type of mascara wand mimics the natural shape of the eyelashes, in the process giving you an easy all-over application. If you are in a desperate hurry and forgot to put the eyelash curler, then go for the curvy mascara wand.
6. Balled Tip Wand
If you are game to create an illusion that you were born with naturally thick flutter, then balled tip mascara band would be the best bet.
7. Micro Tip Wand
On your no-makeup days, go for a micro wand to get a dark pigment effect on your eyelashes. It gets down to the root of your eyelashes making them look naturally beautiful and making the most of your lashes.
[sc:mediad]
8. Spherical Tip Wand
It's no medieval ballet weapon. It's just smaller than a regular mascara wand. Just like a comb wand, spherical wands do a great job in separating and defining each lash. Since it's smaller in size, you can get super accurate once you pick individual lash.
9. Tapered Wand
Plenty of volume at the base which thins out towards the tip, the tapered wand can easily be called the Christmas Tree-shaped wand. It plumps up your eyelashes and separates each individual strand.
By now, you know how to draw attention to your eyes. Hope your information decibels on types of mascara wands got reasonably fulfilled. Feel free to tell us what types of mascara wands are your favourite and which ones you would go in for.
[Also Read: Ways Of Using Your Old Mascara Wand]