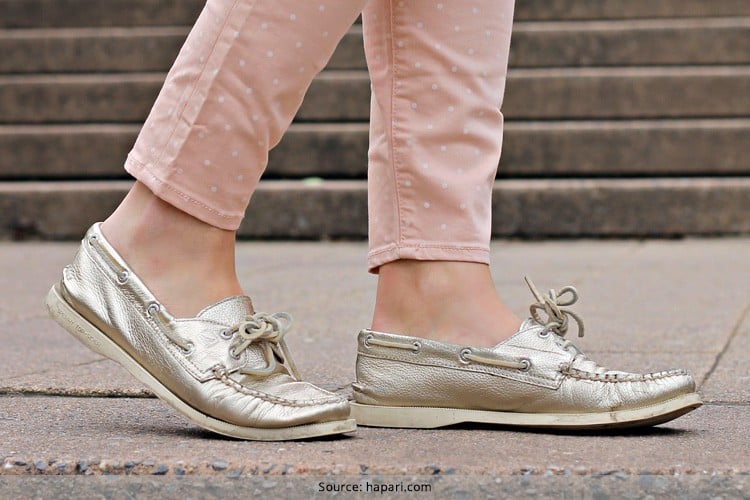 There was a time when people wore metal colours with a lot of caution. Even fashionistas were very careful when it came to rocking the metallic trend. But now, thanks to our ever fashion forward ways, metallic sneakers have actually caught our attention and have become the biggest eye-grabbers of the fashion world.
[Also Read: Celebrities Flaunting The White Sneakers Trend]
Metallic sneakers are so in vogue nowadays that they come in every imaginable design- from metallic flats, to brogues to espadrilles and even sneakers- Metallic shoes are everywhere. Metallic sneakers are in fact one of the most popular types of shoes right now and from celebrities to fashion bloggers, everyone has been sporting them quite a lot.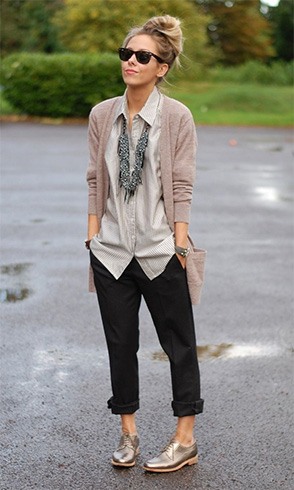 In this article, we will give you a lowdown on how to style your metallic sneakers well. Follow these tips and you are sure to be a head turner!
It's All In The Mind!
If you are a little hesitant about wearing gold metallic shoes or even silver metallic sneakers, remember that it is all in the mind and these shoes can easily replace the neutral coloured shoes that you have in your closet. The trick is to wear them with complimentary colours. So if you are planning to wear gold metallic shoes, wear them or style them with toned down colours like beige or grey or even black or any complimentary colour from the colour wheel.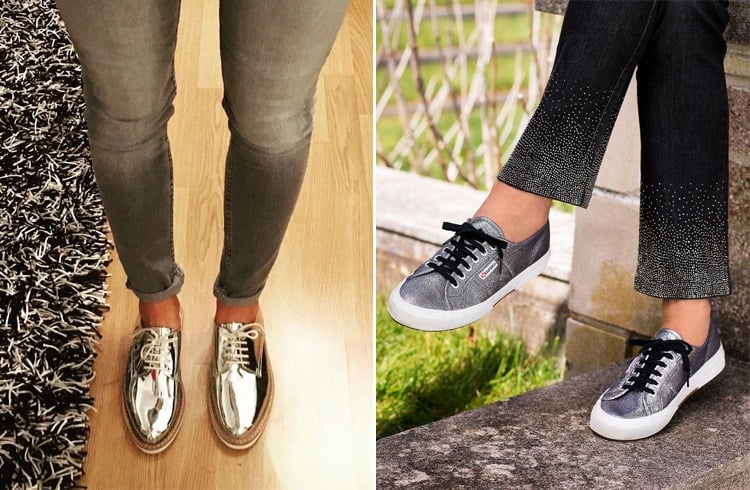 For The Not So Courageous Ones
We know, we know, metallic hues are a HUGE trend, but most of you may just shy away from wearing a totally metallic slip on sneakers, but you can totally get into the metallic shoes bandwagon by popping just a little bit of metal. Look for shoes or brogues or pumps which boast a metallic panel or some metallic pop up design. These are even more versatile than a totally metallic shoe and can be worn with almost anything!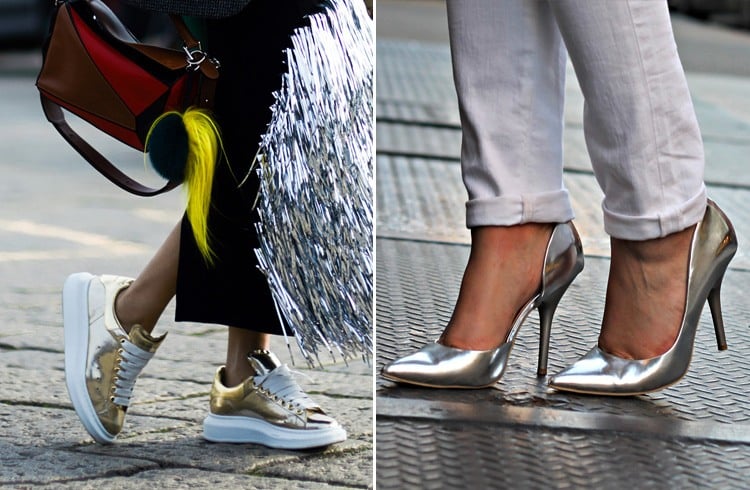 Look at how Alexandra Golovonoff styled her little metallic brogues: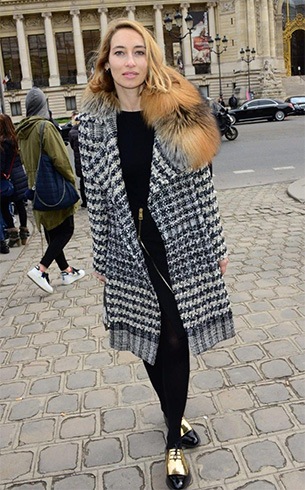 Check For The Right Finish
Metallic sneakers are aplenty, but if you buy one which does not have the right finish, you may end up with a look that looks a little cheap! Some people also consider having sequins as a part of the metallic look. If you are not keen on wearing highly bright metallic sneakers, you can go for toned or distressed ones too. Cracked finish shoes too are a rage with many right now.
[Also Read: What To Wear With White Sneakers?]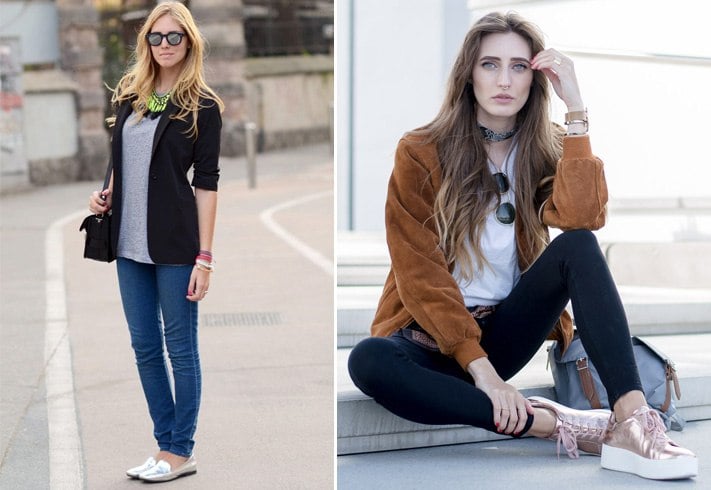 Focus On One Trend At a Time
The metallic trend is quite an overpowering one and not concentrating one will make your overall look very clunky. The key is to focus on one trend at a time and make it the focal point of your entire outfit. The thumb rule is, if you are wearing something which is very metallic, for instance gold metallic sneakers, make your dress zany but simple. Heavy metallic sneakers can be worn with a simple, but athleisure outfits.
[Also Read: cleaning sneakers]
Check these for more inspiration: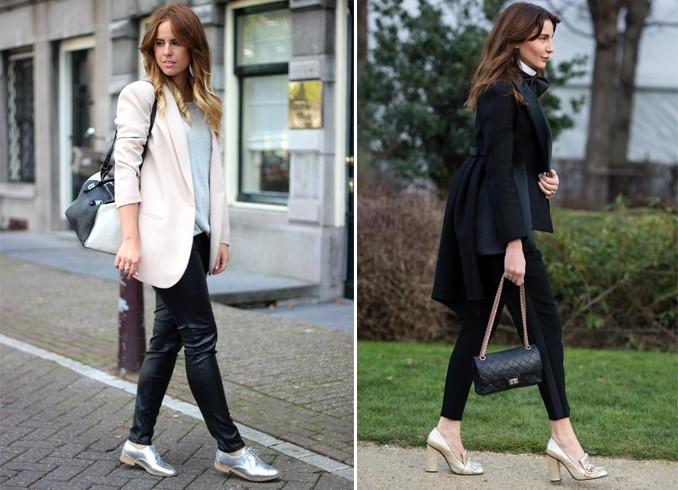 Metallic Sneakers and Menswear Inspired Clothing
This combination is actually a rage with everyone! Menswear and Metallic sneakers are an amazing combination and we can't get enough of it. So, gone are those days of flirty and strappy heels and we go all the way for metallic sneakers and boyfriend jeans. You can also wear cuffed trousers to show more of your shoes.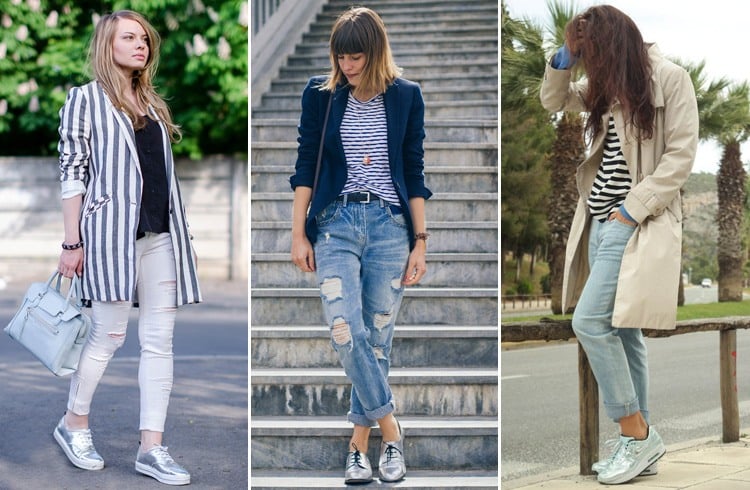 [sc:mediad]
Metallic sneakers, especially gold and silver ones are taking the fashion world by a storm right now and not just us, but every high fashion designer loves this trend too. A lot of major fashion lines have started having models on the runway with these designs. Try this fashion trend and let us know whether you like it!
Images Source: pinterest.com