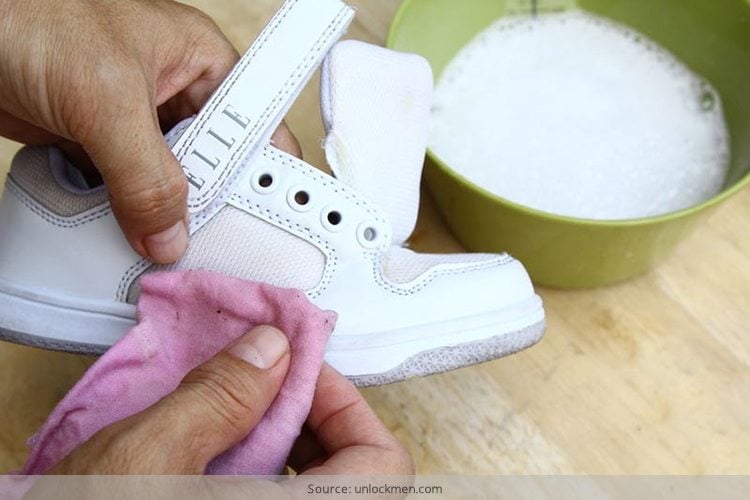 You love your white Adidas originals, but they are also one of the toughest sneakers to keep in their pristine conditions. After all, they are white and they attract muck like anything. You take them out and in a jiffy they get dirty. Cleaning white sneakers however is not that difficult and there are many DIY instructions online on how to keep your sneakers white and bright.
[Also Read: What To Wear With White Sneakers?]
Let's learn some amazing tips and tricks on how to keep your sneakers white and bright:
How To Wash White Sneakers
If your white sneakers are made of rubber, the easiest way to wash these all white sneakers is to take a generous amount of soap in a tub, dip a washcloth in it and then wipe off with this washcloth. Once you have thoroughly rubbed the rubber with the washcloth, take a dry washcloth and rub off the soap. Voila! You have just learnt the first step on how to keep your white sneakers white!
White Nail Polish Is Your Savior
When you are learning how to keep your white sneakers white and bright, one very important step is not just to wash the sneakers, but how to get rid of those scratches and ugly spots. Well, since washing is not always a feasible option, your next savior would be to use white nail polish. It works wonders for spot fixing and you can just use a small blob to conceal any smudges or scratches. Make sure that you don't go overboard with it because you may end up making the smudge very apparent!
Cleaning Tools That Will Save The Day
You don't always have to dunk your white sneakers in the water to clean them! There are also tons of nifty tools and cleaning polishes which will do the job in a short time and wonderfully too. You should just know where to find them! Mr. Clean Wipes are one perfect example of cleaning agent that can help you remove spots in a jiffy. Just use some Mr. Clean on a clean rag or washcloth and rub on those areas which you think need some cleaning. Tada! Your shoes will start looking as good as new!
Invest In Regular Cleaners
As mentioned earlier, washing your sneakers on a regular basis is not a good idea because if they are made of canvas or fabric, they will end up getting damaged with the regular washes. Instead you should invest in cleaning materials like Mr. Clean, Vans Shoe Wipes, Jason Markk Essentials kits etc. and clean your shoes with them to keep your white sneakers white and bright!
[sc:mediad]
The Washer Is Not Your Friend
Whatever you do, make sure you do not and you never ever drop your sneakers into the washer. This is the worst possible mistake you can commit when it comes to cleaning your white sneakers. The washing machine is a powerful item and the cleaning action of the machine and the heat of the dryer are enough to tear the shoes or turn them into a dirty shade of yellow. The rubber loses its white colour and turns them into this ugly yellow hue which will spoil your white sneakers forever. So, whatever you do, do NOT use the washing machine to clean your sneakers!
[Also Read: How to Wear All White?]
Toothbrush Is Your New Friend!
You have cleaned your white sneakers with the rag and you have even washed your sneakers, but there are still some spots and blemishes staring jarringly at you. What do you do? Of course, the easiest and the correct answer is to whip out your old toothbrush and clean those nooks and crannies. The hard to reach areas can be easily reached with the toothbrush and you can make your white sneakers look spotless!
So these are our Easy to do tips on how to keep your white sneakers white and bright! Let us know in the comments which tips you liked the most!