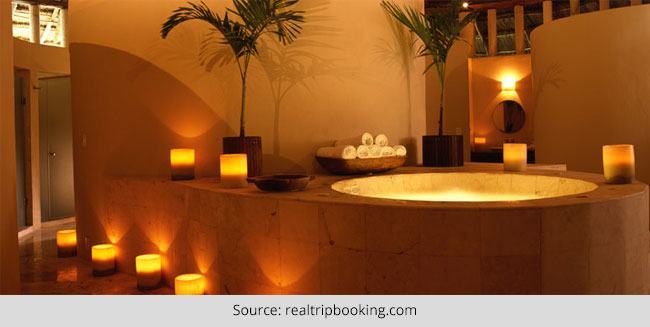 Bangalore, the IT hub, has seen a big surge in the number of spas and spa resorts in recent years. The hustle and bustle of the hectic city life has led more and more people to turn towards spas to help them relax. Let's take a look at the best spas and resorts in Bangalore and what makes them stand out from the rest.
1. Angsana Oasis Spa & Resort
At Angsana, start your spa session with a relaxing foot wipe and end it with an additional half-hour of complimentary refreshments and relaxation. Angsana has a long list of awards to its credits. Their 'Duet' package is specially designed for couples and includes a body polish, body massage, and a facial. Another signature treatment to try out is their bamboo massage, wherein warm bamboo is used to relax the muscles and stimulate blood circulation.
[Also Read: Best Spa Therapies]
2. The Spa
Located at The Leela Palace, The Spa offers treatments that are a unique mix of Eastern, European, and Ayurvedic practices. If you like to regularly indulge in spa treatments, then consider signing up for their annual membership. Members gain access to the spa, gym, steam, sauna & indoor Jacuzzi and pool.
3. Soukya
Soukya, located in White Field Bangalore, is an Ayurvedic resort wholly dedicated to providing a holistic experience. There are a variety of Ayurvedic treatments available to combat particular ailments. Apart from that, you can also go in for a customized treatment that will give you optimal results. The whole property is designed to give you a sense of peace and a respite from the everyday bustle of the city life.
4. O2 Spa
Located at seven different locations in Bangalore, O2 Spa is India's largest spa chain. The treatments they offer are a combination of both ancient therapies and modern techniques. Located within city limits, O2 Spas offer a quick getaway to replenish your system and pamper yourselves. Choose from a variety of Ayurvedic, Balinese, Western, or Thai massages.
5. Whitemantra
Whitemantra is a luxury day spa that specialises in customised spa and beauty treatments. Get set to experience true luxury in their choice of ingredients, from exotic essential oils to organic fruits and flowers. Try their signature Lomi Lomi synchronized massage—a Hawaiin massage that involves two masseurs working in harmony to rid you of negative energies.
6. The Oberoi Spa & Fitness Centre
Open 24 hours, The Oberoi Spa & Fitness Centre is an opulent haven for those looking to be pampered and rejuvenated. The 'For Gentlemen' treatment is exclusively designed to cater to the skin care and body care needs of men. And the 'Mango Melody' is a truly scrumptious treatment done using mango scrubs and mango pulp. Can a spa be any more luxurious than this?
7. SPAce the Spa
Voted one of the best spas in Bangalore, SPAce offers some very attractive packages for couples and group bookings. Interested in having a spa party for your birthday? Enquire about their party packages for some great deals.
8. The 5th element
For an authentic Thai body spa, look no further than the Fifth Element. Winner of the Indian Salon Awards 2014 for best customer service and excellence, the Fifth Element promises to deliver an unforgettable experience. They have a happy hours discount for weekdays and a discount for couples as well. So for a truly Thai experience, go to the Fifth Element and indulge yourself.
9. The Four Fountains De-Stress Spa
The Four Fountains De-Stress Spa's mission is to offer treatments that are scientific, professional, and affordable. With the focus on nominal prices, this pocket-friendly spa could easily become the go-to destination for your regular spa therapies.
10. Oryza Day Spa
With the best of everything—from natural ingredients and essential oils to Indonesian therapists, Oryza Day Spa is without doubt one of Bangalore's best spa. Situated at Lavelle Road and Koramangala, Oryza Day Spa will envelop you in tranquillity and isolate you from the harsh outside world. To experience ultimate luxury, opt for their Essentially Oryza package that promises top to toe indulgence.
With so many options to choose from, you can pick one based on which of these best suit your needs, offer the treatments that you're interested in, and stay within your budget.