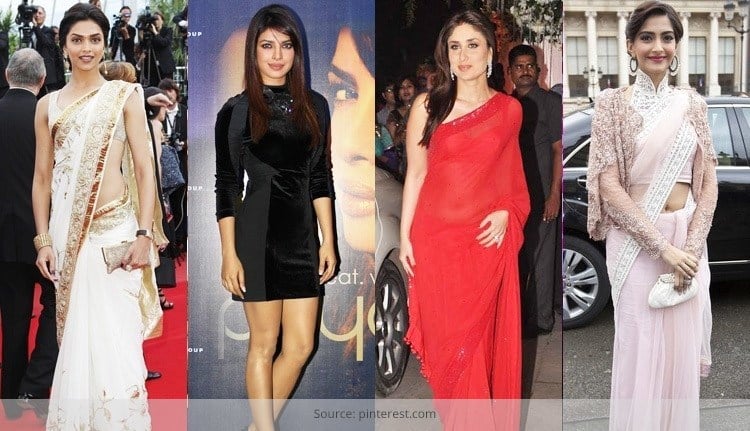 Bollywood Celebrities are known to start trends and wear the most stylish outfits at any given time. Be it airport fashion or to IIFa Awards and Film Fares. Recently Katrina Kaif, Sonam Kapoor and Aishwarya Rai wore spectacular dresses at Cannes 2015.
Speaking of beautiful dresses, let's look at the Top 5 Best Dressed Bollywood actresses.
Let's look at some of your favourite celebrity dresses:
Sonam Kapoor
Sonam Kapoor is the best dressed bollywood actress with a great sense of style. She takes up both western and Indian outfits flaunting her confident and graceful looks. This tall and fair actress never sighs on experimenting with her looks and clothes. She is graceful in whatever she wears and never tries to play safe with her clothes.
Kareena Kapoor
Kareena Kapoor has a thin frame, great smile, perfect body and glowing skin due to which she looks prominent in whatever she wears. She always tries something new which is very refreshing and primarily prefers outfits from Manish Malhotra and Roberto Cavalli. She looks great in gowns, mini skirts, candy-colored dresses, jumpsuits and not to forget, saris.
Priyanka Chopra
With a perfect pair of legs, Priyanka Chopra prefers short dresses, high heels to strut her long slender legs. Her favorite color is black and she looks gorgeous in whatever she dons on, be it long gowns or her favorite short black dress. She prefers outfits from Alberta Ferreti and Gavin Miguel.
[sc:mediad]
Continue reading to see our choice of best dressed celebrities. Aren't they really gorgeous?
Deepika Padukone
Deepika Padukone dresses reflects her body and attitude. Hot! The very confident actress looks great in her dresses primarily due to her tall stature and confidence. She loves herself to be draped in saris, swaggering her slim waist and great figure.
Anushka Sharma
Anushka Sharma dresses reflects her young and youthful side along with her lovely face and flawless skin. She looks great in casual dresses and gives utmost importance for latest trends and her mood. She prefers Indian outfits and looks great on them. On the other hand her favorites are jeans and shorts. Zara, Cue and FCUK are her favorite brands and white rules her wardrobe.
What are your top 5 best dressed Bollywood actresses? Do let us know with comments below.
[Also Read: Smoking Celebrities]