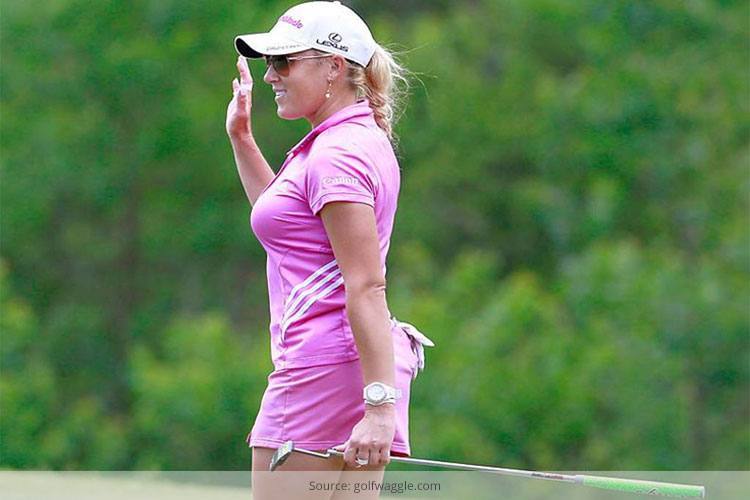 Ever thought golf could be a sexy game? If any of you nodded your heads to a No, we beg to differ! We have a list of women who will change the way you actually look at golf. They are the smartest and the most gorgeous looking women on the turf. Take a look at these women:
1. Michelle Wie:
Micheller Sung Wie is an American golfer who at the age of 10 became the youngest professional golfer to qualify for USGA amateur championship. After that, there was no looking back for the child prodigy. She went on to win both the Hawaii State Women's Stroke Play Championship and the Kennie K. Wilson Women's Invitational when she was eleven years old. She is one of the youngest female golfers to achieve so much at such a young age.
Apart from her strokes, Wie has also wowed audience all around for her Oriental and pleasing looks.
[Also Read: Most Beautiful Women In The World]
[Also Read: Taking a Page from Mary Kom and Sania Mirza's Diaries, and Getting Inspired]
2. Blair o'Neal:
Deemed the sexiest woman golfer, Blair fell in love with golf, thanks to her father, when she was just eleven! At mere thirteen, she was able to win the runners' up trophy at the Women's Tournament in Arizona. She soon became one of the most well-known star golfers at Arizona. She also has several non-golfing assignments and can be seen gracing the covers of several magazines!
3. Sharmila Nicollet:
Cheers! We have an Indian in the list. This lissome Indo-French lass from Bangalore has been golfing since the age of eleven (Yes, you have to start young if you want to be a pro). She began to play professionally in 2009 and brought lots of accolades for our country. She is one of the few Indian golfers to have really made a mark in this field. The dusky beauty got the twenty-second place in the Hero Honda Women's Indian Open in the year 2011. Finally, in the year 2012, she was able to qualify for the Ladies European Tour. Incidentally, she is also the youngest Indian golfer to qualify in the history of the game!
[sc:mediad]
4. Danielle Montgomery:
Danielle is a British beauty and she too started out very young in this field. From England, Danielle was encouraged to play this game by her friends and family and soon began to play professionally. She got the second place in Binhai Women's Ladies Tour in the year 2008. Danielle has been consistently performing and has maintained her rankings in her home country. Danielle has also been winning the Australian LGPA tour since five years and is soon trying to move her strokes into the US. The ladies in the US have to gear up for some competition now!
[Also Read: The Most Beautiful Women in the World]
5. Anna Rawson:
Now this is one smoking hot woman! Before she began her professional golfing career in the year 1999, Anna Rawson was a full time model! Anna went on to win a number of professional golfing events including the Jack Newton International Junior Classic tournament and she also became a member of the Australian National Squad that year. In the year 2004, she officially turned into a professional. Unfortunately, Anna missed making the cut at the 2004 LPGA Final Qualifying Tournament. However, she was able to win the Ladies European Tour of 2005 and got a third position. Anna was also able to get a spot in the Top 10 in the LPGA in 2008.
We hope we have been able to dispel your myths about golf beauties now. You see, golf does have some really hot women on the turf!