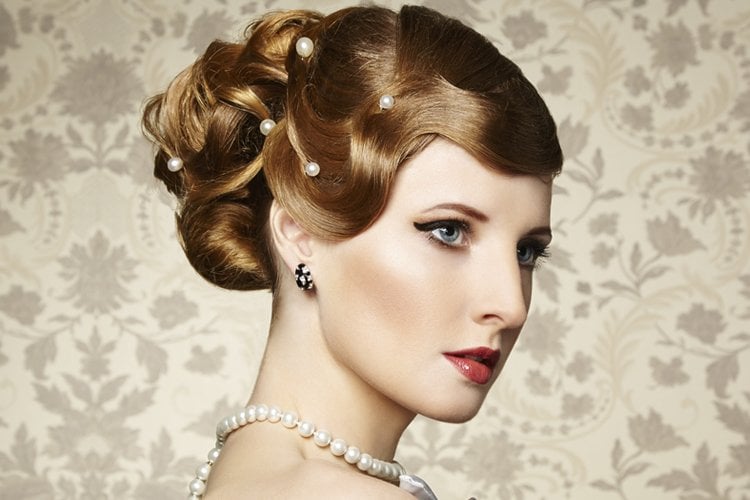 "Okay, so we all know that clichés become clichés because they are basically true. "There's nothing new under the sun," and "What's old becomes new," comes to mind when we think of fashion. Clothes, shoes, home furnishings and HAIR rage into style, and then fade out to become a slightly different version the next year. Perhaps better and bigger, or sleeker and more refined. One thing is for sure, you can count on all styles to change…and come back again."
Just as in fashion what goes around comes around, it's the same case with hairstyles as well. If you're unable get any new ideas then it's better to debunk the past, especially when it's with styling your hair. You'll be surprised to get an array of inspiration from curls and twists to pixies and updos which women from 20's and 60's used to wear.
Fashionlady offers you top 5 vintage hairstyles that are in trending and you should give a try. Below listed are five vintage Hollywood hairstyles dating back to 19th and 20th centuries. Read on!
#1 The Gibson Girl Hairstyle from 1890's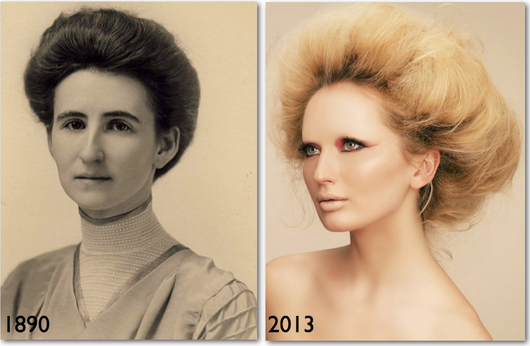 This is one of the most ancient updos in the list. This style works with every face, provided they have good volume of hair. As per Wikipedia,
The Gibson Girl began appearing in the 1890s and was the personification of the feminine ideal of beauty portrayed by the satirical pen-and-ink illustrations of illustrator Charles Dana Gibson during a 20-year period that spanned the late nineteenth and early twentieth century in the United States.
As per the illustrator Charles Gibson, his girl featured a frothy texture thereby creating an angelic version of the fashion-forward women.
Things required:
Aquage Uplifting Foam
Blow dryer
Salon Tech Flat Iron
RUSK thermal iron spray
Bristle brush
Tutorial
Apply foam: Use the Aquage Uplifting Foam and spray it on your hair and blow dry
Blow dry: Start at the bottom and gradually move towards up by teasing one inch section of hair from root till end
Use flat iron: Now use the flat iron on your hair and follow it with spraying
Use thermal spray: Use a reliable heat protecting spray like RUSK Thermal Iron Spray and make sure you use it on every section
Use a bristle brush to brush out your strands
Gather your locks at the top: Now loosely sweep all of your hair to the top as you do for a bun and pin it to keep it in place
Tip: The Salon Tech Flat Iron is great to use with durable titanium plates. For best results, choose lower temperatures for finer, color treated hair and higher temps for coarse, resistant hair.
#2 The Pixie (short crop) style 1950's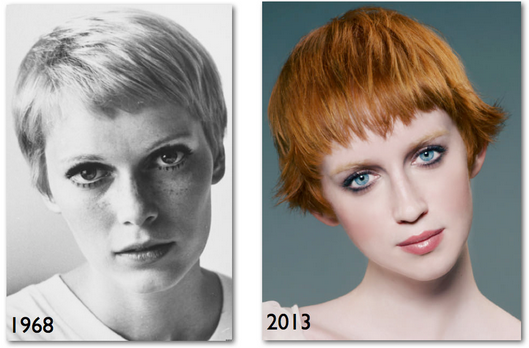 This hairstyle looks best on oval shaped faces. A pixie cut is nothing but short cropped hairstyle similar to boy cut. This hairstyle was mostly popular in late 1950's, especially after Audrey Hepburn donned this style in her debut movie Roman Holiday. Since then numerous fashion icons including Mia Farrow, British supermodel Twiggy and Goldie Hawn from 60's & 70's were seen wearing this style, making it highly popular in those days.
There is a long list of present day celebrities who are seen in pixie ranging from  Anne Hathaway, Ashlee Simpson, Ashley Greene, Beyonce, Carey Mulligan and Charlize Theron to Emma Watson, Halle Berry, Jennifer Lawrence, Rihanna and Victoria Beckham to name a few.
Things required
Scissors/Razor
Hair cream
Brush
Tutorial
Seek a professional: To get this look, you'll have to seek a professional. Ask him/her to use either texturizing scissors or razor. This will give you soft feminine look
Use cream: Now apply ample amount of cream to damp hair and distribute it evenly
Dry it naturally: Comb your hair in place and allow it to dry
Loosen the strands: Use your fingers to loosen the short cropped strands
Tip: A small amount of a texturizing wax like GK HAIR Shaping Wax can be used to play up separation on the ends.
#3 Veronica Lake style 1940's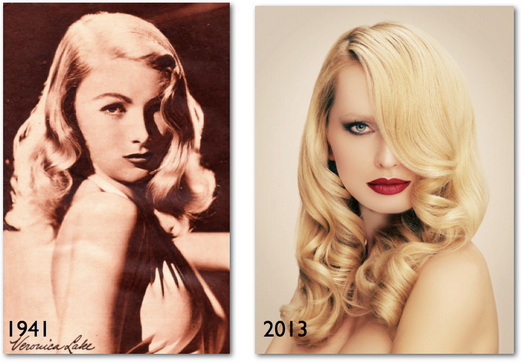 This style is so versatile; it can match with every face type. Veronica Lake, the American actress, mostly remembered for her notable role in Sullivan's Travels, was also famous for her peek-a-boo hairstyle. Because of her seductive figure and luscious unique hairstyle, Veronica had become a symbol of both sex and beauty in 40's. Her hairstyle is now one of the most sought after red carpet looks by most celebs.
Things required:
Mousse
Curling iron
Hair clips
Smooth hair brush
Blow dryer
Tutorial
Apply mousse: Use a blow dryer and apply mousse into your strands
Use ceramic curling iron: Now start curling one inch section of your locks by using curling iron and clip each of the curled locks
Allow it to cool before removing the clips
Now use a soft bristle brush and comb smoothly
#4 The Blunt Bob 1920's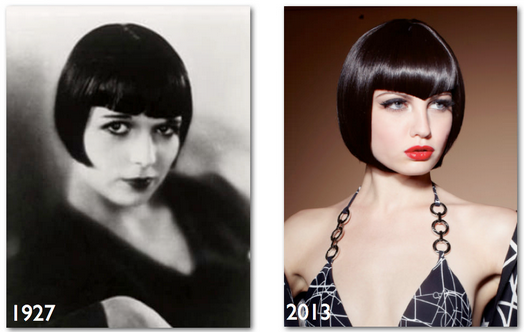 This heavy fringed bobbed haircut looks good on long faces. This 1920's flapper style returned with a bang in The Great Gatsby movie. Originally started by Louise Brooks in 1920's, it is now once again in fashion.
Louisse Brooks, an American dancer and actress was more popular for her bobbed haircut than her films.
Things required:
Serum
Blow Dryer
Flat iron
Hair spray, Aquage Beyond Shine
Tutorial
Use serum: Take a few drops of serum on your hand and apply it on your hair
Blow dry hair: Now start blow drying your hair at the bottom and move towards top in small sections
Use a flat iron: Now use flight iron lightly on your hair to avoid frizziness
Use spray: Now mist your hair by spraying the Aquage Beyond Shine all over your strands
#5 Elizabeth Taylor Soft Curls 1950's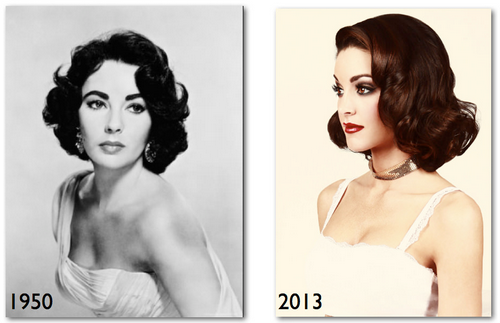 Image Source: latest-hairstyles.com
This versatile hairstyle works on every face. Elizabeth Taylor was not the only stunning starlet in Hollywood but the most beautiful woman who graced the earth. Apart from her attractive violet eyes and flawless skin; she was also popular for her soft curls which went on to become the biggest trendsetter in hairstyling.
To get this look you will require long hair to create faux bob.
Things required:
Volumizing foam
Blow dryer
Ceramic curling iron
Clips
Brush with soft bristle
Tutorial
Apply serum: Take egg-sized amount of serum in your hand and evenly distribute through your strands and blow dry
Curl hair: Now use a 1 1/4th inch of ceramic iron curler and curl them
Use clips: Now secure the curls with clips and allow the hair to cool
Use a soft brush: Now smoothly brush your locks
Create desired length: You can twist and pin the ends for desired length
Hope this helps! Do let us know which one is your favorite style!!