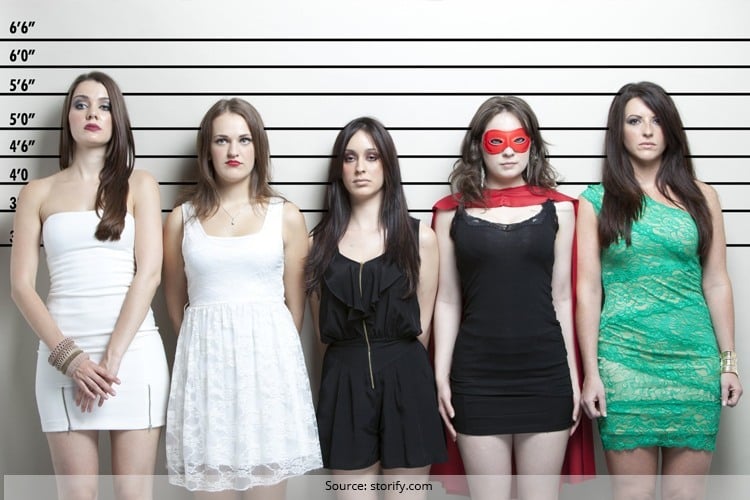 Ladies let us face it – We have all made the fashion faux pas at some time or the other. Whether it was making too pencil-thin eyebrows or wearing unflattering baggy t-shirts outside the home, we have committed fashion crimes and continue to do so often!
But what are these worst fashion mistakes which should be avoided at all cost and would put you on the guilty radar? Here we go:
1. The dreaded muffin top
We all battle with bulge and not-so-perfect waistlines. It is only human to have a muffin top or love handles. But what makes it terrible is when you wear uber tight low-rise jeans which squash and cause the bulge to spill over the waistband of your jeans. It is not a pretty sight to be honest as it pulls the attention towards over your problem areas and completely ruins your overall look.
2. Lost in a fashion time warp
Perhaps its time to stop wearing the "I love cuddly bears" t-shirt 30 years after your teenage has passed by. Also, why are you punishing yourself by painfully squeezing yourself into jeans that fit you beautifully at 16? Maybe those dusty overalls and flared jeans need to take a backseat.
The point is you need a fashion upgrade which need not mean buy swanky designer clothes or scour the internet for fashion trend popular 10 mins ago. It means letting go of clothes which are not tasteful anymore or don't fit you properly. This should not be confused with being against vintage style or retro dressing.
3. Too many sweatshirts and track-suits
When sweatshirts become your favorite go-to choice of outfit, that's when your fashion sense has landed in a major crisis. Sweatshirts are perfect for lounging around in home or running errands.
But always being in sweatshirts means looking frumpy, lumpy and shapeless! You need to explore the world outside sweatshirts and wear nice, light, comfortable yet stylish cardigans, wraps, coats or blazers.
Wearing high-end tracksuits with the brand name stamped all over the bum and bust line is not stylish anymore.
4. Over the top accessorizing
If you have piled on too may sparkly, glittery and too many accessories in one go, then it would take attention away from your outfit. The trick is to select a statement necklace or chandelier earrings and stylize your outfit. A truckload of bracelets, lots of rings, chains and necklaces can give you a cluttered look. Avoid using sequined, sparkly accessories and opt for trendy ones which will make you stand out.
5. Loud workplace style statement
Your recent sheer blouse purchase and sexy six inch heels would look out-of-the-place at your office. Also coral and red lips are not for the workplace; paint your lips in neutral, nude and natural colors to office. Try elegant pumps and trendy flats for your office wardrobe. At the same time, ditch the miniskirt and embrace the pencil skirt for your work place.