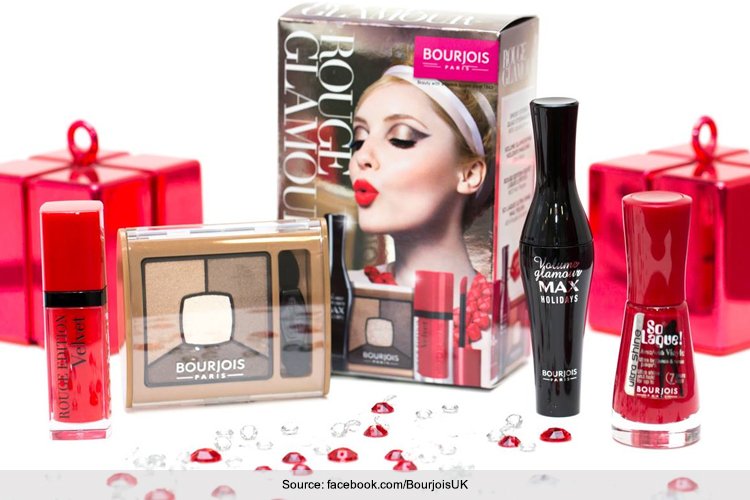 Actor Joseph-Albert Ponsin has founded a company that made beauty products and fragrances for Hollywood actors and actresses and it soon found fame and demand internationally for the superior quality of make-up products it produced. A French beauty company founded in the year 1863 in Paris, it has been known in the international market for decades, but these days the Indian beauty and cosmetics industry has also been introduced to the rave that is Bourjois. Impressed by all the amazing reviews of Bourjois cosmetics, India too has opened its gates for trade, and it's now one of the many international brands that has made its way into the dressing tables of most Indians. Yet, not all the products can be found in the country. But those that are found have captured the hearts of its users.
Here Are The Top Bourjois Products Available In India
1. Bourjois 10 hour Sleep Effect Foundation:
If you want to hide fatigue from your face, this Bourjois 10 Hour Sleep Effect Foundation is the best foundation you can get your hands on. You know those nights you spend tossing and turning, sleep would just not come to you? Yes, for the mornings that follow such nights, you must have a bottle of this anti-fatigue foundation in your drawer. It camouflages all signs of tiredness with its rich contents of healthy minerals and Vitamins E, F, B5, which conceal dark circles, signs of dull complexion and other skin imperfections, leaving you glowing with an even complexion. This lightweight and oil-free foundation comes in a pump bottle and helps you get a sheer coverage, and that is exactly why this Bourjois foundation is currently topping all the foundations available in market.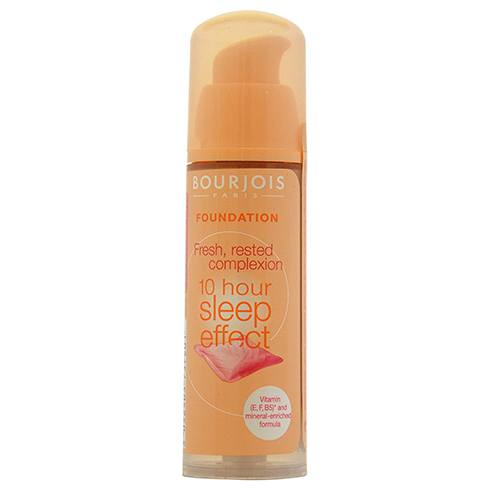 2. Bourjois Effet 3D Lipgloss:
This super glossy lip-gloss produced by Bourjois gives an attractive 3 Dimensional shine that makes for the perfect pumped-up pout. The product contains micro crystalline wax which causes the voluminous, deep, and ultra-shiny lips. Its brush applicator makes the application super easy and the lips can be covered in two strokes. We love the pleasant scent that lingers through the day. As the product doesn't wear away that easily Bourjois Effet 3D Lipgloss gives an effect of fuller looking juicy lips for longer hours. Not to mention how it keeps the pout moisturized without making it sticky, all thanks to the 92% of hydrating agents it's made up of. The paraben-free lip-gloss with its micro-activators thus doubles up as a lip balm.
Price: Rs. 550.00
3. Bourjois Shimmer Loose Powder Eyeshadows:
An amazing product for the eyes, something that the Indian market has not seen much is the range of shimmering eyeshadows from Bourjis that come in individual pots in the form of loose powder. These eyeshadows create a long-lasting effect on the eyes, giving it a dreamlike never-before charm. The brand has a unique manufacturing style that involves a baking process which results in the radiant colors and silky texture of the powder that blends into the skin like magic. These eyeshadows can bring a sparkle to even the most tired eyes at the drop of a hat and lasts for over 16 hours. For one with a penchant for make-up, this is a product you cannot give a miss.
Price: Rs. 585.00
4. Bourjois Clubbing Eyeliner:
This eye liner is super easy to use and glides well during the application. The highly pigmented liners help you create a dramatic eyeliner like the beauty gurus on YouTube and the pair of intensely gorgeous and sexy eyes catches everyone's attention. This eyeliner by Bourjois is formulated with black mineral pigments that results in the dark intensity. It is also ultra-resistant, with an extended staying power of over 8 hours. Oh by the way, the Bourjois eyeliner gives you the freedom of dancing the whole night like there's no tomorrow as it is 100% sweat proof. And if you get into a fight with your boyfriend and break up, don't worry, because Bourjois got you covered. You can cry all you want because this one is tear proof too. Trust us when we say it because the makers got it tested and approved by clubbers!
Price: Rs. 580.00
5. Bourjois Kabuki Brush (pinceau à poudre maxi):
The Bourjois Kabuki Brush serves as an all-purpose brush and completes your make-up accessory kit. Made out of natural and synthetic bristles, the brush is soft and works gently on the skin. It can be used to apply mineral makeup with zero difficulty to get a smooth and perfectly contoured look. You can use this kabuki brush to apply make-up on hands, neck and other parts of your body also. With its large head it holds a generous amount of product and distribute it evenly on the skin surface.
Price: Rs. 530.00
[sc:mediad]
6. Bourjois So Laque! Ultra Shine Nail Polish:
Hiding the nails under coats of nail paints can hamper its health and leave it yellowed, but not if you use Ultra Shine nail polish. This is specially formulated to keep the wellbeing of your nails in mind; on applying this highly resistant nail polish, nails look supple and ultra-shiny and enamel stays for good 7 days without chipping. Bourjois So Laque! Ultra-Shine nail polish range comes in pure, lacquered shades that do not have any shimmer or sparkles, but gives a glossy solid shine.
Price: Rs. 380.00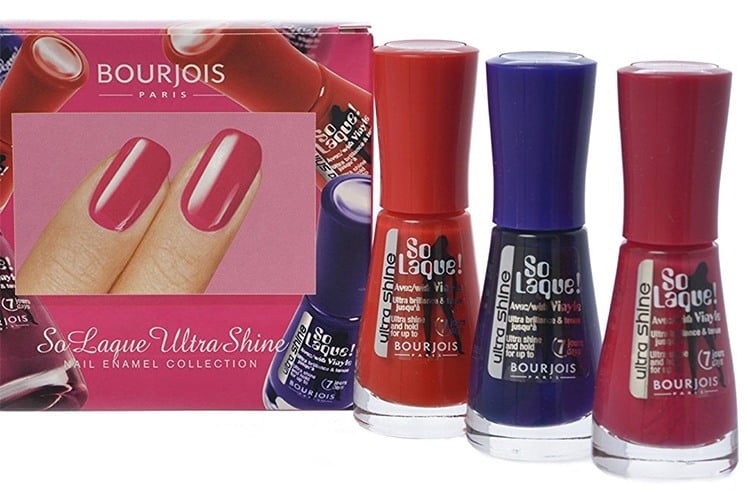 7. Bourjois Paris Smokey Eyes Trio Eyeshadow:
These shadows create a sophisticated smoky eye look that lasts up to 8 hours. I am in love with the super feminine and modern looking compact case that it comes in, with three coordinated shades that complement each other to make a complete Smokey eye look. You can choose from "classic smoky" or a more "fashion smoky". These eye shadows are very soft, silky, and smooth on the eyelids and come with a double-tipped applicator which can be worked with to create designs for your eyes that look as though were done by a professional . They are enriched with skin-friendly mineral powders and do not have any added fragrance. You can use them without any worry as the eyeshadows are dermatologically tested.
Price: Rs.700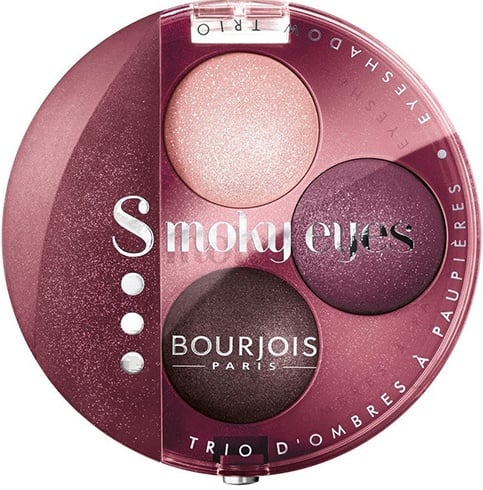 8. Survoltee by Bourjois Waterproof Eyeshadow:
The waterproof eyeshadow range is endowed with a unique blend of metallic pigments that have light-reflecting properties which leads to a shimmery glow but do not suffer fall outs. The concentrated, iridescent shadows made with a modern formula has an intense amount of pigments which hits the eyelids like a streak of lightening and electrifies them – figuratively though. Survoltee is enriched with long-wearing polymers that stay for over eight hours, without showing signs of crease formation.
Price: Rs. 355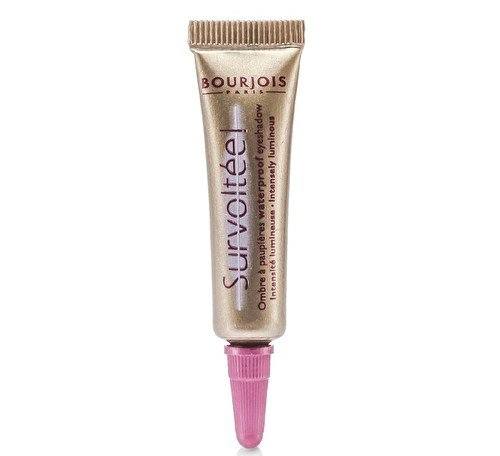 9. Bourjois Sweet Kiss Natural Lipstick:
Available in a range of varied and highly pigmented colors that give a full coverage in just a single stroke, these luminous lipsticks give your lips a satin finish. They are made with skin friendly colors with added wax and nourishing oils that result in the extra luminosity. The easily gliding applicator of this Bourjois lipstick makes for an extra comfortable application. The lipstick stays on for an entire day and the Argan Oil in it keeps the lips moisturized and supple.
Price: Rs. 750.00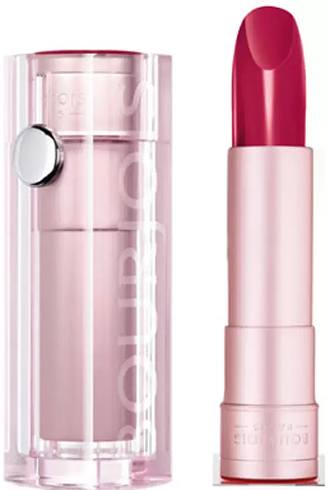 10. New Bourjois Contour Clubbing Waterproof Eyeliners:
This waterproof Contour Clubbing eye pencil comes in a range of vibrant colors, and is highly pigmented and serves perfectly for night makeup. You can work with it to create a perfectly defined eyeliner or finish off to achieve a smoky look. It is crease-resistant and gives a soft texture that blends really well. The jojoba and cotton oils in it nourishes the eyelashes and is also ophthalmologically tested.
Price: Rs 445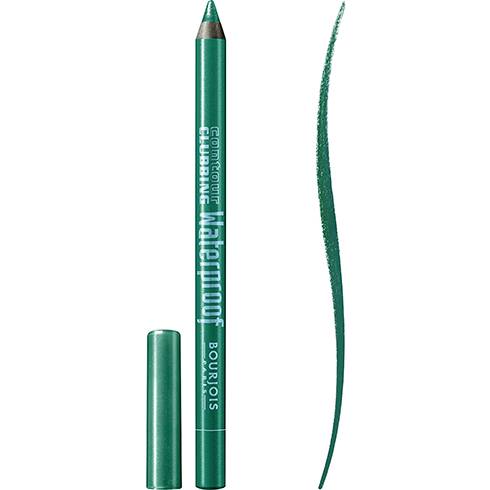 We now understand why the beauty world is raving about Bourjois makeup product. The reviews have been great in all of the make-up review blogs too. We just cannot wait to get our hands on them. How about you? Have you tried any of them already? Do give your opinion in the comments section below.