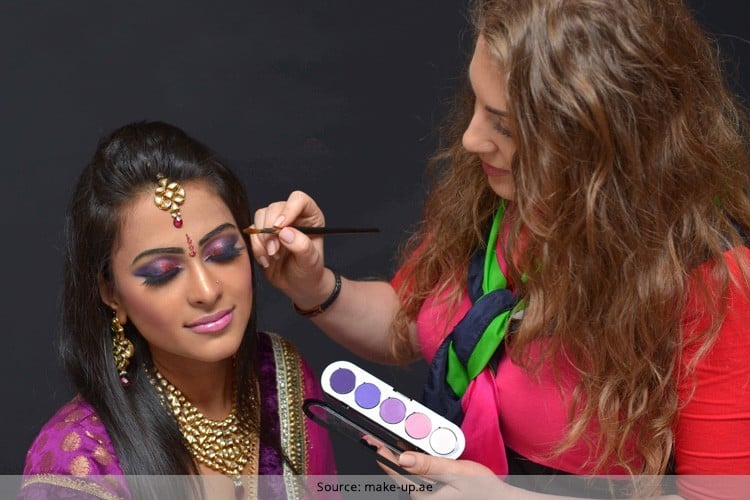 Wedding season has arrived! If you have not booked your makeup artist for your wedding and other functions yet, here is the list of top professional makeup artists who you can still consider for your makeup on your most important day. These top bridal makeup artists are known as one of the bests in India.
BRIDAL MAKEUP ARTIST
Have a look at these top names in Indian makeup artists list.
1. Ambika Pillai
Ambika Pillai is one of the most popular wedding makeup artists in India. With her work, she has created a niche for all Asian makeup artists in the world. She has overall 7 salons in Delhi and one in Kochi. Getting makeup done from her, will cost you around 25K per sitting, however you can get equally good make up done from senior makeup artists of her salon. These senior makeup artists have been trained under Ambika Pillai for decades. They will cost you around 12K. During my wedding, I found this Indian makeup artist near me! Her salon also offers various beauty packages for brides. Not only brides, they serve to grooms as well!
2. Meenakshi Dutt
Meenakshi Dutt is in herself a makeup diva! She wears her profession on her sleeves all the time. She runs her makeup salon in Delhi by the eponymous name "Meenakshi Dutt Makeovers". In her professional makeup career, she has also done bridal makeovers to the royal households in USA and Kuwait. Her salon also offers budget professional make up done by her senior makeup artists. You can surely choose Meenakshi Dutt for your wedding make up with full assurance of you becoming a gorgeous bride, thereafter!
3. Aashmeen Munjal
Aashmeen Munjal is one of the most celebrated top professional makeup artists in India. She provides bridal makeup at her salon in Delhi by the name 'Star Salon and Academy'. In her makeup career, she has also groomed the contestants of popular beauty pageants. The list of Aashmeen Munjal's bridal fans is long!
4. Shalini Vashisht
Having worked with the clientele like Aishwarya Rai, Neha Dhupia, Sharmila Tagore, makeup artist Shalini Vashisht is a perfectionist when it comes to makeup for weddings. She has also groomed the beauty pageants contestants in the past. Besides doing make up for fashion shows and editorials, she holds her expertise in bridal make up! She has her studio in Delhi.
5. Cory Walia
He is probably the most expensive makeup artists (charges 40K for bridal makeup) but he uses best of cosmetic and skincare line for the brides or for his every clientele. As Cory Walia is the most sought after makeup artist for weddings, ensure that you book an appointment with him well in advance! He is based in Mumbai.
[Also Read: Top Makeup Artists in Bangalore]
6. Riddhi Malde
If you are planning a destination wedding, Riddhi Malde is a perfect professional makeup artist to go for! Specialised in bridal makeup, she works on freelance basis and open to any wedding locations in India. She got popularity after she did make up for TV shows like 'Band Baaja Bride'. Her popular choices of cosmetic products are MAC, Bobbi Brown and Chanel.
7. Daniel Bauer
Did you know the artist who was behind Arpita Khan's bridal make up? It was Daniel Bauer. He works for about 20 brides in a year. He is a leader in beauty business, as featured in the magazines like Vogue, L'Officiel and Harper's Bazaar and has worked for clientele like Kareena Kapoor, Priyanka Chopra and Deepika Padukone. Remember to secure your dates with him well in advance as he is most sought after professional makeup artist for wedding seasons!
8. Mickey Contractor
Do you dream of getting your bridal makeup done by the makeup expert himself, Mickey Contractor? This is possible! He did the make up for Aishwarya Rai on her wedding day. He is Bollywood's top professional makeup artist. All you need to do is to level up your beauty budget for your D day and book your appointment with him in advance. Not to forget, he is also a M.A.C director of makeup artistry for India.
[Also Read: Top Makeup Artists in Hyderabad]
9. Namrata Soni
Namrata Soni is another top professional makeup artist for brides! She is popular for using products like Bobbi brown and Chanel. Getting bridal makeup done from her will cost you around 40K per sitting! It will be worth it! After all, wedding is only once in a lifetime affair isn't it?
10. Debasree Ghosh
Get budget professional makeup done from this Indian makeup artist! Debasree Ghosh is one of the top professional makeup artists for wedding to watch for, especially for the Bengali brides. However, she is well versed with Gujarati bridal makeup, Punjabi bridal makeup and Marwadi bridal makeup also. Debasree is based out of Kolkata. She got her training from VLCC and then worked with the professionals at Lakme and has been freelancing for three years now! Because she is freelancing, she is open to destination weddings.
Hurry! Book your appointment now with any of your favourite professional makeup artist for wedding. You are surely going to look your beautiful best!