Rocks have been loved by our mothers, grandmother, and great-grandmothers, but every time we go through their jewelry box, solitaires are the only things we find and to be honest, I am kind of done with that. Don't get me wrong. Solitaires are kind of classic, but don't you think it's about time we looked for something beyond solitaires to slip into our fingers.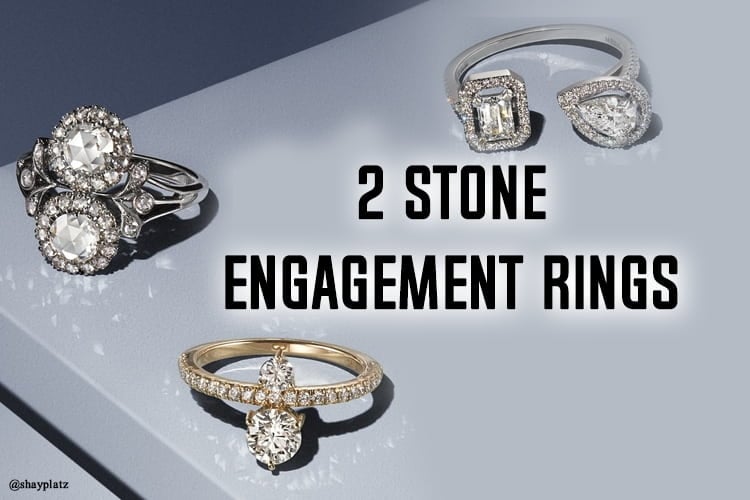 A ring on the fingers of a colleague caught my attention and I was mesmerized by the beauty of her dual stone ring. This is exactly what I want for my wedding, in fact, why wait until the wedding? Two stone ring designs are so versatile that you can buy them for yourself and wear them to work, dinner parties, and any other informal occasion. Want to know more about them? Fret not! Go ahead and read this post.
Top 22 Two Stone Ring Designs:
Check out the best two stone ring options before taking a pick.
1. This one has a minimalist design but doesn't fail to reflect the lights. The pattern can be worn on the ring finger or the index finger. The platinum band looks classy and radiant too. This ring definitely ranks very high among my favorite 2 stone engagement rings designs.
2. Another pretty design, a little fancy though, this ring consists of tiny stones that are encrusted into the band and then there are two huge stones at the center that are the stars of the show. The diamonds on the band may or may not be real. You may use American diamonds or Swarovski crystals depending upon your budget. Alternatively, it can be one of your best bets if you are looking for two stone diamond engagement rings.
3. Though platinum is expensive, the Indian heart always prefers gold over platinum regardless of the cost factor. For such desi hearts, here is an elegant everyday wear. The sparkly diamonds sit perfectly on the gold band and enhance the beauty of every finger they are slipped into. For long tender fingers or short fingers, this ring suits equally well.
[Also Read: Non-Diamond Engagement Rings]
4. Cannot decide between gold and platinum, or are fond of both the precious metals equally? Here, is the best way of wearing not only two stones but two metals also. What are your views on this half and half creations? I say it's the best way to have the best of both the worlds.
5. Coming back to platinum, this one, in particular, had taken my breath away. Just look at that twist. This design too has tiny stones encrusted on the band with two big ones at the center. But the design rolling itself in an eight – sort of – figure at the center will certainly grab some eyeballs.
6. The band of this unique piece is hollow in the middle with support bars all over. The ring features two oval-shaped gems in two different shades. One is emerald and the other one is topaz. Both are bright and precious gems that would dazzle when the sunbeam would meet them.
7. Another pretty gold piece, this ring has an antique feel to it. Diamond and sapphire are two of the most precious gems found on the earth and if you were to own and flaunt them, why not do so in style?
8. I just love this very modern gold piece, designed keeping in mind, the jewelry needs of the modern working woman of India. Isn't this the perfect one to wear to the office? You can keep wearing it as you take care of the domestic chores too.
9. Here is another piece that is simplistic and can be worn casually all day long. The beauty of this two stone diamond engagement ring is that it can be worn by men and women both.
10. When on a jewelry hunt, I always make sure my pieces are simple, unique and affordable. This light-weight silver ring checks all the boxes. Detached in the middle, the ring features a medium-sized round cut sapphire and Hessonite.
11. Now let's look at something exotic. This Amethyst ring has a unique design and is very different from the rings I have featured so far. Surrounded by leafy patterns, the gems resemble budding roses. Though not very heavy, this piece can be easily worn for cocktail parties or formal dinners.
12. If you are looking for a more romantic accessory, this one fits the bill. The platinum band will wrap itself around your tender finger, while the heart-shaped stones in the romantic shades of pink and purple separated by tiny Swarovski crystals make this ring the best Valentine's Day or anniversary gift ever.
13. Talking about dual colors, let's have a look at this basic design. This is the perfect amalgamation of colors that represent both the genders with the perfect powder blue and baby pink stones. It makes a great choice if you want to wear something gender non-conforming or want to gift it to someone.
14. You must have known by now that unique is my favorite word. I love to keep my jewelry box loaded with the most uncommon items and this one is just what I would love to own. This rugged looking ring belongs to the BC era. It looks like the ring was dug out during some archeological discovery and was found to be worn by the kings and queens many millennia ago.
[sc:mediad]
15. A pair of hearts in a heart. Tell me how cute is that. Another one that makes for a romantic gift. Could be worn for any occasion or daily wear and is safe for rough use also.
16. How cute is this adorable little ring with two square cut stones! The blue rocks, resembling the depth of the oceans, speak of the internal strength of a woman's willpower. Love how the tiny white stones have been used to frame the blue rocks.
17. Although quite similar to the above piece, what we have here is a little fancier. The twists and turn of this ring design and its beautiful opaque stones make it an outstanding piece. The color combination is very wise and it exudes serenity. An ideal jewelry for an evening function.
18. For a more glamorous look, say a reception dinner, this ring with a green gemstone in the middle surrounded by tiny diamonds will be perfect. You could wear it with a heavily embellished outfit, could be a traditional saree or an evening gown with a lot of embroidery on the bodice.
19. As we are talking about fancy rings, I thought this gorgeous little baby deserved to be on our list. Love the green, love the pink, and love the combination of stones in this stylish design.
20. What we have next is the perfect love band. You may replace the stones with the ones in your favorite colors and then have your and your partner's name engraved on either side. This two-toned ring makes for an exceptionally thoughtful promise ring or even a proposal ring for that matter.
21. As the above one would look better on a delicate and dainty hand, this gender non-conforming ring would work as one of the most exciting two stone engagement rings for men. A woman can also wear it, nevertheless. I am totally gaga over the bright pink and green stone combination but you can always replace them with stones in your favorite colors.
22. This one is a half ring, but with both the stones encrusted into its band, facing each other at the ends, this is certainly something you have not seen earlier. It attracts me, especially, because it is in gold. Though we have been including platinum and silver pieces mostly, some designs look better in gold. This may certainly be one of the most outstanding two stone diamond rings you might have ever seen.
That completes my list of the best two stone engagement rings. I have tried to include the simplest designs and some of the most exotic ones too. You can take a pick and get it customized by your jeweler.
With one design better than the next, am confident, the list of beautiful two stone engagement rings has spoilt you for choice. Do tell other jewelry lovers about your favorite two stone ring design in the comments box below.