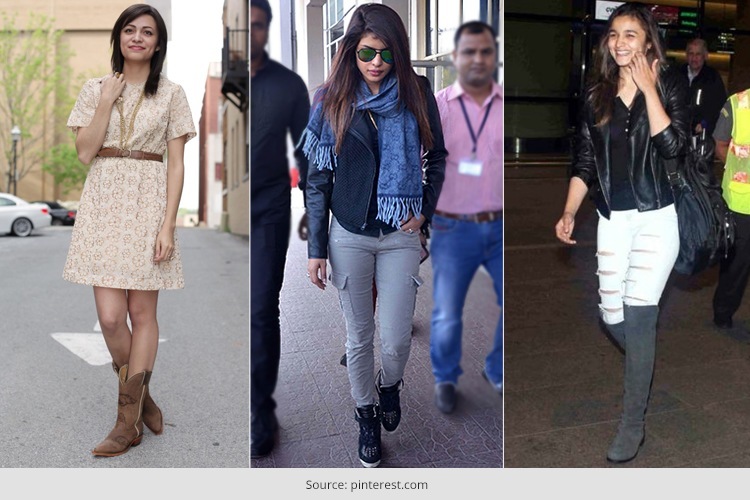 Boots are high on fashion quotient even as compared to stilettos this season. They are a fashion staple for the transition wardrobe from summer to fall. Boots are the kind of shoes which give your personality a certain amount of strong attitude, gravity yet make you look sexy and chic. One will be mistaken if they think boots are only of a certain kind, from cowboy boots to kick up the equestrian quotient to uber feminine boots with stiletto. You need to identify and select the best type of boots which will suit your personality and your attire.
Different Types Of Boots Women Must Have
Boots are the most stylish shoes there can ever be! Recognise the different types of boots women must have and what boots to wear on what season and ensure that you own the 7 mentioned here in your shoe-rack.
1. Knee High Boots
Suave and appealing these are the types of boots for women that look amazing when worn with slim fit pants for casual-chic look. When paired with skirts the boots not only add warmth to the ensemble, but also up the fashion statement. Wear your boyfriend jeans with these boots and leather jacket for a biker-chic look! For an equestrian look, you can team up a black coloured quilted boots which look absolutely lovely. You can make it look simple or extravagant, depending on how you wear it. Here is how Deepika Padukone wore Knee-high in the simplest way and yet managed to make it look like a million bucks.
2. Rain Boots
These boots have been kept at number two since they come handy in both fashion as well as practical use. You cannot wear your regular suede boots or leather boots when it is pouring heavily outside. Rain boots come in a plethora of colours and designs and you can do away with your plastic flip-flops and crocs for rainy season and wear some monsoon high fashion. These are the boots to be worn with jeans.
[sc:mediad]
Here is Hillary Duff rocking a pair of Burberry Rain boots.
3. Cowboy Boots
These are statement boots which if you are able to carry off, give you a perfect fashion score. These boots can be worn with skinny jeans, skirts, leggings, dresses of all kinds. Cowboy boots are stitched and decorated very beautifully and give your otherwise regular outfit an edge. These boots come in a wide variety which might make it hard for you to find the one you love, but once you do it will be your fashion rescuer for life.
[Also Read: How To Wear Cowgirl Boots]
4. Duck Boot
Nothing beats a reliable pair of boots to wear in winter which keep you warm for the rest of the day. Winter boots have to be of the right kind and material so that they do their job and not prove to be uncomfortable. The Duck Boot which is usually the best one to wear in winter might not seem very appealing but it is your best bet when it comes to a practical winter fashion solution. Colourful, designer and appealing, these boots come in a variety of hues.
5. Moto Boots
No, you do not need to know how to ride on motorcycles to wear this. Motorcycle boots are the most wonderful things you will find. They look amazing when worn with ripped jeans. Wear these boots with denim jeans or shorts or skirts for best fashion results. Priyanka Chopra shows you how to do it
6. Ankle Length Boots
These boots come in a wide variety and they can be of many colours, materials and designs. One even finds peep toe ankle high boots. These boots look best worn with dresses or skirts or slim fit trousers. Choose the best in leather or suede; they can be worn for casual wear as well as for a formal occasion.
7. Fringed Boots
Whichever boot you ultimately end up buying do not miss out on fringe boots. They look cute, sexy, and quirky and are easily the most fashionable of the lot. You can wear ankle length fringe boots with cute summer dresses, or knee high fringe boots with slim fit pants, denim shorts or skirts. These boots up your fashion quotient instantly so get one for your wardrobe if you do not already own it.
Boots are your best fashion bet to style up any regular boring clothing. Wear boots this season and see how strong and sexy its appeal is. You can wear it simply or extravagantly, in winter or in rain. Choose your type of boot and stay ever stylish!