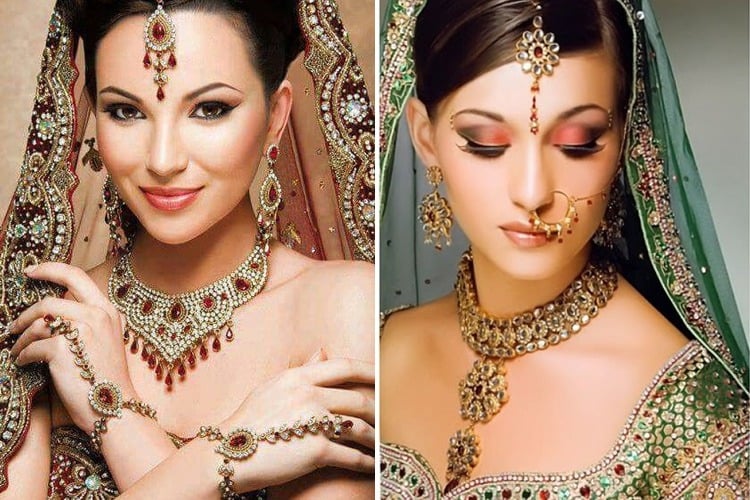 Indian jewelry is one of the most exquisite ones in the world of jewelry – after all, there are very few cultures in the world that are as old and rich as ours. So whether we are talking about the gold jewelry that every Indian bride likes adorning herself with or the traditional beadwork jewelry that some parts of India take pride in – there is something or the other for every jewelry loving woman!
In this article we will talk about the 8 types of Indian Jewelry that women love and where can you get them. Not only can you wear these at your favourite cousin's wedding (or your own) or at a traditional event, but these different types of jewelry can also be your very prized possession. So here are the 8 types of Indian jewelry that women love:
Antique Jewelry: Reviving old world charm
Owning vintage jewelry is like being a part of the glorious days gone by. It could be inherited from your great great grandmother, or you could have gotten it from an antique shop tucked in the corner of Darjeeling – antique and ancient jewelry has a charm of its own. In today's world, antique jewelry is also very much in demand, so if you love jewelry of the yesteryears, you might have to shell out quite a bomb in the pawn shop, but rest assured, it is surely going to be a noble investment.
Temple Jewelry: A traditional twist
Temple jewelry as the name suggests is the jewelry that was previously used to adorn deities and goddesses. Most of them come in heavy gold and should be worn as standalone because they are quite heavy in themselves. This type of jewelry is especially very common in the southern part of India and originated way back in the 9th century. Apart from the deities, dancers in the temples also made temple jewelry part of their lives. But slowly temple jewelry began to be worn by women in functions and weddings and this is how it was introduced to the mainstream and since then it has become a favourite with many women who like to show off their traditional side. Temple jewelry mostly has designs that represent gods and goddesses and also various variations of the designs found in most South Indian temples.
Kundan Jewelry: The Glass Masterpieces
One of the most exquisite types of Indian jewelry available right now – kundan jewelry involves glasswork that is intricately moulded into beautiful work. It is mostly gold and hence is extremely expensive type of jewelry.  In fact, it is said that it is mostly one of the most highly refined forms of 24-carat gold crafted in the form of jewelry. The reason why kundan jewelry is so expensive is because of the different varieties of precious and semi-precious stones as well as the gems that are used in creating this jewelry. Though Kundan mostly originated in Rajasthan, it came to Delhi during the Mughal period and then spread to the rest of the country. The reason why most women prefer to have them at their wedding is because they look so royal and gorgeous. They look the best with Indian ethnic wear and besides the heavy sets, you can also get simpler versions to wear on other occasions.
Meenakari Jewelry: The Iranian Touch
Meenakari is an ancient form of jewelry making that originated in Iran, but soon was adopted in different parts of India due to its demand and look. A lot of brides started preferring this style of jewelry as their primary bridal wear and hence it began to be sold in various parts of the country. Meenakari involves carving motifs and designs in coloured enamels. Brass, gold, copper, and silver – can be used to carve on these enamels – depending on the look you are aiming for. Meenakari work comes in different colours depending on the occasion you want to aim for. The jewelry is engraved in a way to depict a scene or a view and is very delicate looking. This makes it very beautiful to look at. Meenakari jewelry is used on necklaces, armbands, bracelets etc.
Lac Jewelry: The Rajasthani Pride
Lac or short form of Lacquer is a jewelry type that is typical of Rajasthan. Over the years it has become popular all over the country because of its appeal. Lac work is a very tedious job because it involves a number of steps, including collecting the resin from insects. Geometrical prints and motifs are primarily used in Lac jewelry, but nowadays even floral motifs are popular. Over the years large industries in many parts of India have flourished and these are involved in creating different lac jewelry. In fact, Lac is also being exported now to different parts of the world!
Lac bangles are amongst the most famous of all jewelry and can range from thousands to even a lakh – depending on the kind of work that is there in the bangles.
Tarakshi Jewelry: Straight from Odisha
This is a very different and unique art form that came into being in Orissa in the late 1500s. Tarakshi jewelry and is a little-modified version of the Greek jewelry which has Filigree work. Not only are tarakshi jewelry items easy to use, but they are also very delicate looking and beautiful because of the intricate filigree work that is done on the silver. Most of the tarakashi designs that are there will be on silver and will have mostly floral designs. They are now popular all over the country because of their antique appeal and delicate designs. Nowadays, you can even ask the designer to make this jewelry in a custom style.
Jadau Jewelry: Reverse Meenakari
Jajau Jewelry is a popular style of jewelry that originated in Rajasthan and Gujarat in the Mughal era. This style requires very skilled craftsmanship and involves gold and precious stones. The craftsmen will melt the gold a little and then embed the different stones in it. The stones are set and put into a particular design when the gold has just been melted and is pliable. There is no gum or adhesive used in these designs as the gold itself will hold the stones once it has dried and set. The major attraction of Jadau jewelry is the fact that they use an expensive uncut diamond called Polki as the center stone in in these designs. Like all other jewelry, jadau jewelry is also preferred by most brides and women to wear on special occasions or festivals.
[sc:mediad]
Thewa Jewelry: Blast from the past
Thewa Jewelry dates from the 16th Century and is a popular artwork from Gujarat and Rajasthan. A lot of beads and gold is used in this kind of gold jewelry and was created by a goldsmith way back until it caught the eye of a king who decided that it should be more mainstream and hence it was made popular in different parts of the country.
Pachikam Jewelry or Pacchi Jewelry
Another very special type of jewelry that is famous in the Kutch, but because of its global appeal, it is now available all over India. Pachikam jewelry is also being mimicked by a lot of other designers right now. Unlike other jewelry forms, in Pachikam, silver is the base material and most of the design is done in that. The reason being the fact silver closely resembles platinum. Most of the designs are very flamboyant so it will should wear Pachikam jewelry only on special occasions. Silver is the base material and special stones and other jewels are encrusted in it. The aesthetic appeals of Pachikam jewelry lie in the fact that it looks pretty rustic, but there's a different appeal to this and hence makes the whole piece look good.
Pearl Jewelry: The Pride of Hyderabad
Pearls are reminiscent of our beautiful Mughal era and are a favourite piece of jewelry for people who love an elegant piece of jewelry. Pearls that are available now range from a price of Rs. 500 and can go up to lakhs. Most of the pearls that are now in India are primarily being cultured in Hyderabad and sold all around. Hyderabad, in fact, is known as the 'City of Pearls' and pearls are exported to all different countries from here. From white pearls to grey and even pink – Hyderabad has all kinds of pearls. The popularity of pearls is because these could be worn not only for simple occasions, but you can also wear the heavier sets for special occasions or festivals.
So here are the 8 types of Indian Jewelry that women love – starting from the very expensive to the very versatile – there is something for everyone and for every occasion in this list.