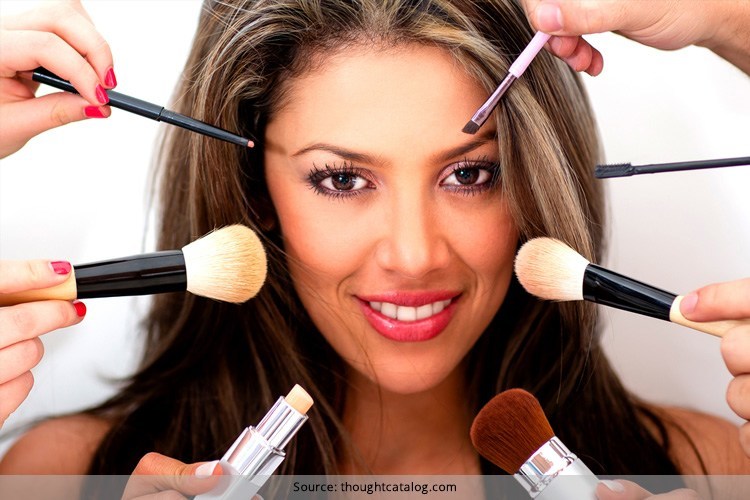 Now here's something that got us thinking, how many of us out there actually know the right step by step makeup application. Do you just moisturize and then apply your foundation, or is there something more that needs to be done to gain that flawless look? Keeping this big question in mind, here today we would like to show you the scoop on step by step makeup application.
[Also Read: Think Permanent Makeup For Life And Forget The Temporary Face Makeup]
Makeup Steps In Order Of Its Application
Take a good note at these makeup steps, so that you make no more mistakes ahead.
1. Are You Washing Your Face The Right Way?
It is important to use a herbal or a mild face wash, so that the skin is rid of dirt and grime. We have spoken about various ayurvedic and home based facial packs, face wash packs and even products available in the market that are safe for INDIAN skin, so do try them before starting on the makeup steps given below.
2. Moisturizing Is Important
Whether you use a BB cream or a CC cream, before touching your facial skin with anything, it is important to get the skin moisturized. What you need to use is a light texture moisturizer; a creamy formula that doesn't interfere with the functioning of the primer. The creamy formula should be SPF15 minimum, so that your skin stays safe from the harmful UV rays of the sun and builds into the primer and foundation too.
3. The Foundation Part
One of the most important tricks in using foundation the right way is to avoid doing your eyes first. This is because the fallout from the lids happen sooner, especially when using eye shadow. And always remember, when foundation touches the skin, it is tougher to remove. Hence, creating a canvas with the foundation you have should first be done. You can then go ahead and correct any flaws or maybe errors later on.
4. Conceal Those Flaws
Talking about flaws and errors, you need to sit in front of your mirror and look diligently for mistakes. Concealers shouldn't be generously used, instead use them sparingly. What you need to use a concealer for is to hide blemishes, dark spots and acne marks or pigmentation too. But before you use a concealer, it is wise to wait for the foundation to set; only then you would know where the problem areas on your face are. This is what most celebrity step by step makeup tutorials would talk about as well.
[sc:mediad]
5. Powder Up
When we say powder up, we don't mean to bathe your face in it. It should be a light touch of very translucent powder for the face, just beneath the lower eyelids so as to remove all fallouts that come by when eye shadow is being applied. Powdering up also allows time for the base to settle.
[Also Read: Emma Watson Without Makeup]
6. For The Eyes And The Lips
You could start with the eyes or the lips, and take your time here because these are your focal points on the face that gives out the final look. If you start with the eyes, the face makeup steps for the same would be to begin with your eye shadow, then move on to the liner application and finally, the mascara. For the lips, you start with the lip balm, then the liner an finally the lipstick filling.
7. Blush Those Cheeks
Finally, for the cheeks sweep a little brush across the cheekbones. Start from the upper cheekbone to the temple in the shape of numerical 3. Enhance the look with two strokes and not more, and keep the blush light pinks to peachy pinks, for the au natural glow to come by.
[Also Read: Color Wheel Makeup Chart]
Use the same blush to bring a glow on the lips and cheeks with one brush stroke each and you are going to be haute as ever when you watch what you look like in the end. The mirror would fall in love with you for sure, and with these face makeup steps for party evenings, we really don't know how many hearts you would steal!