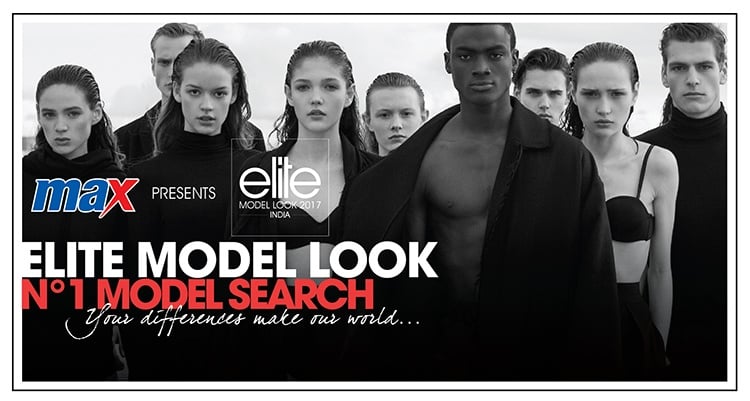 A famous quote says 'Style is a way to say who you are without having to speak', and the world of fashion nods unanimously and synchronously in agreement. While most of us often care about making a strong, stunning impression with our appearance, very few of us get fascinated about opting fashion and modeling as a career.
If you have spent hours admiring the person in the mirror, then grab every chance of letting the world admire your beauty and strength. Here we are with a window of opportunity provided by Max Fashion, the country's largest fashion brand and Elite, the global talent management company through the Elite Model Look 2017.
Besides the photogenic qualities, the Elite Model Look 2017 is looking forward to digging out strong personalities, natural and beautiful traits and the ease and comfort with which one adapts to the current fashion trends. In a world where beauty is perceived in varied forms, it's a golden gate to rewrite the words beauty, fashion, and style in your own essence.
Freezing toes and melting hearts for past three years, Max not just brought the opportunity to the doorstep of budding models but also worked towards envisaging their dream by guiding them thoroughly on both Indian and International frontier. And now, we can't wait to start our journey with Max to explore fashion and modeling on a wider scale.
The duo, Max, and Elite are stepping out and touring all through India this year to render a platform that makes dreams become reality for those girls and guys who aspire to make modeling their career. Be it Hyderabad, Bangalore, Delhi, Kolkata, Pune, Mumbai or Goa, the regional castings that are spanned from 16th July to 19th August is truly the right place, to begin with.
A national casting will be conducted on the 30th of August in the city of dreams, Mumbai where the selected contestants from regional castings who have proved their worth, caliber and tactfulness compete. The sole aim of the grand finale scheduled at Goa on the 15th of September is to crown the talented, stunning individual with Elite Model Look 2017 title and secure a 2-year contract with the Elite agency worldwide.
[sc:mediad]
Besides walking and speaking fashion and trends, the Elite Model Look 2017 is a great platform to discover yourself, your abilities as a performer and the strength you behold in working towards your castle in the air. Challenge yourself this season and flatter your audience with your uniqueness, beauty, and mystique.
Tyra Banks, once said – 'Perfect is boring. Human is beautiful' So, contestants don't struggle for perfection but feature the best in you for the world to admire. Inspired to walk down the runway with magnificent aura, impeccable strength, and undying panache? Then, roll up for the Elite Model Look 2017 in the nearest regional center and take a step closer to your dream.
Feel free to check their website ELITE MODEL LOOK for further details on applicants age, height limits, permission slips and what to wear to the casting.
Good Luck Boys and Girls!