When you are planning your look for your wedding your hairstyle is as important as your wedding dress. Should choose something that not only suits you but reflects your own personal style. It's also important when choosing a hairstyle to ensure that it matches the overall look you are going for. It might look a little strange if you choose a retro hairdo and a modern dress. Before you go and organise a hairdresser for the big day it's important to work out exactly what you want so you can talk to them about whether they can do what you want and so that they can flag any potential issues with your chosen style.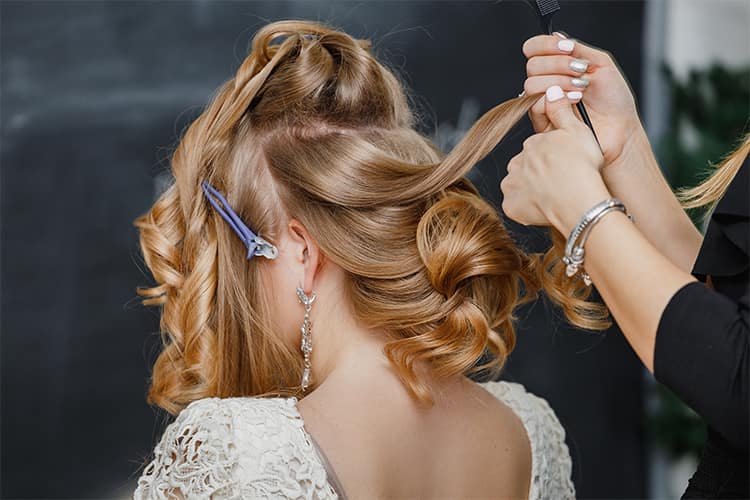 Bridal Hairstyles For Long Hair:
Different hair types will be capable of different hairstyles so you should have a couple of back up ideas in case your first choice is not feasible. Long hair can be very versatile when looking at wedding hairstyles, you have more hair to play with and the possibilities are endless, but here are eighteen of the best wedding hairstyle for long hair and what you need to know about them before you make your decision.
1. Messy Braid:
A well crafted messy braid is a wedding favorite as it is beautiful, versatile and compliments a range of styles. The wonderful think about the messy braid is that you can wear it straight or to the side. Wearing your braid to the side is a great way to show off the back details of your dress rather than covering them which is a risk with long hair. A messy braid can also be adapted to suit the bride's face and preferences as it can be pinned and pulled pack or loosened to let more hair fall naturally around the face and neck.
2. Updo Messy Braid:
Lifting that messy braid off your back or shoulders can create a whimsical fairytale feel that still has the versatility of the messy braid. The updo can be positioned high or low and can be a voluminous as you like. A soft, low profile updo can look beautiful off centre, with segments of hair softly falling from the braid.
3. Milkmaid Braids:
A classic braid style that is perfect for the bride who wants their hair out of their face of their big day. Despite the practicality of Milkmaid Braids, they are still romantic and enchanting. They can give an elegant, fairytale look and this style is great for soft, simple wedding dresses that show off the neck.
4. Fishtail Braid:
This style of braid starts in the middle of the back of your head rather than the top. Typically it is more contained than a messy braid but still has a little of that effortless rustic charm. This braid creates a unique pattern that will make a stunning addition to your wedding style. All braids add an element of pattern and texture but the fishtail brain is unique in its form and structure.
5. Add Flowers to your Braid:
One of the simplest ways to take your wedding braid to the next level is with flowers. Weaving flowers through a braid is a simple and effective way to add a touch of fairytale magic to your wedding style. A lot of stylists recommend baby's breath for accenting your braid, but there are other options available. They don't have to be fresh flowers, they can be artificial. Artificial flowers are less likely to get damaged but they often don't have the same look and feel as fresh flowers. However, if you are willing to spend the money on high-quality artificial flowers that is probably a good option.
6. Swept to the Side:
When it comes to wedding styles, symmetry is overrated. By choosing to keep your hair down and have your stylist accentuate the natural shape and form of your hair you can create a look of effortless beauty. One way to enhance that 'down' style is to have your hair styled so it sweeps to one side. This small stylish choice will make a lot of difference and softly frame your face rather than dividing it in half.
7. Bouncy Curls:
Another popular choice of 'down' do is to create bouncy curls. These large voluminous curls can be created using a straightener and add a glamorous touch to your down hairstyle. The curls only start lower down creating a softly fall style without intense volume around the face. A high-quality straightener is key to creating this look and you can see different hair straighteners here. Whether you have naturally straight, wavy or curly hair you can create this look at home with a bit of practice and patience,
8. Half Up Half Down:
Having an Updo pulls your hair away from your face but a down do allows for length and volume. Have the best of both worlds with a half up, half down style. This incredibly popular option has a number of variations. One of the most popular Half Up styles for weddings pulls hair away gently from the side of the face into a braid or twist and allow the rest of the hair to fall in soft waves or curls.
9. Half Updo:
Talking the half up, half down style a step further the half updo sweeps more hair up into a more voluminous style that might be loose and messy or firm and structured. This style is great for those looking for a more structured and pinned back style but still want to take advantage of the length of their hair, allowing it to fall down to their shoulders. This is a look best achieved by enlisting the help of a stylist as it can get quite complicated depending on your hair type and the style of updo you are looking at.
10. Add Flowers to you Half up style:
Braids aren't the only style that is greatly enhanced by the careful deployment of floral accents. Using flowers to add a special touch to your half-up style dresses up the look and adds that same feel of whimsy and playfulness that it lends to a braid. Delicate flowers tracing the line of the swept up segment of the hair can give a delightful floral crown effect or a few well-chosen roses placed at the back of a half updo add an air of romance to the hairstyle.
11. Soft Waves with an Accent:
We've already talked about how bouncy curls and a swept to the side down style can be a great choice for your wedding, but there are a few more down styles that really warrant mentioning. Soft waves are incredibly popular as a bridal hairstyle choice, with many who go for a down hairstyle opting for this look that has the softness of curls without the volume.
A fantastic way to style those soft waves is to add a clip or accent to the side. Similar to the swept to the side look this breaks up the hard symmetry and frames the face beautifully. Many opt for a floral accent but bows and fine metallic designs are also a great option. Be sure to try a variety of accents to see which suits you best.
12. Bangs and Blow out:
If you love the style and structure of your hair but you want to enhance and control it for your wedding day why not go for a blowout. Using mousse and a diffuser you can enhance and shape your hair to create the perfect wedding look. Many people like to add subtle bangs to this look to change the way that your face is framed and add something a little different to your wedding look.
13. Light Curls and Headband:
Again this light curls look can be achieved at home with a good hair straightener or hair dryer. Apply mousse to your hair and separate into sections if you are using a hair dryer diffuser or a hair straightener to protect your hair and help it to hold shape. Once you have achieved the look you are after, you can add a touch of delicate beauty to your hair with a finely crafted headband that can be fastened into your hair but will give the appearance of resting lightly on your curls.
14. Faux Pony Tail:
Ponytail is not a word that anyone would typically associate with wedding hairstyles, particularly not the bride's hairstyle, but this faux ponytail is a deceptively simple way to create an enchanted fairytale look.
Think Belle from Beauty and the Beast. As this is a half up, half down do you will need to separate your hair into a top section and a bottom section. Then pull the top section into a loose ponytail and thread the tail back through the base between the head and the hair tie. Pull it tight and soften by loosening individual segments. For best result, you should wave or curl your hair before you start this hairstyle. This is another hairdo that would be beautifully accentuated with flowers.
15. Messy Bun:
A popular bridal hairstyle choice for years the messy bun lifts your hair from your shoulders so that you can show off your dress whilst still having the soft effect of loose segments that give the bun a playful, whimsical look. The hair can be gathered on top of your head or lower depending on your tastes and can even be placed to the side. You can do this one at home but it would be advisable to get a professional hairstylist to do the work for you. Without an elaborate mirror set up, it will be difficult to see the back of your head which is where the bulk of this hairstyle is focused. But if you are a seasoned home hairstylist you could definitely create this style.
16. Braided Crown:
Similar to the Milkmaid Braids this is a braided style that requires at least two long braids to be pinned up but the difference is that the braided crown goes around the head rather than across it. This style can also be done with a messy braid rather than the tightly formed braids that traditionally comprise the milkmaid braid. This is definitely a style you can do at home and you are going to need a lot of bobby pins and hairspray. The braided crown is definitely worth the effort as if gives off a feeling of innocent enchantment.
17. Glamour Waves:
Capture the style and sophistication of the golden age of cinema on your wedding day with glamour waves. Rather than using the softer, romantic styles, we have mentioned before there is nothing effortless about the glamour wave. They are dramatic, carefully crafted and absolutely stunning. This is a uniquely flattering style that sweeps the hair to one side in smooth waves. This classic look is perfect for those wearing a similarly stunning dress that has a slightly vintage feel.
18. Bouffant:
Is retro more your style? There is nothing that screams retro like a bouffant. The bouffant is an increasingly popular choice for brides who are going for a nostalgic feel at their wedding. Not all hairstylists will know how to do a bouffant so if this is what you want then be specific when researching hair stylists. Bouffants can be styled as an updo or half up and the main feature that sets these apart from other hairstyles is the teasing and backcombing that achieves that iconic volume.
As you can see there are a huge variety of long hairstyles to choose from for your wedding day and we've barely even scratched the surface. No matter what look you are going with you are bound to find something that will compliment your dress and accessories. Just remember, if you are doing your own hair at home, get lots of practice and if you are enlisted the help of a professional hairstylist be sure to open a dialogue in which you can accurately convey your choices and expectations. Bring along photos of the styles you like when you meet your stylist in person so that they are able to determine exactly what style you are looking for.