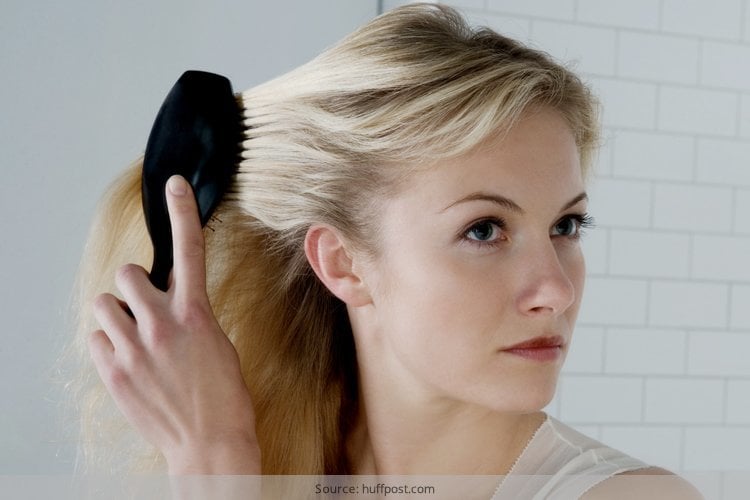 If you desire the looks of a diva, hair and makeup wise, you need to make an investment in the right tools and accessories. Just as we have spoken about the use of makeup brushes in our previous post, today we shall elaborate a little on the importance of the right hair styling brushes. You cannot comb your wet hair with a paddle brush for sure, or else you'd lose hair. The same way, a round brush cannot be used for detangling too. Thus, pay good attention to the hair styling brushes we introduce you to, and learn the difference from one brush to the next. Check them out!
[Also Read: Guide on Different Types of Hair Brushes]
Hair Brush Types
When it comes to hair brush types, any hair stylist would say just one or two aren't enough. Here we bring to you seven brushes that help style, add volume, comb, detangle and more. Give it a good read and learn what brush would best work for your needs.
A Wet Brush
A wet brush as the name suggests isn't the best brush to blow dry your hair with and shouldn't be thought off as the best hair brush for volume. A wet brush helps remove the tugs when you comb wet hair and is designed that way.
A Wide Toothed Brush
When you walk out of the shower and comb your hair, you would feel plenty of tugs and pulls, which is because of hair being tangled. This is the last thing you want to happen to your hair, which makes hair loss happen. Hence with a little serum applied and a wide tooth brush, you can comb your hair easy.
The Tail Comb
Also known as the RAT TAIL comb, sectioning your hair is done easy and fast with this brush. Go middle, zig-zag or side using the rat tail comb or the tail comb which brings a new style to your buns and ponies every time.
A Teaser Brush
As the name suggests, a teaser brush is used to purposely create small happy knots in the head. Why happy? This is because without these knots, the hair wouldn't have enough volume and the updos you want wouldn't come through as big and neat. So yes, a teaser brush is a must for the crown section, while we look at a flat hair brush for the front and the sides.
A Round Brush
For blowouts with plenty of volume and large hair, you would need to blow dry the hair with a round brush. You have them in small, medium and large sizes, and depending on the angle you use the brush and the blow dryer as, so would be the curls. Refer to our post on how to achieve the curls of your dreams, where we have spoken about the angles at which you hold the brush and the blow dryer.
[Also Read: Taming Frizzy, Unruly Hair With Brush That Straightens Hair]
A Vented Brush
If you have no time each morning after a shower to dry your hair, you should use a vented brush to achieve the same in les than a moment. In a jiffy, the vented brush bristles spreads the hair and allows the heat from the dryer to penetrate through and dry the hair soon. This is one of the many hair brushes for long hair, but do use a wide toothed brush or a wet hair brush first to detangle.
The Paddle Brush
A paddle brush is a must have at home, which is a basic brush that helps with awesome blow outs to moderate hair setting too. With this brush, you wouldn't have to spend a lot of time to beat the frizz and wave as well.
Here were the seven hair brush types and uses and we have also indicated how to pick a hair brush too. Do use this mini hair brush guide to your advantage and stop that hair loss from happening. Remember, if you don't care for your hair, your hair wouldn't care to stay!