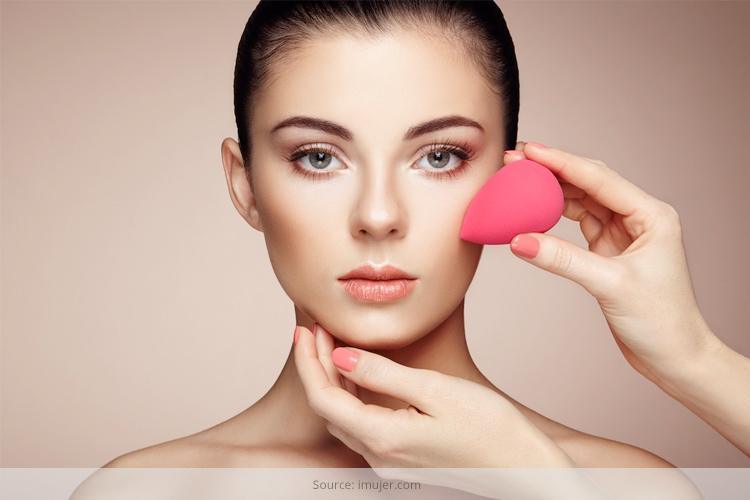 One of the latest trending topics in makeup is the sandbagging techniques. Starting from top personalities like Kim Kardashian to Instagram junkies, this technique is taking the beauty world by storm. Just when we thought contouring was making its ground strong, along comes sandbagging. Coined by Kim Kardashian's makeup artist Mario Dedivanovic, sandbagging might be a funny name for a makeup technique but it delivers some seriously great results. The process is similar to the "baking" method that was overly popular on every single social media platform a little while ago.
[Also Read: Digital Makeup Pen]
So, what Is Sandbagging?
Definitively, sandbagging stands up to its literal meaning, that is forming a barricade around a specific area against any water or liquid inlet. Guess what! The same concept can now be applied to your everyday makeup regime by creating sweat-proof barriers around the sweat prone areas of your face, that is, your eyes and lips.
[Also Read: Concealer Makeup Tips]
With the temperatures soaring and summers rushing in, you will definitely be thanking your stars for the invention of this technique. But, given the precision it requires, you would want to practice this technique well, a few times at the least, before the heat and humidity take its toll on you and your makeup.
Whereas techniques like strobing and baking are on the extreme end of your makeup application regime, sandbagging might be the most helpful technique invented yet. The main aim of sandbagging is to completely conceal any dark circles under the eyes without creasing and to enhance the life of your lipstick so that it becomes smudge-free and lasts for hours without the need of any reapplication.
Mastering the sandbagging technique
Mario Dedivanovic, uploaded a step-by-step guide on how to sandbag using Kardashian as his model. This guide though not very extensive, answers all your base questions on sandbagging. For the rest of your queries on how to achieve a crease-free sandbagged look, keep reading on.
[sc:mediad]
You could try your hand at this method by starting with the everyday foundation and concealer in your makeup kit, that is, you should first start off by applying your foundation and your base as normal.
Then pick up a makeup sponge and dip your sponge into loose powder, and dab the powder it right under your water-line making sure the area around your mouth as well as your under-eye area.
If you wish, you could repeat the process since more is actually better when it comes to this technique.
[Also Read: Natural Day Look Makeup]
So in case, you can see the lines created by the powder, do repeat the same under your lips and around your eyes again ensuring there is a thick layer of powder around the area.
Following this, you can apply the rest of the powder on the sponge on the rest of your face as usual since the powder absorbs the oil in those particular areas that would otherwise ruin your look.
When everything is done, wait for it to set and after about letting it sit for 10 to 15 minutes, use a large brush to simply brush off the excess powder where you previously applied the powder until you're left with that highly desirable natural finished look.
Products You Need To Sandbag
Compared to popular techniques like contouring and baking which require a myriad of products, sandbagging is relatively hassle-free in that aspect. All you need for sandbagging is a make-up sponge, a large brush and loose powder and you are good to go.
Does Sandbagging Work On All Skin Types?
Sandbagging is an ideal technique for women with all skin types. But if talked about specifically, this technique is most effective for those with oily skin as it absorbs excess oil which otherwise is known to wreak havoc on your make-up over time. However, a proper check on the products used can do you no harm. For example, it is best that you chose a powder that is suitable to your individual skin type. If you have doubts regarding this, you can always consult a dermatologist.
Let's Sum Up
While contouring aims to sculpt those cheekbones and strobing highlights certain areas of your face, sandbagging is all about creating a long-lasting effect along with crease lightening. Doesn't it become a nightmare when your concealer and lipstick begin to fade through the day? Sandbagging is your answer here! It should help keep your makeup in one place. Mastered by the contouring Queen, Kim Kardashian, with the help of her makeup artist, sandbagging promises to leave your face flawless and smudge-free. So does the technique actually work on you? You will have to try it out to find out.