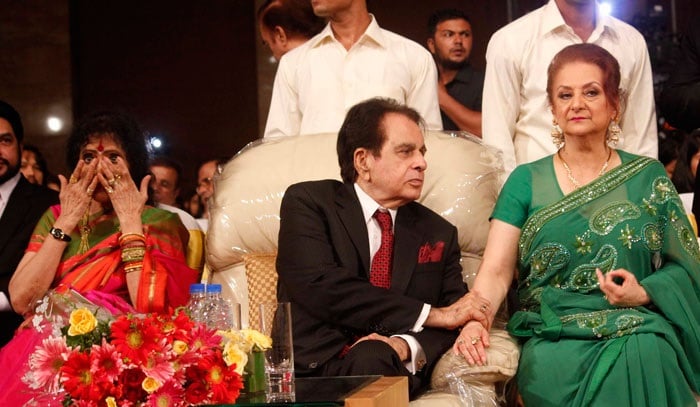 As in my previous edition, I discussed about the star-studded event in the honor of Dilip Kumar's Autobiography launch, I am back once again with an edition on who wore what at the event and who your favorite in saree from the event is. But before that let's have a look at the inspiration behind this book.
Thespian Dilip Kumar's wife Sairas Banu, who looked resplendent in a green sequin-studded sari even in her 70's was extremely excited and pleased to see the entire Bollywood fraternity participating in the event.
Just before the event, she had said, "Please pray that the dedication we have written the book, it is received by the readers in the same way. Every chapter in the book is important and you all will read something that you have not read before about him."
How Dilip Kumar's autobiography came into place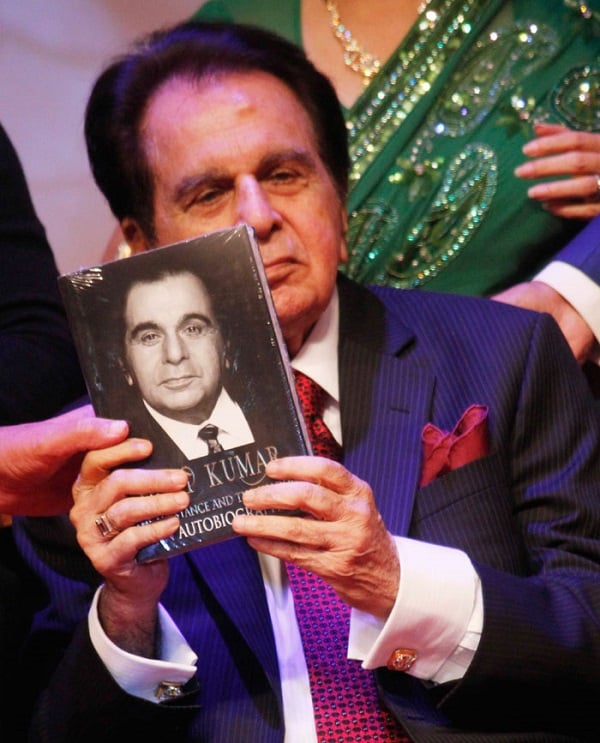 Chronicling the life and times of the iconic Dilip Kumar was never an easy task. Over the decades, several acclaimed authors have attempted writing biographies dedicated to the 91-year-old, but the veteran actor's wife never gave any of them her stamp of approval. However it was always her dream to see a real book with content full of honesty and purity on her husband's life and illustrious career.
It was only 10 years ago, she realized that the only person who could do justice to his story is none other than Dilip Kumar himself. And this is how the idea of releasing Dilip Sahib's autobiography was conceived. And with the help of their close friend Udaya Tara Nayar, who helped the icon in penning down his thoughts; the book is today finally released.
Here is an excerpt from the interview by Hindustan Times with Saira Banu, where she talks about her dream book in length. Continue reading!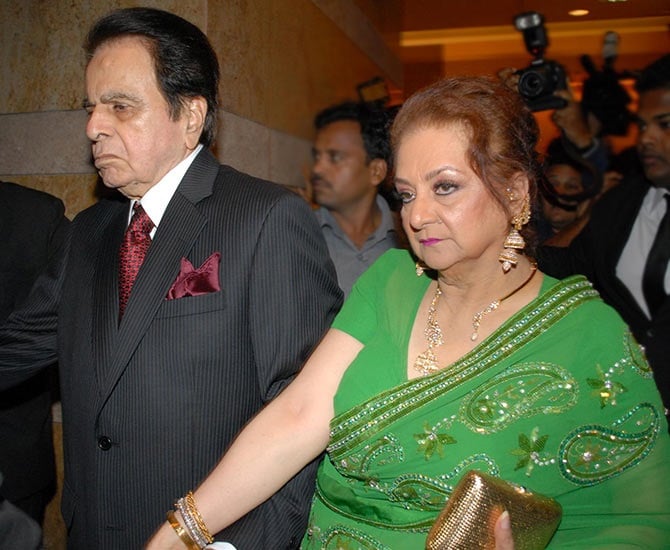 What took this book 10 years to be written?
It was not being written for 10 years. But it did take that long to accumulate the material for it, through recordings, a lot of research and inputs from people who grew up with him (Kumar).
Whose idea was it to write a book on Dilip saab's life?
I felt his story had to be told by him, since the authors who had written his biographies in the past had not got the facts right. So I persuaded him to narrate his story to Udaya Tara Nayar (veteran journalist), who is a close friend and a fine writer. That's how it is an autobiography penned by Udaya Tara.
Were you actively involved in the writing?
I left Tara undisturbed to write it and I had complete trust in him to not misrepresent any facts.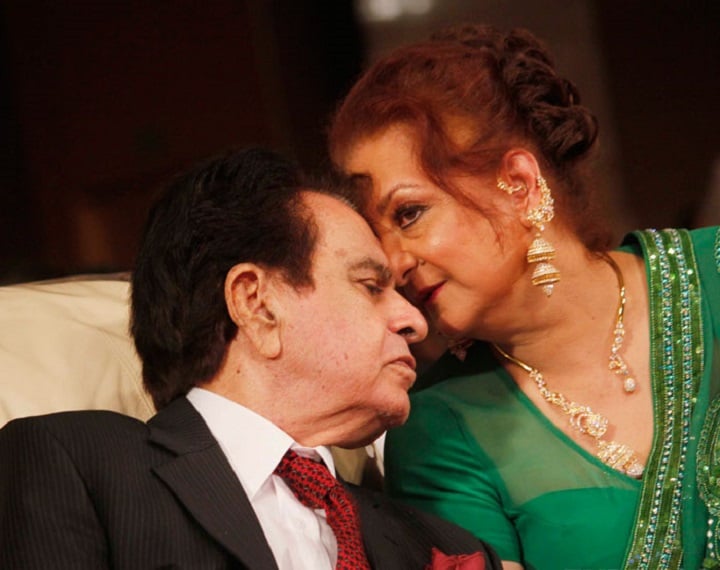 What can we expect from it?
She has narrated the story of his (Kumar's) entire life from the day he was born. All the truth is there.
What part or chapter of the autobiography is your favourite?
The entire book is special to me, as it is the first time Dilip saab has spoken about his life from what it was in Peshawar, to making it in Mumbai. He isn't someone who likes to use words a lot, but [if I were to choose one] my favorite part would be the one where he has spoken about our romance.
Dilip saab is quite reserved now. Does he meet his friends from the industry often?
They visit him… Ramesh Sippy, Subhash Ghai and Dharmendra drop by whenever they feel like spending time with him. Aamir Khan visits us. Lataji (Mangeshkar) talks to him on the phone. Kamal Haasan and Vyjayanthimala come over whenever they are in town.
Who wore what at Dilip Kumar autobiography – The Substance and the Shadow Launch?
Priyanka Chopra

PC in my opinion was the best dressed at the event apart from Saira Banu who looked resplendent in a green sari. The actress, who has recently returned to Mumbai from her 'Dil Dhadakne Do' shoot, looked gorgeous in a gold and black Sabyasachi sari, which she had paired with Amrapali jewellery and not to mention a huge red bindi and red lipstick.
Madhuri Dixit Nene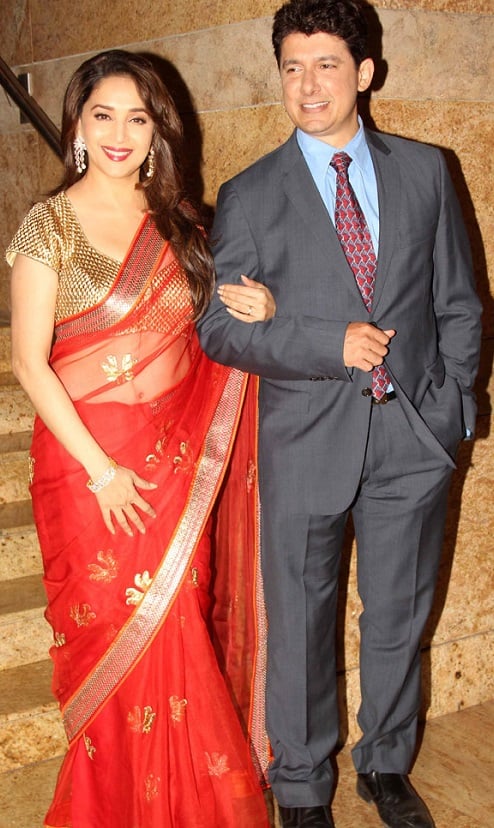 The actress was every inch a diva in her red SVA sari which she had paired with golden blouse. The Bollywood dancing queen looked gorgeous in bright red transparent embroidery net saree flanked by floral embroidery motifs all over the bodice with gold color sequence work. She completed her look with diamond jewelries.
Kiran Rao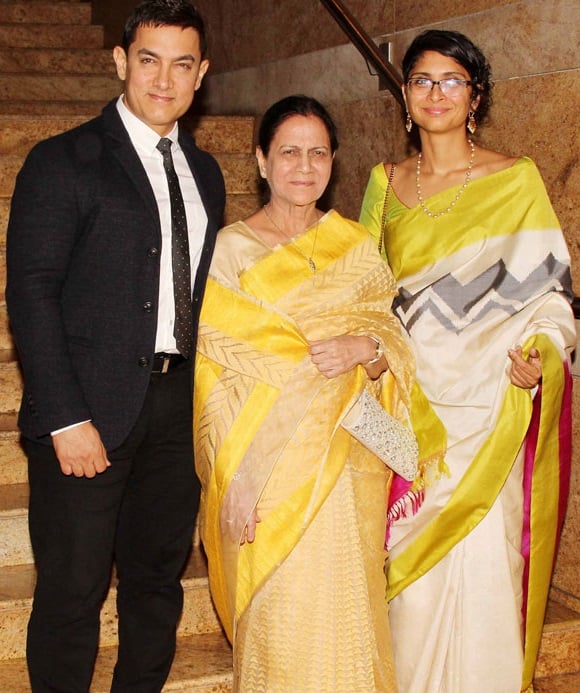 Aamir Khan's wife Kiran Rao was elegant in a very colourful tussar silk sari at event. The director was glowing in cream silk sari with yellow border. She finished off her look with nude peep-toe pumps and Saint Laurent bag.
Saira Banu

Dilip Kumar's wife Saira Banu, who was with all flying colors and had admitted before the media that she was on the top of the world, looked magnificent even at the age of 69. She was glowing in a bright green sari, while her colleague and close friend Vyjyanthimala was elegant in bright pink and orange sari.
Mandira Bedi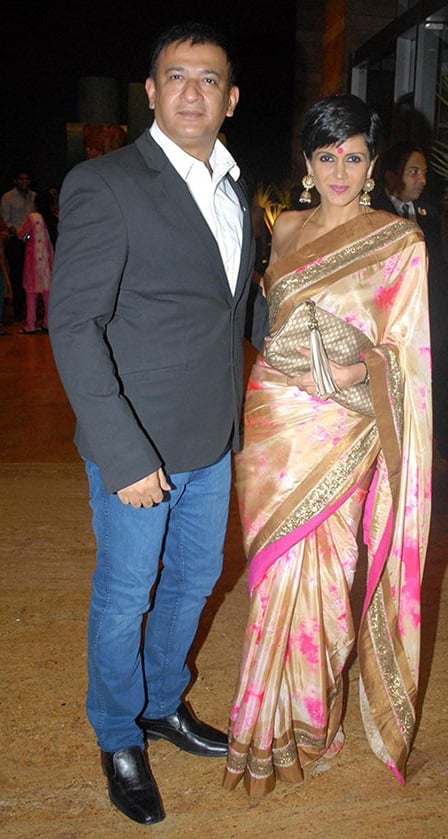 Mandira, who last year had hugely promoted Masaba Gupta's creations, seems to have taken some vital cues from her designer. The newly turned actress and anchor was looking chic in a colourful sari.
Deepti Naval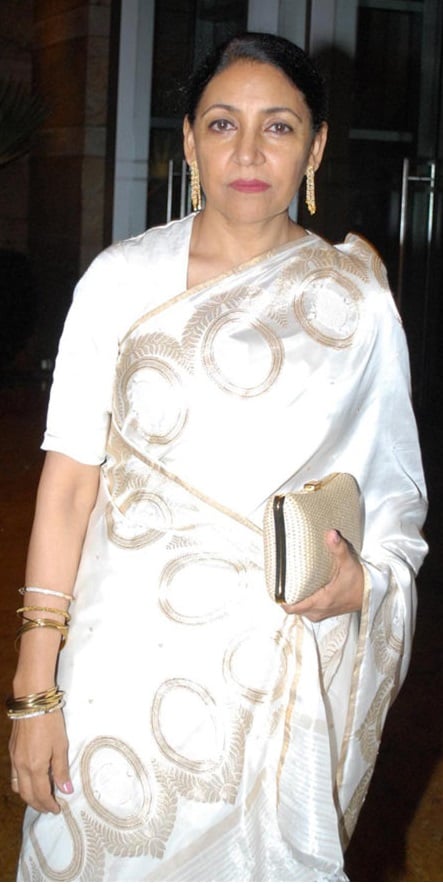 Deepti Naval, the 80's actress, who was mostly paired with late actor Farukh Sheikh, looked resplendent in this white silk saree, which she had paired with golden jewelries and clutch.
Vyjayanthimala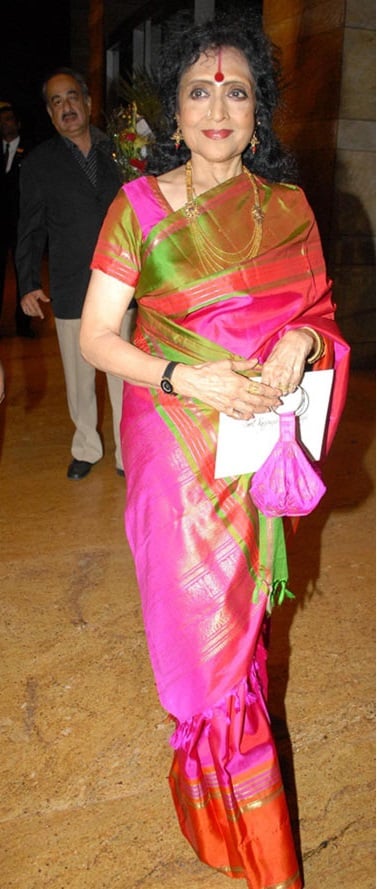 The yesteryear actress, who had worked with all the Bollywood legends of her time, arrived in South Indian traditional pattu saree to celebrate her dear friend's book launch.
Do let us know your favorite best dressed from the event!!