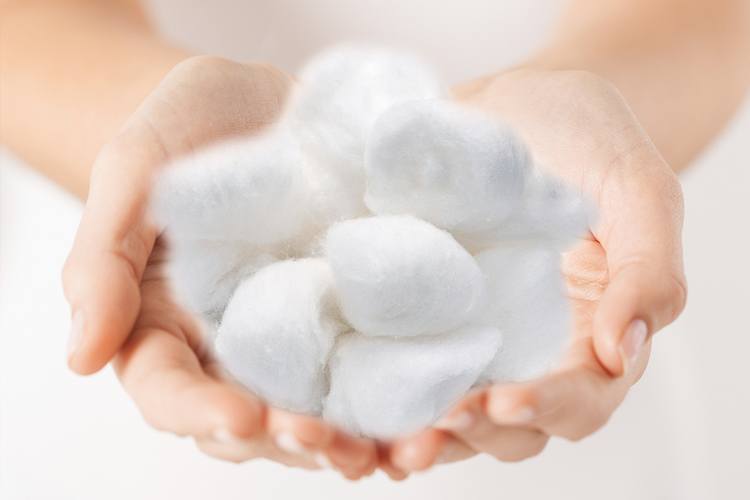 So you think that cotton balls are only meant for removing nail color and giving you perfect mani? Well, this basic and inexpensive item can actually be used in a myriad of creative ways that will leave you totally surprised. Want to know those clever cotton ball hacks? Here we go:
Do It Differently
Yes, I'm talking about the most common use of a cotton ball i.e. for nail polish removal. But wait, can you do it a bit differently? In fact, this is the smartest way to get rid of stubborn nail lacquers like glitters in no times. Just tear the ball apart, steep the sections in your polish remover and cover your fingertips with them tightly. After 3 to 4 minutes, remove the wraps and you will find the polish has come off easily. Creative, right?
Forget Space Crunch
So you are going for a night out and your favorite clutch is refusing to hold all your makeup items. Worry not, gal! You can apply your compact, blush, bronzer and highlighter to different cotton balls, put them in a zip-top plastic bag and carry it in your purse. You can even take your astringent, nail polish remover or rubbing alcohol with you this way just by saturating cotton balls with the liquids and placing them inside a tightly sealed zip-lock bag. A great trick to save space during traveling!
Disposable Applicator
You might be already thinking how to apply those makeup products that you are going to carry on cotton balls. Relax! Those tiny white soft components can also be used as single-use makeup applicators. From sweeping the powder to blending the blush to toning down the entire makeup, each and everything can be done with these.
[Also Read: Why Your Makeup Looks Totally Made-up!]
Aromatic Lingerie Drawer
Admit it ladies. Sometimes, our lingerie drawers smell like hell and we really don't know how to do away with it. Simply spritz your preferred perfume onto a cotton ball and keep it inside the drawer. As the ball retains the fragrance and disperses it slowly, the aroma of the drawer turns into a heavenly one.
A Purse with Fragrance
Like your lingerie drawer, you can also keep your purse smelling fresh and clean by using cotton ball the same way. Just make sure that you replace the perfume-spritzed cotton ball once every two weeks.
Sleep Well, Dream Well
Do you lack a good night's sleep? A simple cotton ball can come to your rescue. Pour a few drops of essential oil (any of your choice) onto the ball and tuck or insert it in your pillow case. Have a sweet dream, beautiful!
Seat for Short Brushes
It is the makeup brushes with long handles that get all the attention and love while kept inside the storage. But what about those short cute ones that remain at the bottom? Let's show some love for them. Place a few cotton balls at the bottom of your brush storage cup and make booster seats for those shorter applicators.
[sc:mediad]
Neat and Clean Brush Storage
Cotton balls can also help you take care of your brush cup. Once you place it at the bottom of the storage container, it grabs hold of all sort of dust, dirt and makeup debris so that the brushes and the container itself remain neat and clean. However, do not forget to change the balls at regular intervals.
Prevent Foot Blistering
Women can never get enough of shoes. But those blisters caused by your new peep-toe or high heel can really hurt you a lot. To avoid such conditions, you can merely stick a cotton ball to your toe with the help of a band-aid and put your shoe on. It will act as a cushion for your foot, thereby preventing further pain as well as blistering.
Bye Bye Toothache
If you are suffering from terrible toothache and unable to seek the immediate advice of a dentist, a cotton ball can be of your great help. Dip the ball into a mixture of alcohol (whiskey is the most effective option) and clove oil and put it inside the mouth right at the base of the affected tooth. Your pain will be reduced to a great extent.
Jewelry Cleaning Made Easy
Do you find it tough to clean those expensive pieces of jewelry properly? Here's how to clean you gold jewellery. Make use of a cotton ball for this purpose and see the magic. You just need to moisten the ball with some rubbing alcohol and clean the ornaments with it carefully. It will keep them dust and rust-free for long.
Keep Things Mildew-Free
If you are wondering how to maintain your leather jackets, accessories, and other leather apparels, here's the right way. Do it successfully by saturating cotton balls in bleach and rubbing them on the affected spots. Let the bleach sit for a few hours and your things will become mildew-free completely.
You definitely had no idea that those small white balls of cotton are of so many uses. Did you?