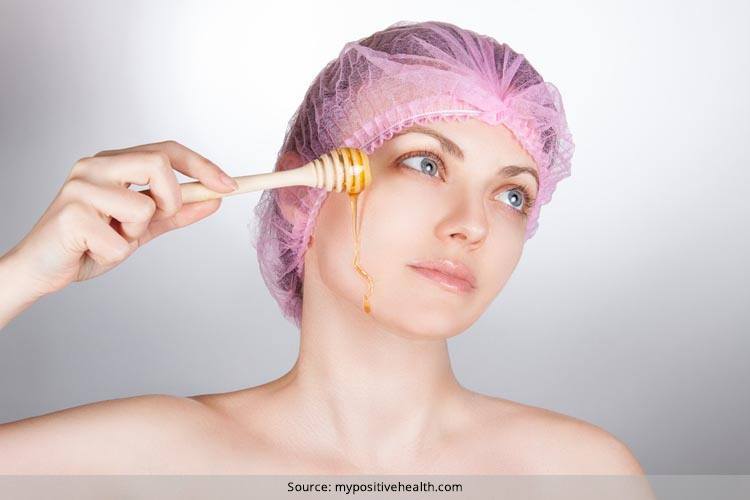 Besides uneven, dull and patchy skin, another bee in a woman's bonnet is the dry skin. Changing weather conditions, harsh chemicals in soaps, consuming less water, etc. dehydrates our skin, giving us a rough and coarse appearance. Fortunately, it is easier to cure than it looks. We can look for a cure in our own kitchen. A rule of thumb is, if it is good enough to eat, then it is good enough to apply on the skin.  With its humectants, antibacterial and anti-inflammatory properties, it is a good bet to apply honey on dry skin.
[Also Read: Honey For Oily Skin]
You can use honey as a moisturizer to moisturize your dry skin, as a hydrating face mask or even to keep your wrinkles at bay. Here's looking at some of the easy and useful ways of using honey to treat your skin.
Trivia Time!
Did you know that in order to make about one pound of honey, honey bees need to gather nectar from more than two million flowers? And in order to make that much of honey, bees need to fly about 90,000 miles! An average bee makes only one-twelfth of a teaspoon of honey in its lifetime. Interesting, isn't it?
Why Should You Use Honey For Dry Skin?
Honey with its smooth texture and humectants properties, is an excellent moisturizer for dry skin. It keeps the skin supple and baby-like soft.
Dry skin and clogged pores go hand in hand. Honey is a natural cleansing agent which helps to unclog the pores giving a radiant and glowy skin.
Dry skin starts showing signs of aging earlier than other types of skin. Are you bogged with wrinkle and fine lines? Keep a bottle of honey with you, for younger looking youthful skin.
Here's How To Use Honey On Dry Skin
1. Make Moisturizing Face Packs With Honey To Soothe And Cleanse Your Skin
Dry skin tends to get dry and flaky very easily. Honey, with its varied properties can be a great moisturizer for the skin. It hydrates the skin and makes it soft and supple.
Remedy 1: Use raw honey to cure dryness of your skin. Apply a mask made up of raw honey and let it sit for about 20-30 minutes. Rinse it with water. It also works wonderfully on dry spots like elbows and reduce inflammation to a great extent.
[Also Read: Holistic Health And Beauty Benefits Of Honey Unveiled]
Remedy 2:Here is a nearly perfect honey mask for dry skin that will soothe the dryness.
Mix 2 tablespoons of honey with 2 tablespoons of melted cocoa butter and 1 drop of lavender or tea tree oil. Now apply this mixture on a clean, dry face and let it rest for some time before washing it off. This honey face mask for dry skin can be stored for future use.
Remedy 3: For a full body moisturizing effect go with chocolate honey scrub that will leave your dry skin supple and soft. You definitely must be wondering how to apply honey for dry skin, and we are right here to guide you through the process.
Take 2 cups of honey and mix it with ½ cup grapeseed oil, 6 tablespoons unsweetened grated chocolate and 2 cups of kosher salt evenly to form a thick consistency paste. Apply this scrub evenly all over the body and let it rest till it dries. Now either remove it with damp, warm cloth or rinse it off in shower.
Remedy 4: With a wide range of options on how to use honey for dry skin we often end up thoroughly confused. Here is one more splendid remedy to add to your confusion.
Mix 1 teaspoon of mashed avocado, 1 teaspoon of whole milk yogurt and 1 teaspoon raw honey to make a smooth paste. Apply this gentle mixture on the face and let it sit for 20-30 mins before rinsing it off.
This mask is highly nutritious for the skin as it contains vitamin B, A, E and D along with calcium, zinc, copper, magnesium and manganese. The fats of avocado, yogurt deeply moisturize the skin.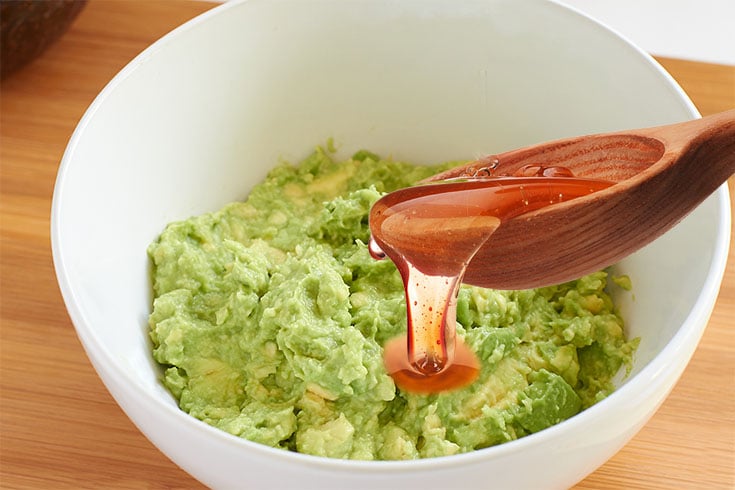 2. Use It As A Cleanser
Like we said, dry skin and clogged pores go hand in hand. The enzymes present in raw honey helps keep the pores clean and clear.
Remedy 1: Add coconut oil to it and it is a perfect remedy for cleaning pores. Add two tbsp of coconut oil to raw honey. Gently massage it on your skin and let it stay for 10-20 minutes. Rinse it with water.
Remedy 2: Mix honey and jojoba oil that will form a balm like texture. Add a slight pinch of cinnamon, turmeric or nutmeg for a therapeutic and aromatic experience. Massage it gently on the face that will help in makeup removal, cleansing and moisturizing the dry skin.
3. Honey as Face Wash
If dry skin and acne related to dry skin are your biggest beauty issues, then turn towards honey as it can be your lifesaver. For the perfect face wash with honey, blend 1 teaspoon of honey with juice of one lemon and 2 teaspoons of water. Wash your face gently with this mixture and get the perfect skin texture you always desired. The lemon will help remove dead skin cells and honey will prevent dryness of the skin and provides vitamins to the skin that will help improve the skin.
4. Keep Wrinkles At Bay
Honey being rich in antioxidants, helps fight free radicals which are responsible for fine lines and wrinkles. It also helps to keep the skin hydrated.
Remedy 1: Mix milk with honey and you are sure to get a concoction that is antibacterial and will also give you a younger looking skin.
Remedy 2: Dry skin often leads to early wrinkles and aging phenomena. And with the magic ingredient in your kitchen, you can make yourself a wonderful anti-aging mask and here's how you do it-
Mix 2 tablespoons of raw honey with quarter of ripe avocado, 1 teaspoon of dry oats and 2 teaspoons of lemon juice. This concoction has antibacterial, antifungal and antioxidants that will eliminate fine lines and scars giving a gentle, young looking skin.
5. Pimple Vanisher
Can you believe that honey works as instant pimple remover? Pimples popping out right before date night or a big meeting can be totally annoying. Don't fret over it but run straight into your kitchen and dab honey right onto the pimple. Leave it overnight and voila it just vanishes in the morning. If your pimple is a bit stubborn, treat it every night with honey and eventually it will disappear in no time.
6. Rash Cream
Many people with dry skin suffer from rashes and in such scenarios honey can be totally soothing medicine. Apply honey on the affected areas and either leave it for an hour or keep it overnight for best results.
7. Honey As An Exfoliator
Honey sure packs a punch with enzymes, antioxidants and nutrients with nourishing and hydrating properties.  Mix it with baking soda and you have found a scrub which will effectively remove dead skin cells while still providing nourishment to your dry skin. Mix one part soda and two part honey (preferably raw honey) to gently exfoliate your skin. Use once or twice a week to see positive results.
[Also Read: Best Toners For Dry Skin]
[sc:mediad]
8. Honey Bath
Did you know that honey has been used as a soothing and moisturizing agent for over 10,000 years now! Loaded with moisturizing and detox properties, it is a good bet to use honey for dry skin. Add honey into your bath and soak your body to detox it completely.
9. Treat Chapped Lips
Dryness can be totally annoying especially on the lips. The dryness of lips will lead to darkening of lip color, burning sensation and peeling off the dead cells. Hence to avoid this take a mixture of sweet almond oil, beeswax and honey and apply it as a lip balm. This will treat the cracked lips well and keep them moisturized all along.
Tell us what you think of these DIY honey treatments for dry skin. Show us some love by commenting and sharing if you loved these DIY ideas too.