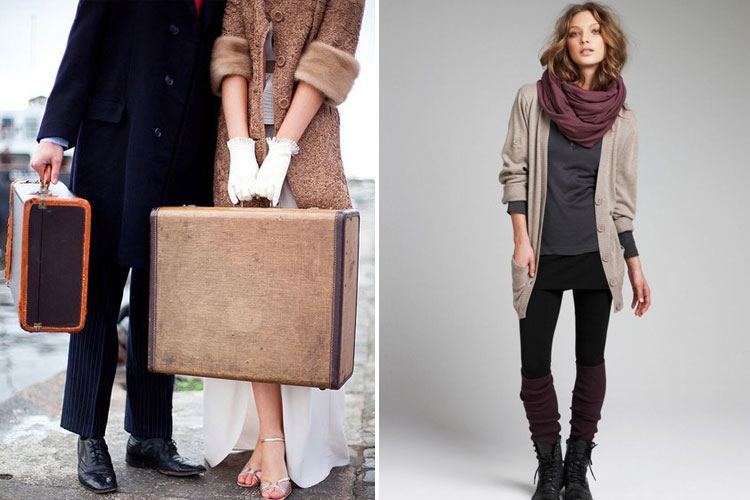 Winter weddings are fun to organise, dress up for, and attend as well. But when it comes to winter honeymoons, more than just the cardigans and thick black leggings, there has to be more to the suitcase that you pack. Yes, you would take good amount of care and be very diligent packing away the moisturizer (plenty of them) and lip balms, but what about your clothes? You need to raise the notch up a little bit than the usual, and hubby would be proud all the more having made the right choice by marrying you! Here are ten hot styles for winter honeymoons, because a chill night out with him on the mountains needs a little something more than just steamy passionate love!
[Also Read: What to Wear to a Winter Wedding]
Black for the mountains
While it blows harsh and cold on the mountains, it is on you to bring in the steamy hot scene around. A class apart act in heels for the feet, black opaque leggings and a flowy tunic top shaped as a skirt does the trick. Perfect for winter honeymoon parties you would be called to! Check those red lips!
The all-white fairytale honeymoon
Mirror the scene around with an all-white fairytale look. An oversized polo cardigan with a white trench coat on top for warmth, white cigarette pants for the bottoms and chic heels for the feet!
Keeping the feet warm and toasty!
If heels aren't your thing for the snowy climes around, think white booties with rugged soles that match up with any ensemble you choose to wear!
[Also Read: Winter Wardrobe with Clever Legwear Trends]
For a casual lazy day back in the hotel room
Unless of course you have other plans to spice things up, you still need to look like a princess in her lazy attire. A camisole top with floral shorts and a nice long cardigan in peaches or pinks would keep you warm, and him guessing!
Sexy lingerie for the night
Needless to say why, but the right lingerie on a woman, turns a man on more than anything else in this world. Victoria Secret lace and sheer erotica touches on a one-piece lingerie would make him go weak in the knees!
[Also Read: Lingerie Selection for Bride and Honeymoon]
Own the cocktail party
The vintage look has never failed any PYT so far, and now that there would be many from his side wanting to have a glimpse of your sense of style, show it off like a diva in a sexy blue number!
[sc:mediad]
Off to sight-see with hubby dearest
Take time out to bond and understand each other, because this is what would make the love grow stronger between the two. A pair of denims with knee-length boots and an overcoat to keep you warm with a scarf for the neck is what you should wear!
Coffee dates with your man
You need to be chic and simple, minimalistic and yet stylish too, which is why a pop of colour on one of the garments with the rest would make magic happen. If anything is possible over a cup of coffee, let it flow and show through the fashionable touch you give out!
[Also Read: Palestine Fashion Styles]
Not only the hills or the mountains but the cold beach too
There are beaches across the world known for the cold waters and the breeze, making it tough for you to wear only a bikini! A crocheted covering, long and flowing over your bikini would be an ideal fashion statement to make!
Gorgeous in polka dots
Wondering how to wear polka dots? Well, a polka dotted cardigan for the winter evening walks with hubby holding your hand, seems like a romantic moment. Spruce it up with a thick woollen scarf for the neck and skinnies for the legs. Under the polka dotted cardigan wear a blue shirt, and for the feet wear bearpaw boots
With so many more styles to flaunt at the winter honeymoon, you would be overwhelmed at the innovative fashion and trends doing the rounds? Choose according to the climes and show off your hot haute fashion sense in style!