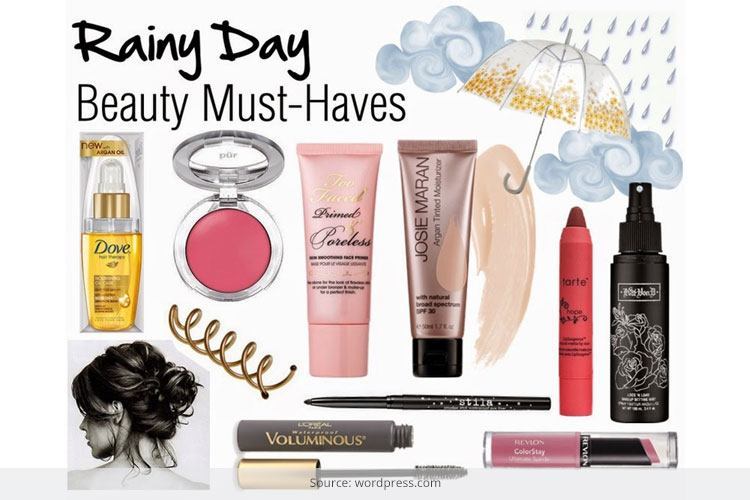 Monsoons are here in bits and parts. As always, the rain Gods love to play a strange game with us and that applies to our makeup too.
Yes, we have to guard our clothes and shoes from the rain spells. But darling, what if your mascara, eyeliner and other cosmetics leak out in the pouring rain while you are on your way to office or an evening party. It might damage your perfect sassy look.
[Also Read: Here's How To Look Fresh and Dewy All Day Long]
While there is waterproof makeup, but if you touch your heart this one is not foolproof either. How do we avoid heavy makeup yet look good? Read on to get amazing makeup tips that will enhance your beauty this rainy season:
Face Powder: To begin with, try avoiding foundation and replace it with face powder. What will be the impact? Well, to an extent it will help in keeping the look of yours intact even if you get drenched to the skin. Dab the face powder only as much as you need it, not in excess.
Blush: Cream blushers or any other type of blushers are made for monsoon, so go ahead and use them. Never mind if you get wet in the rain, just pat the blush on your face using a face tissue (without rubbing it all over your face). Blend the blush on your cheeks in the outward direction. The core idea is to make it look natural, not artificial pancake. Pastel colours on face are ideal for monsoon. The basic premise is to make it look soft, subtle and beautiful.
[Also Read: Best Blush Makeup – Tricks and Tips]
Eyeshadow: The same principle applies to eyeshadows too. Try and wear subtle and non-flashy colours of eyeshadows such as pink, brown and beige. And most importantly, use powdered eye shadows and not creams. This will help the eye shadow from 'melting' off on your face.
Mascara: This beauty product is a strict no-no during monsoons. Use it only when it is unavoidable. Pick mascaras that are water-resistant. This way they will stay on for a while without getting wet and smudged.
[sc:mediad]
Eyeliner and Kajal: Using liquid-based eyeliner can get you in a messy situation when the rains happen. A pencil liner is the best option to use in the monsoon. This will at least help from making your eyeliner run all over your face, if you get wet. The other workable option is to apply a dash of eyeshadow on your upper eye lid and support it by applying a thin line of kajal on the lower eyelashes. A technique such as this will look decent and also save you from putting a messy face.
[Also Read: Eyeliner Tips and Tricks]
Lip Colour: If you were to pick and choose, long lasting matte lipsticks would be just apt for monsoons. Try and avoid lip gloss as you very well know it will smudge off and get sticky when you get wet. Go for dark coloured lipsticks as they will stay longer than lighter shades.
Hair: Don't make the mistake of keeping your hair open during rains. You know how messy and disturbed they will look. Instead, tie up your hair in a neat bun and use hair accessories to accentuate your look. You can even try experimenting with different types of braids to make your hair look fashionable, chic and in the now.
No more feeling afraid of water washing away your make-up. Stay away from using hair sprays and gels, shampoo your hair if you get wet, avoid powdered foundation, use water proof eyeliners and mascaras, apply soft matte lipstick and see how you go happy in the rain.