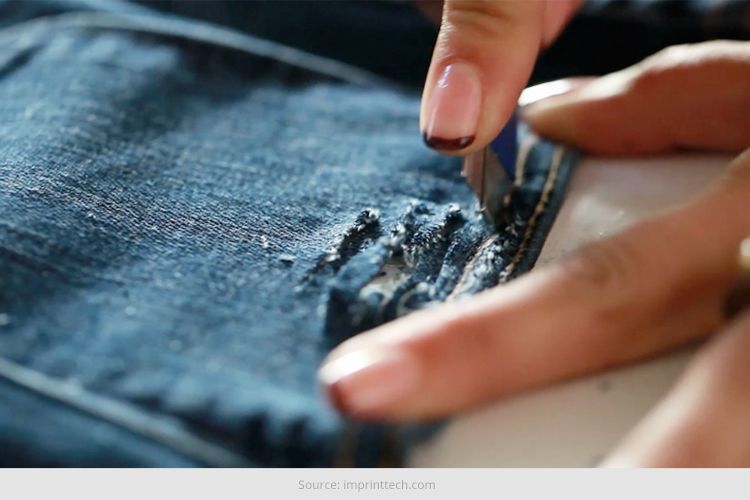 Distress denims have an effortless look which though a reminiscent of the '90s, it is still modern enough to style into and walk the street. Just like any other object of high fashion, whether justified or not, the ripped jeans can actually create a hole in your pocket. And honestly, I have no interest in paying a bunch of cash for getting something that my mother will look at as sheer trash that needs to get out of the house at the earliest. So maybe I will make one for myself instead of spending a fortune on them. On a second thought, why don't we make it together? And I can guide you on how to distress jeans.
[Also Read: Ways How To Wear Distressed Denims]
Tools You Will Need
The distress jeans DIY videos on YouTube might look cumbersome but they are easier to do. You need four tools to distress your jeans. And, all of these are lying somewhere around your room.
The first thing we want is an X-Acto knife, or a safe sharp blade with which we can rip the fibre of the denim. The better precision the tool has, the better results we will get.
The things we need are a cardboard or catalog or an old magazine.
Next is a chalk or a colored pencil that can mark the denim visibly enough.
The last thing that we need is an old pair of jeans which needs to be shown some love. And here we go.
Step 1
Before we even begin, lets wipe off the dust it has gathered since forever, we know we haven't worn these bad boys in a long long time. Now throw them on and see if it still fits. Also figure out where exactly you want your denim to have the rips. Following most celebrities, I will prefer to have it around thighs and knees. So I mark the places I want to rip with the chalk or color pencils.
Step 2
Put your jeans on a flat table. Now place the magazine or the cardboard that you have arranged inside the leg of the jeans. While distress jeans are pretty cool, they might not have the same effect if they are ripped at the back too. Putting the cardboard or magazine inside the leg of the jeans prevents the knife from cutting it on the backside. Now grab the knife or blade and start ripping the jeans horizontally along the marks you have drawn already. This might claim some hard work, because the fabric is pretty hard, but then it is all worth it.
Step 3
Once the holes are made on one leg, try it on and check if you really like the result. When I tried on my jeans, I was totally in love with those holes, can't say my mom shared my feelings. The fraying holes were perfect with threads coming across. I pulled out a few longer strings. Now take off the jeans and repeat the same with the next leg.
[sc:mediad]
Step 4
Once you have ripped the next leg too, try them on again and check for fittings. Now all the confusion starts, because you might think that the holes on one leg are larger than the other, perhaps you like the other better than the first. If you want to make some alterations, go ahead and make them. However having a few miss matched holes on the ripped part are perfectly okay, this makes the denim look naturally ripped.
Step 5
There are a million way you can accessorize you ripped denims, but this is just optional. You can sew chains or metallic studs on to them. In case you want to look cool wearing a ripped jeans but are debating the skin show involved, use a flannel or floral cloth underneath the holes you have made.
[Also Read: Ways to Give a New Look to Your Old Denims]
Now toss them into the washing machine and spin it once or twice. Given that these were old denims abandoned for ages, and we have used some chalk and color pencils on them, we should wash them before we put them on for a longer duration. Phew…distressing jeans at home was easier than we thought. Team them with a boyfriend shirt, or your prettiest top. Don't look at your mom for a lot of support, but don't give her a hard time either. Walk on the street like you are the boss. And if your BFF gets all inspired by the look and asks you how to distress jeans, don't miss to share the distressing jeans techniques with her.