There is a new high one gets after wearing religious and eco-conscious things. It gives a new feeling and a sense of satisfaction, which does not come very often. Yoga jewelry is one such soul-inspiring form, which will happily fulfill your heart and please your senses.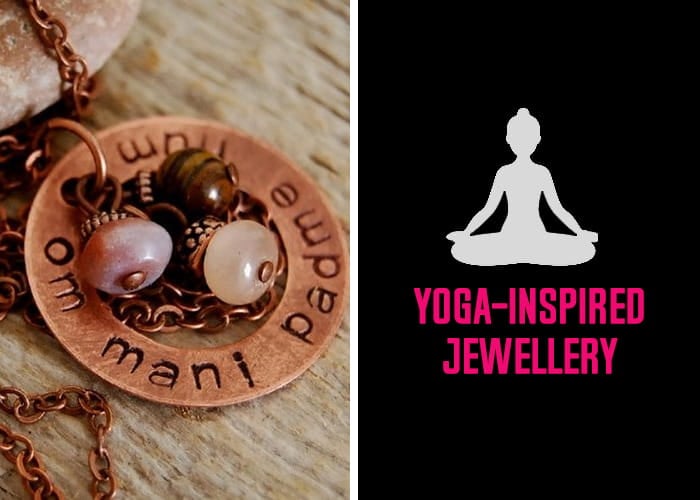 Yes, wearing mala beads or chakra symbols doesn't make you a yogi. But for some, wearing yoga-inspired jewellery carries a new meaning and is perhaps a reminder of their yogic principles.
Yoga-inspired Jewellery:
Wearing the yoga-inspired jewellery makes the wearer feel inspired, calm, and serene. That is why, you can wear your favourite yoga inspiration around your neck, wrist, or ankle and show your love for yoga, simultaneously feeling inspired to keep practicing it.
Stock up these cute-looking creations of yoga jewelry – in the form of symbols, mantras, or words around your neck, on your wrist, or earlobes and find yourself honouring your love and dedication for yoga. Even those who don't pursue yoga will take a fascination to yoga-driven jewlery pieces.
1. Pure Energy Bracelet Set:
'Cleansing, purifying, and healthy' are the three aims of this pure energy bracelet set – a perfect depiction of what best yoga jewelery should be like.
This yoga bracelet (which comes in three elastic bracelets) from energy muse in 'trio' form is an ideal combination of cleansing crystals, which work together to give your body a complete and thorough energy cleansing.
The cleansing crystals are deliberately arranged in a number-5 pattern (a dynamic number which represents change, transformation, and movement) to clear and purify your energy.
A breakup of cleaning crystals:
Tourmalinated quartz (a combo of clear quartz and black tourmaline), which clears and cleanses the energy by unlocking all energy blockages within your body
Clear quartz which clarifies your intention
Amazonite, which brings a sense of calmness, upliftment, and soothing energy. It also relieves stress and anxiety that you have
2. Signature Bow And Arrow Sterling Silver Ring:
This heart-shaped bow and arrow ring is eco-friendly, cast in recycled sterling silver. Created from the lost wax with the following intention: 'inspire' heart, 'empower' arrow, and 'connect' all, this yoga-inspired jewellery by openheartwarrior.com is truly speaking of an item that is fashion-forward.
3. I am Whole Mala – Rudraksha:
Intended to prevent, cure, diagnose, or treat any disease, this mala is hand-knotted between each bead (a traditional way to make a mala necklace for your meditation practice). And what all is used to make it the go-to yoga accessory? Cotton threads, undyed gemstones, Rudraksha seeds from South East Asia (meant to provide an inner calm, peace, and free one from negative thoughts) and sandalwood from India.
The Rudraksha beads get darker over time, which is thought to strengthen the rudraksha.
The Labradorite – the grey stone, with flecks of blue and black, often called the stone of magic, is associated with the journey of self-discovery.
4. Chakra Rainbow Filigree Earrings:
This cute pair of Chakra Filigree Hoops by Clementine & Co. has intricate wirework and precious stones embedded within. Styled after antique jewelry from India, these yoga earrings come in seven colors corresponding to the seven chakras aligned in order – amethyst, lapis, turquoise, malachite, citrine, carnelian, and garnet. They are available in recycled sterling or 14k yellow or rose gold fill.
5. No Mud No Lotus Necklace:
This yoga necklace is a great yogic reminder that all we need is a little bad in life to be able to appreciate the good. This necklace pendant is hand-stamped (using letter pegs and a hammer) and symbolises new beginnings, and strength among adversity. Remember, no mud, no lotus.
Since no machines are used in the making, the letters may not be perfectly aligned, centered, or spaced. Which, I think, adds to the beauty and the imperfection of the organic hand-made look.
6. The Shakti Trio Necklace:
The Shakti Trio Necklace by The Neshama Project is a yoga necklace, which has three triangles (available in blue or white opals) on a 30-inch gold-filled chain.
This yoga-inspired jewellery symbolises divine feminine and cosmic energy. Handmade in California, the stones are from Israel.
7. Lavender Bangle:
This yoga jewelry in the form of Alkemie Lavender Bangle is a one-size fit wrap bangle, inspired by the healing and calming aromatic properties of the lavender plant.
The gold bangle (delicate enough) is handmade in Los Angeles and forged from reclaimed metal. It means you can not only look eco-conscious but trendy as well.
8. Global Peace Pendant Necklace:
Yet another yoga necklace, but this time from Satya Jewelry, which stems from a collaboration with the Tibet House US, the US cultural home of the Dalai Lama.
This necklace has a hand-etched Tibet House US logo and Om Mani Padme Hum mantra, which symbolizes the prayer 'may all beings be happy and peaceful'.
9. Yoga Girl Pack:
Designed by Rachel Brathen, New York Times best-selling author, international yoga teacher and motivational speaker, this adorable bracelet set comes as a result of the collaboration with Puravida bracelets.
These Yoga Girl bracelets are 100% waterproof and wrist-adjustable.
[sc:mediad]
10. Shanti Boutique Bodhi Leaf Earrings:
The bodhi leaf, as you know, is a Buddhist symbol, which reminds us of Buddha's enlightenment when he was sitting under a bodhi tree. The sterling silver bodhi leaf earrings from Shanti Boutique are made in Thailand.
Yoga Jewelry Brands You Ought To Know And Love:
Here they are:
Lovepray Jewelry (straight out of San Diego, California)
With the International Yoga Day falling on 21 June 2018, you now have ample time to buy online yoga jewelry and feel at peace with yourself.
How did you find this article on yoga-inspired jewellery? Do you wear it already? Which form is your choice – bracelets, rings, or necklaces? Write in and tell us.