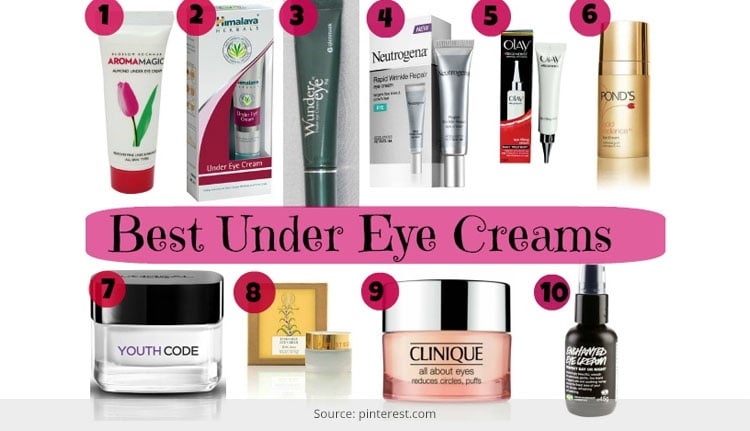 Let's admit it the under eye dark circles are the most concerning factors for every beauty conscious. A Friday night party that leads us to stay awake late night gives us dark circles the next morning. If we happen to munch on snacks post dinner, they show up next morning. To summarize, we just cannot be careful all the time only to avoid these unwanted patches around our eyes.
Besides the patches, a little carelessness also leads to skin damage. Unconsciously we treat our eyes quite harshly many times, such as we wipe off our face too hard with a towel and even intake of oily food also leads to lines and wrinkles under eyes leading to premature aging.
The good news is now we can fight these beauty ailments with the help of advanced science. With the advent of topical creams we can now get back our fresh and happy eyes.
And with the plethora of under eye creams available today, one might be overwhelmed which one to go for.
Here are 10 best under eye creams for your convenience.
Go through them and let me know which one you feel best suits your requirement.
1. Estee Lauder advanced night repair Eye Synchronized Complex
Price: Rs. 4500
Well, this brand is purely reserved for our opulent class, who don't mind spending a little fortune on their beauty regime. Price apart, this is one of the world's best anti wrinkle eye cream for mature skin. Even women in 30's can also make use of this cutting edge beauty cream.
The cream not only works on puffiness and dark circles, but even reduces fine lines, whilst moisturizing the skin for long.
2. Forest Essentials Light Hydrating Hydra Eye Gel
Price: Rs. 775
This eye gel comes with all natural ingredients without any trace of harmful chemicals. If you're looking for something herbal and natural for your eyes then here is the ideal product.
The cream is comprised of aloe vera, cucumber, katak, vitamin E, which are all enriched with eye soothing properties. Apart from reducing the puffiness, it instantly cools the area whilst lightening the dark patches around the eyes.
3. Pond's Gold Radiance Youth Reviving Eye Cream
Price: Rs. 599
Pond's have come up with a light texture cream which they claim to offer instant brightness through real gold particles. Soon after applying, the cream vanishes, leaving behind a light texture on the skin, thereby making the eyes look healthy.
4. L'oreal Paris Youth Code Under Eye Cream
Price: Rs.899
The moment you take this cream onto your hand, you'll feel the density. The cream quickly gets absorbed into the skin and moisturizes the area gently. Above all, the cream is capable of keeping the fine lines at bay.
[sc:mediad]
5. Sheseido White Lucent Anti Dark Circles Eye Cream
Price: Rs. 3221
This is another pricey item which is a new breakthrough in the cosmetic world. The cream is designed to work against two major causes of dark circles –
Pigmented melanin formulation (brown circles) Poor micro-circulation (blue circles)
The cream combats dark patches by inhibiting melanin production, fading existing pigmentation and improving micro-circulation.
Sheseido claims to induce a breakthrough ingredient known as dark circle diminisher which not only fights melanin production but also combats poor blood circulation. The cream also contains super hydro synergy Complex N for intense hydration and re-texturization of delicate eye area.
6. Lotus Herbals Nutraeye Rejuvenating and Correcting Eye gel
Price: Rs. 275
This is one of the affordable best eye creams in India. It contains soya peptide and hydrolyzed wheat protein and Claims to diminish fine lines, crow's feet and dark circles. However, it does not work as effectively on fine lines as it works on dark circles.
7. Clinique even Better Eyes Dark Circle Corrector
Price: Rs. 2250
This best eye cream by Clinique comes with gentle formula that fades the entire eye area. Its key ingredients include Vitamin C and Mulberry Root, which work together to help minimize the appearance of darkness. The cream also contains percentage of caffeine and green tea extract, which help soothe and calm down irritation from environmental aggressors. The best eye creams also protects the skin against oxidative damage.
8. Aroma Magic Under Eye Gel
Price: Rs. 115

Well, blame it to their affordable price or their ingredients; this cream is a hit among the girls. This cream not only reduces puffiness but also fights against pigmentation around lips. It is an under eye gel rather than any regular cream, therefore it's great for females of all ages. However, the cream takes much time to show results, only if you're patient to obtain it.
9. Wunder Under eye cream
Price: Rs. 500
This eye cream is mostly prescribed by doctors and dermatologists across the nation. This cream is designed for stubborn dark circles. And if your dark patches have been bothering you for long then here is the best solution.
10. Lancome Renergie Eye Cream
Price: Rs. 4217
This is the second most expensive in the list that not only combats under eye wrinkles, but also redeems the brightness of the area. This anti-wrinkle cream smoothens the eye contour. This is a Double Performance treatment that is proved to dramatically decrease the appearance of fine lines and wrinkles while improving skin's firmness.
Now these were my top picks! If you want to apply home remedy tricks then here is a DIY for you –
Place cotton balls dipped in potato and cucumber juice for 20 minutes daily on your eyes
Mix coconut oil and Vitamin E gel in equal proportions and store in a container. Use twice daily under the eyes
Hope this article on best eye creams helps!