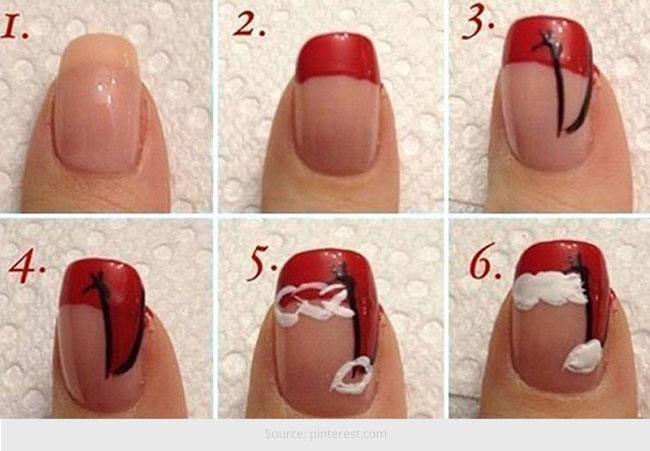 In my previous edition I had shared some fabulous designs for the beginners. This time I am back once again with 15 breathtaking Christmas nail art designs for those who have already tried their hands on this fabulous body art. Do have a look and round up some ideas for your fashionable winter vacation!

Don't these designs remind you of tinsels and ornaments of the Christmas tree? The more I am sharing these nail arts with you, the more I'm provoked to try them on my nails even if it's still November.
[Also Read: Nail Art Designs]
This is indeed one of the best Christmas nail art designs I have across. The design is balanced with all the right elements, right from snowflakes and snow droplets to a dash of glitter against the red backdrop. And not to mention the rings, which make this nail art look much more gorgeous.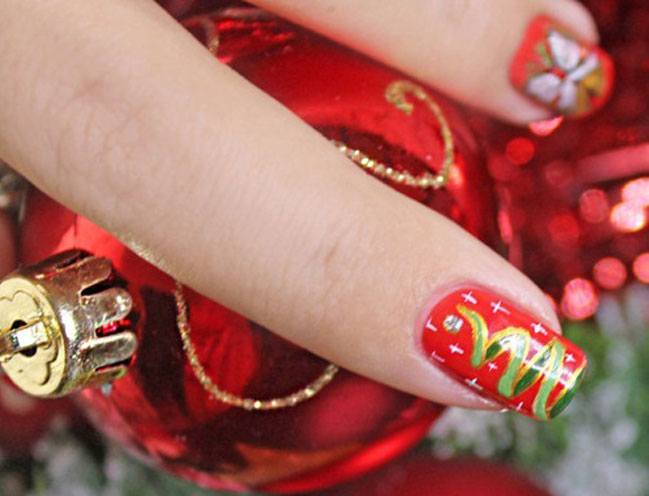 For this design you will have to arrange a few shades in gold, green, red and silver. With a dash of colors in the zig zag pattern on one nail; you can create a cute butterfly on the other nails.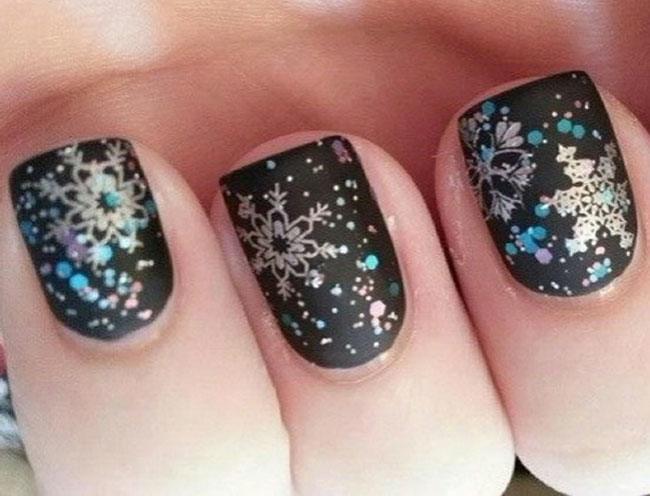 If you think you have used too much of red for all of your Christmases then you can always pick the bolder and the most dominating shade i.e. black. Go for a black nail polish in matte finish and create snowflakes over them in contrasting silver. In order to make it look real, you can also apply some sequins and glitters.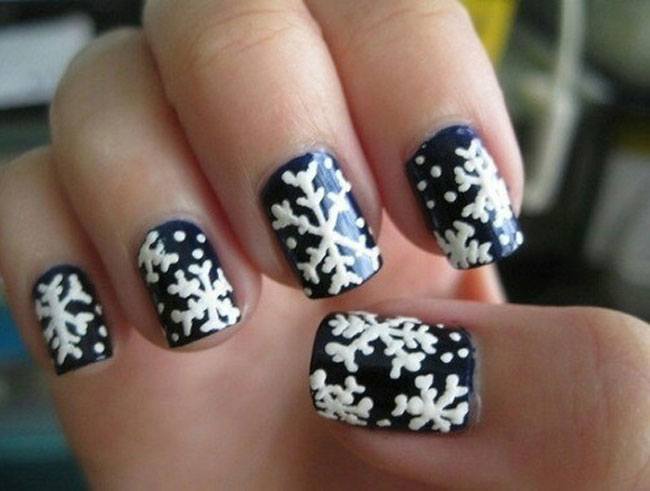 [Also Read: Flower Nail Art Designs]
Here is another fabulous design in black that you can opt for your Christmas makeup. Apply a deep blue nail polish and use a white shade to create elaborate snowflakes with small dots all over. This design can be adopted by beginners as well.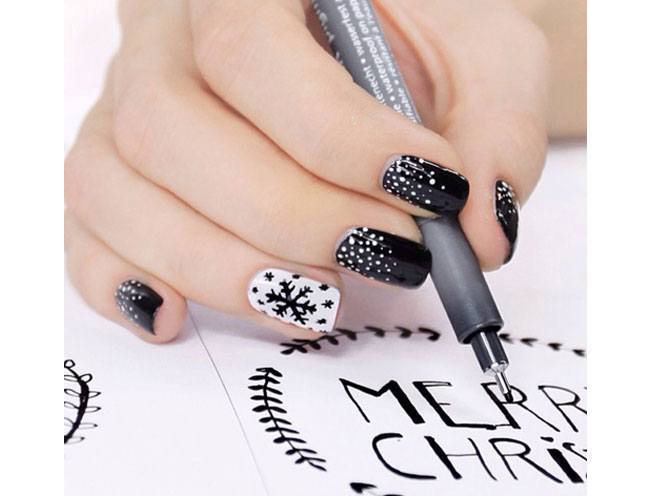 If my previous edition on top 10 Christmas nail art designs was about red then this post is surely screaming aloud black by all means. Here is another fabulous nail art design in black for your Christmas look. You can just play around with designs and shuffle around your nails as per your mood.
[Also Read: Christmas Nail Art Designs]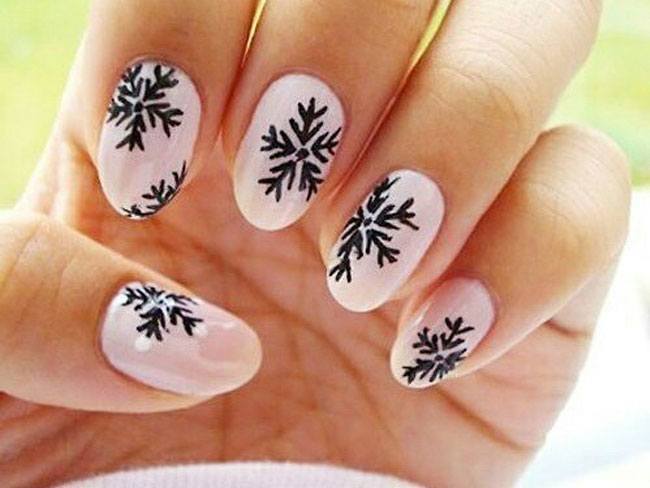 If you want to keep it simple yet looking for a design that would match your festive mood then this can be your ideal nail art design. Apply a thick coat of baby pink on your nails and create snowflakes over them once they have dried up, in contrasting black.
[sc:mediad]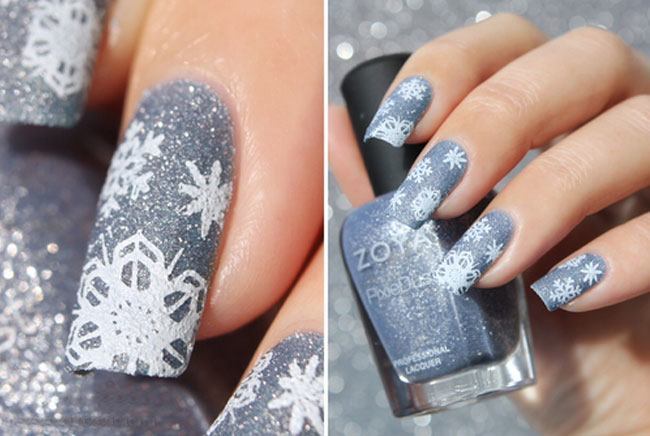 If you are in a real party mood you can go for this glitter nail paint in silver shade. This design doesn't look over the top but for sure adds a dramatic effect to the wearer's look. You can either create snowflakes with white coat or simply paste tiny motifs to your nails to finish the festive nail art look.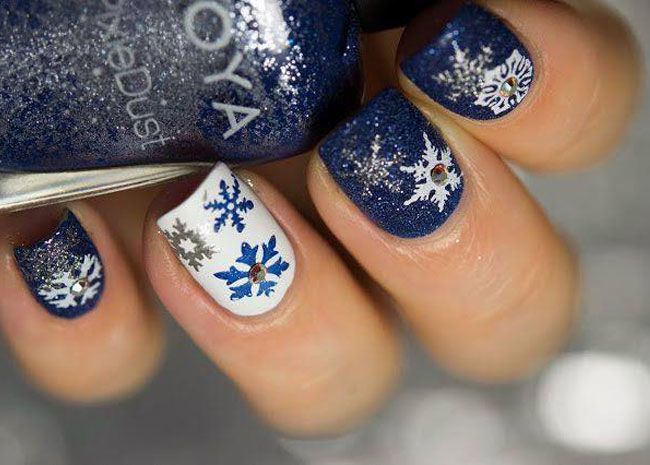 If you are good at painting then this design can be your ideal choice this winter vacation. Pick three colors of nail polish in shimmering blue, silver and plain white and not to mention a few sequins. In the middle of your snowflakes you can place a sequin to give an edge to your style statement.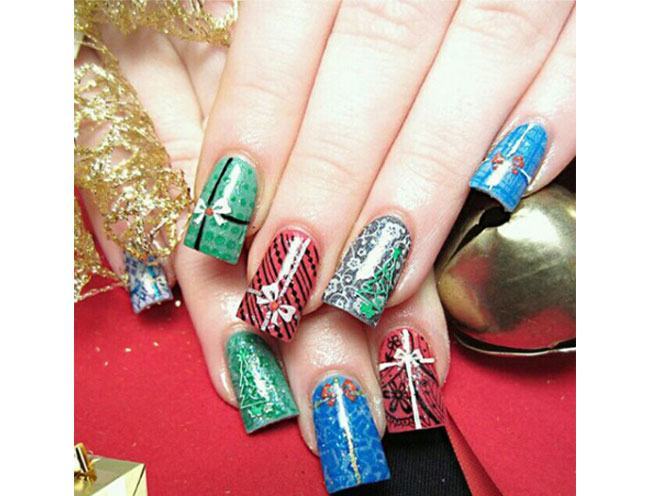 This is one of the major reasons we, in our childhoods, always used to await Christmas – the gifts from Santa! So how could we have ignored this theme for Christmas nail art ideas? This is a fabulous nail art you can choose if you're really good at playing with colors and layouts.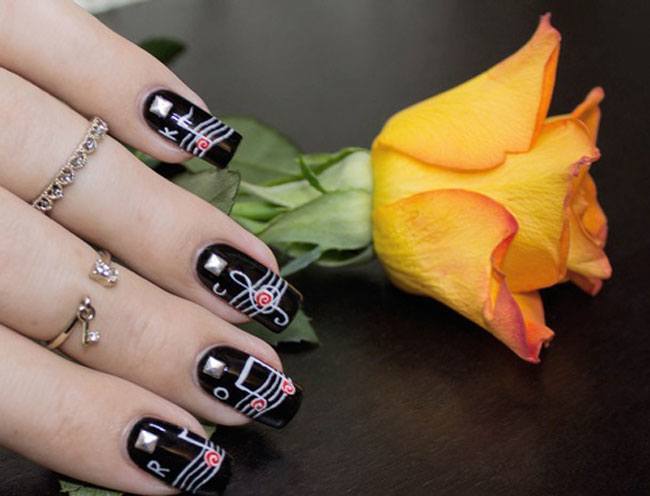 Here is the last one. Though it's not Christmas-based design, it can easily relate to any event – the music. The musical notes against a black backdrop flanked by metallic studs and rings can be a head turner. Just adopt this style and you will be under the limelight for sure.
So these were the 10 breathtaking Christmas nail art designs that can make heads turn around!