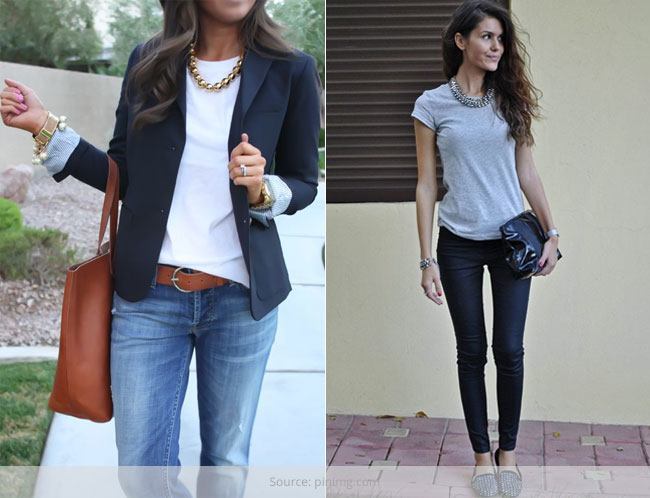 If you're one of the lucky few who work in an office where jeans are considered acceptable work wear, then you might want to make use of that great work atmosphere. But while your workplace might be relaxed enough to allow you to wear jeans, you still need to make sure you do not push the boundaries too much. For instance, distressed jeans are definitely not appropriate to a workplace, no matter how chilled out it is. Consider this, most people can only wear jeans to office on Fridays, so show some respect and enjoy your freedom responsibly.
A pair of well-fitting jeans can actually be made into convincing work wear by doing one of the following:
1. Pair your jeans with a blazer for a semi-casual look. Put on a pair of oxford shoes or a nice pair of heels to keep the look teetering towards formal wear.
2. Skinny fit jeans with a white shirt is a classic combination. Finish the look with some statement jewellery and you're ready for work.
3. Go monochromatic for a cleaner look. Wearing too much colour to work is not a great idea. Luckily, going monochromatic works wonders for the denim. How about going all black in a pair of black jeans and a black top? Still not sure about it? Then check out how Eva Longoria made it work. Now, isn't that look totally wearable to work?
4. Wear white jeans for a more professional look. White jeans somehow seem more formal and look great with formal shirts. So why not wear white with one of your formal shirts to mix it up.
5. Wear your jeans with a cardigan for that casual yet put together look. Just make sure your cardigan is not too old or frayed. While old comfortable cardigan is great to keep you warm in the comfort of your home, you might want something a little less used and more shapely for work wear.
[sc:mediad]
6. While each workplace has its own policies on allowing or not graphic tee shirts, you can always wear a plain tee shirt with your jeans. Tuck it in and put on a belt for a more work-appropriate look.
7. Wear it with a vest. This is an interesting look. Wear a denim vest with your jeans to kind of tie up the whole look. Just make sure your vest is not too fancy (no fur or leather please!), just a plain denim vest should do just fine.
8. Always opt for dark jeans over light-coloured jeans as dark jeans tend to look more dressy and less casual than lighter ones. Also, avoid wearing bright coloured jeans and stick to blue, black, and whites as much as possible.
9. Pair your jeans with some nice heels or boots instead of sneakers for a more professional look. Oxford shoes and ballerina flats are also acceptable options.
10. The last way to wear your jeans to work is the classic indo-western way. Pair your jeans with a cotton kurta to create the Indian work wear look. Some women do not prefer mixing western with Indian, but as long as it works for you, I say go for it. Just make sure your kurta is work-appropriate, that is, no sequins or heavy work on it and preferably in cotton material, with a simple cut.
Always keep it simple and clean. Too much colour or too many accessories are all a no-no at the workplace. Keep it classy and you can actually make jeans look formal.