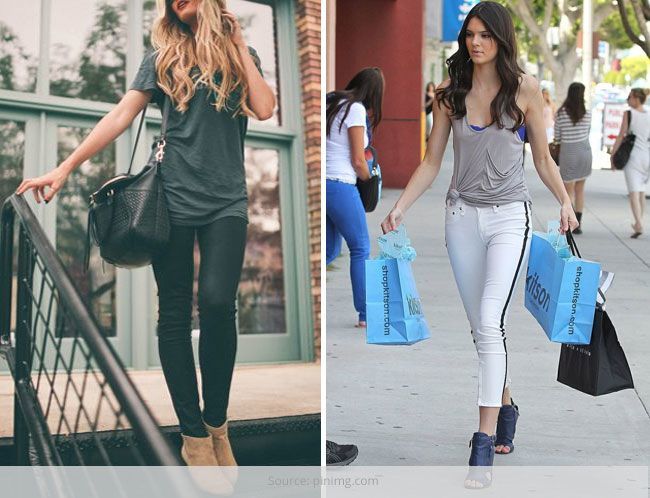 Some couples are just meant to be. While some love affairs start with fireworks but end in ashes later, some others have the kind of love that grows stronger with time. As far as I am concerned, ankle boots and skinny jeans are the latter kind of couple. They go so well together that you can't help but appreciate their look and keep reinventing them in different ways to keep the spark alive.
The First Look of Skinny Jeans and Ankle Boots
This is such a cool and casual look. You pair your distressed skinny jeans with your ankle boots to create a look that screams that you know how to rock your boots. Roll up your jeans to leave a small gap between your boots and your jeans to make it all the more trendy.
[Also Read: How To Wear Boots With Jeans ]
The Second Look of Skinny Jeans and Ankle Boots
This is a nerdy, adorable look. Just pull on a pair of socks before you put on your boots. Pull up the socks so that it is visible. This creates a layered look that looks so effortlessly cute. This look may not suit you if you have stocky ankle as the layer will only make it look more bulky. But if you have slender ankles then you can totally rock this look. It is a very wintery and cosy look.
The Third Look of Skinny Jeans and Ankle Boots
This is your standard boots tucked into your jeans look. The only hitch with this look is that your jeans may not fit into the boots or might clump up and look bad. If you have a pair of jeggings or leggings then this look is super easy to recreate. Just add a scarf or jacket to add more layers and keep from being a generic look, give it your personal touch.
The Fourth Look in Ankle Boots with Skinny Jeans
White skinny jeans and suede ankle boots equals très chic. This is quite an unusual look that makes you look super trendy yet feminine. Suede boots in pale shades work best with white jeans. Brown leather boots or black boots would look to stark and jarring with the white jeans. Keep the entire look light-coloured so that the white doesn't look to bright.
[sc:mediad]
The Fifth Look in Ankle Boots with Skinny Jeans
Never wear your jeans over your boots. This look is outdated and just not cool. If you can't tuck in your jeans and the length reaches over your boots, just scrunch up you jeans around you knee and ankle region till the jeans just about reaches the top of the boot. This shouldn't be a problem since you'll be wearing skinny jeans which are easy to scrunch up and will stay in place.
[Also Read: Steel Toe Boots]
The Sixth Look of Boots With Skinny Jeans
You can pair your ankle boots with high-waist skinny jeans to create an illusion of long slender legs. You will look taller and leaner. Take a look at the photo to see how it looks.
[Also Read: How To Wear Ankle Boots]
The Seventh Look of Boots With Skinny Jeans
Let's not ignore the open toed boots. They make for some interesting unique looks. How about pairing open toed ankle boots with cropped skinny jeans? What you get is a look that will work both during summer and winter. The open toed boots make this look breezy and the cropped jeans again offer some relief from being huddled up in fabric from top to bottom.
Invest in a nice pair of ankle length boots if you don't have them already. They will last you for years and you will end up taking so many great photos wearing them. If that's not an investment then I don't know what is.