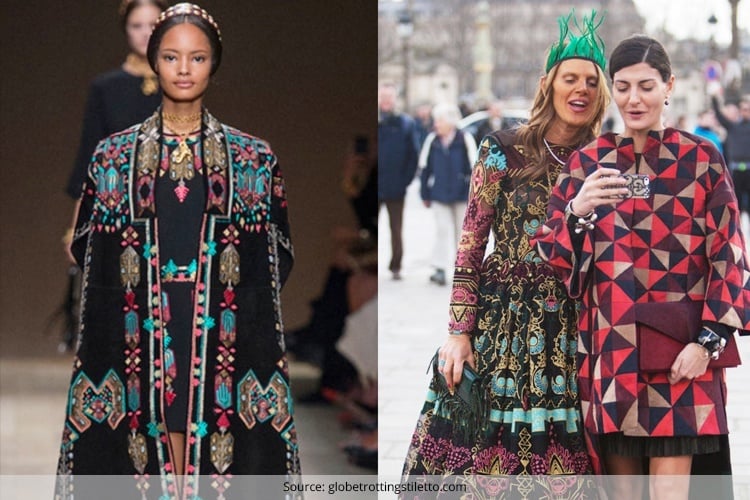 Why always be drab and boring when you have a world of combinations in front of you? Bold colours, patterns, floral and everything else can be mixed and matched if you know the tips and tricks. We have collated some of different and unusual quirky combinations which will make you want to try them right away!
Crop Tops and Long Skirts
Crop tops and long skirts are an unusual combination, especially because midriff-baring with long skirts is hard to imagine! But thank god for all our quirkiness, you can be rest assured that this combination looks heavenly! You can team up a beautiful white crop top with a floral skirt and look ethereal!
[Also Read: How to Wear Crop Tops]
Get your Cartoon Mode On
Who says you have to leave your childhood behind? You can keep using your favourite cartoons here and there without qualms. In fact, it is quite the fashion now. Whether you are donning your favourite cartoon hoodie or you are just keeping it subtle with a cartoon bag, it is amazing to bring back your childhood this way!
Grunge and Glam Together
Oh, and you thought grunge could never be glam! This is a very unique look for which the only ingredient you need is a lot of sass. Yes, if you have the sass, this look would be like your second skin. Mix and match a grungy jacket with some shimmery heels and you are good to go.
Layer Goddess
If you have caught up with the layering trend, you will know how easy and quirky this one is. Living in a cold country has its advantages as well! You can easily use lots of different colours with this one. So whether you are combining your look with a skirt or even shorts, don't forget to have your leg warmers!
[Also Read: Layering Ideas We Are Currently Loving]
Colour Pop: Parallels and Dress Shirts
The best thing about quirky outfits is that you can easily have tons of different colour combinations. So even if you are wearing Fuchsia and Orange, you would still look good. Did you ever think that parallels would come back in fashion? They did, and with a bang! Check out this combo for yourself!
Dress and Trench Coats
Trench coats are already long, why would you wear a dress then? Well, because they look absolutely stunning! This is a very quirky combination which will actually make you turn quite a few heads!
Some bling on you!
It is not necessary to wear bling only during the night! You can very well pair up blingy shorts with pastels during the day time! Look at this combination:
[Also Read: Fashionable Combinations with Shorts]
Headdress Honcho
People have lots of qualms about headdresses, but if you wear them right, you can look like an absolute goddess. The most important part is to wear it with a good flair! Headdresses are very versatile and can look good with almost anything!
[sc:mediad]
The Girl With Some Punk
Punk, goth, emo- all are labels we give ourselves. Nevertheless, punk is associated with a lot of black and a really hard look. But you can make it look just feminine by combining with some rad feminine silhouettes. Check out this!
Boat neck dresses and abstract prints
Ever thought these would come in fashion and that too with abstract prints? Well you would have to see it to believe it right? Take a look at the amazing dress below!
So there you go! Your list of ten quirky combinations! Check out the above list for some really fun outfit ideas.