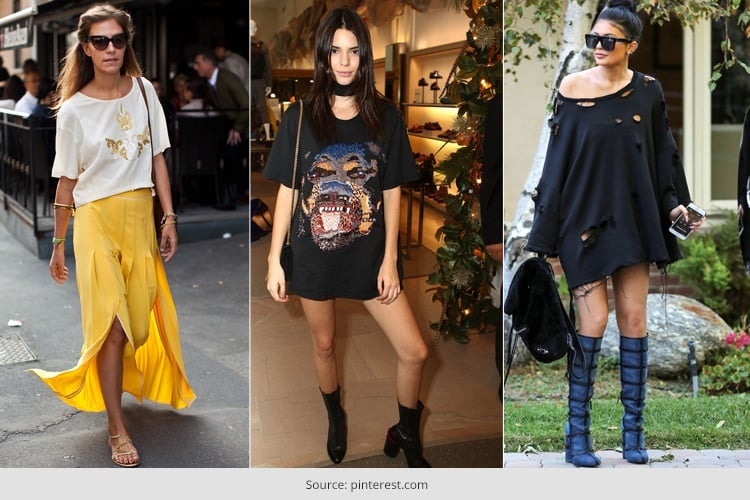 With the advent of 2016, a lot of new fashion trends have surfaced. As per fashion experts, this year the colors rose quartz and serenity will be the two most in-fashion colors. There are several other fashion trends that will catch on throughout the year as we enter the celebratory months. With Anarkalis making an exit, black coming back to the throne, sequins all set to trend this year and some ethnic fashion trends set to rock this year, 2016 is all set to be an exciting year.
[Also Read: 2016 Makeup Trends]
At the start of the year, in various fashion shows actors and models have already started to help us weave our sartorial tales. Vowing to live the year on a stylish note, 2016 deserves to be welcomed with a trendy bang. A look at the fashion trends of 2015 that made it large can well help you understand how they will evolve and emerge in 2016 with a stylized voguish twist! From where we are standing, 2016 fashion trends forecast tells us that fashion trends of 2015 will get bigger and better in 2016.
Latest Fashion Trends 2016
We are going to bring you the top Fashion Trends that will rule the closets in 2016. Here the comprehensively combined list of the latest fashion trends 2016:
1. Bare Shoulders
One trend that is all set to set the fashion charts ablaze is the bare shoulders trend. Get those shoulders Bare because this year it's all about showing off your perfect shoulders. Spotted on some of our favorite Fashion industry girls in fashion shows, off-the-shoulder silhouettes make perfect day & night outfits. Whether it is your flirty white off-shoulder top with your high-waisted trousers, a solid colored cap sleeves top with your mid-length skirt, a cute halter neck top to go with the jeans, cape neck tops or a white boat neck dress, the bare shoulder trend is all about experimenting your look this spring.
[Also Read: Italian Style Women's Fashion]
2. Ath-Leisure Trend With Heels
Ath-leisure stands for Athletic + leisure. For those of who didn't know, is a term used to describe the coalition of the love of sportswear and street style, the penultimate combination of fitness and fashion. What's more! There is a tiny line of sophistication touching this casual fashion trend 2016.
[sc:mediad]
2016 is the year for the Ath-leisure trend with heels. Be it the delicate strappy colorful heels with baggy (read comfy) pants or the simple pumps and staright heels that complement the sporty sweat pants or track pants attire. The key with ath-leisure wear and the perfect sporty chic look is to keep-it-simple. This trend is not for people who are in love with the most elaborate and grandiose style heels.
3. Sneakers And Slip-On Shoes With Anything!
Sneakers with shift dresses and converse with blazers are something to look out for in 2016. Generally, a combination that is considered to be like oil and water, earlier people would think that fashion and comfort were never possible together. But, today the scenario has flipped. Sneakers and slip-ons are being added to the staples list in wardrobes. Today you could pair your sneakers with a high ensemble knee length pencil skirt, a slip-on-sneaker with a crop top and a loose trouser, slip-on-converse with ankle length denim along with a blazer or sneakers/ slip-ons even with your dresses and you would be good to go. Comfort with fashion is the mantra here.
[Also Read: 2016 Spring Outfits Ideas For Women]
4. Lamp-Shading Trend
Lamp shading is the art of wearing an oversized top so that it looks like you are not wearing any pants underneath. This Lamp shading has actually become a style trend as of late. Big stars like Ariana Grande, Rihanna, Zendaya and Hailey Baldwin are also fans of the look. The Lamp shading trend doesn't always have to be paired with tall boots.
To master Lamp shading, for a casual look, you could pair oversized sweatshirts with knee high boots, thigh high boots or ankle length boots, for a sexy look, you could pair your little black dress with knee high boots, for a perky look, pair a trendy t-shirt with same length shorts underneath. Whatever be the combination, the lamp shading trend is considered to be one of the best upcoming casual fashion trends 2016.
5. Romantic Maxi Dresses
The romantic maxi dress is actually making a reappearance in 2016. The 2016 fashion trends forecast tells us that long maxi dresses in all patterns and prints are all set to make their way back into your closet. Be it the off shoulder maxi dresses, the solid colored ones or the slip strap ones, maxi dresses give you that all so romantic flowy look. An absolute comfort wear, the maxi dress is a must in every girls wardrobe in 2016.
6. Statement Earrings – Structured And Graphic
Recent earning trends on the red carpet and ramp have shown us that the days of small, minimalistic earnings are now numbered. 2016 is all set to embrace the high drama of structured and graphic earnings. Top designers brought in statement pairs on the runway, be it cool sculptural sets at Rosie Assoulin, long chain linked earing at Alexander Wang, shoulder length jewelry at Gucci, tassels at Oscar de la Renta and edgy silver pairs at Emilio Pucci. What's more! A lot of social media photo posts this year saw statement earnings on their bearers.
Now that you have all the details, Go set the trends on fire.