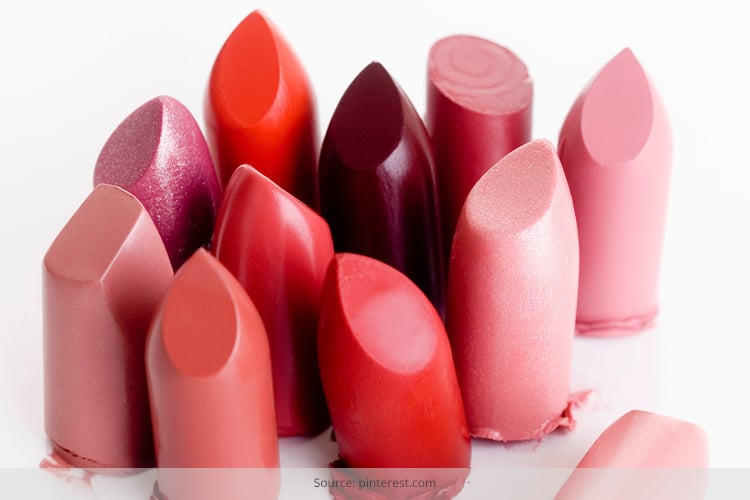 Someone truly said, "Girls can never have enough lipsticks". But what if you are a makeup-loving college chick whose budget always sucks? No, you don't need to bury your love for gorgeous lip colors, as there are lots of everyday lipstick choices for you that are priced under Rs. 300.
Here Are 10 Most Affordable Lipstick Brands That Can Act As Your Bff During Your College Days
So if you have limited pocket money, you can still have a pretty pout, with these most affordable lipstick brands mentioned below.
1. Elle 18 Color Pops
Say the most affordable collection of lipstick for college wear and nothing can beat Elle 18, literally. The Color Pops range of this brand comes with as many as 40 luscious shades that are perfect combinations of attractive colors and moisturizing cocoa butter. Easy availability also makes it a highly popular choice among teen gals.
Popular Shades: Pretty Peach, Rusty, Candy Kiss, Cinnamon Bun, Coral Romance
Price: Rs. 120
2. Elle 18 Color Boost
Be it lipstick or lip gloss, 10 amazing shades from the Color Boost range by Elle 18 can offer amazing burst of color for your kisses any time. Moreover, the unique formula helps you continue your lip drama for 6 hours, non-stop! It also comes with an extremely moisturizing inner core of cocoa butter, which makes the product soft and creamy.
[Also Read: Berry Lipstick]
Popular Shades: Hollywood Pink, Primrose Blush, Red Passion, Hyper Orange, Miss Pink
Price: Rs. 150
3. Maybelline Color Sensational Moisture Extreme
Maybelline New York has an awesome collection of budget-friendly everyday lipsticks for Indian skin called Color Sensational Moisture Extreme, which is available in 16 captivating shades. Now get moist lips with built-in balm, enough sun protection with SPF 15 and subtle creamy to gorgeous shimmery finish all day long, while playing up with your lip color.
Popular Shades: Coral Pink, Brick Rose, Chestnut, Dusky Mauve, Fudge
Price: Rs. 275
4. Maybelline Color Show Lipsticks
The Color Show range from Maybelline is another hot favorite of college goers. Whether you are looking for an everyday lipstick for dark skin or a glamorous party lip color for fair complexion, you have as many as 32 shades to choose from. So, be ready to show off your vibrant sides with some ultra-hydrating, antioxidant-rich, highly pigmented lip colors.
[Also Read: Vegan Lipsticks For a Beautiful You]
Popular Shades: Red Rush, Choco Latte, Ruby Twilight, Crushed Candy, Orange Icon
Price: Rs. 299
5. Faces Go Chic Lipsticks
When it comes to getting super girly lipstick shades at reasonable prices, the Go Chic range from Faces Canada is a true reliable choice. With an array of beautifully pigmented hues, it has the perfect everyday lipstick for fair skin to medium complexion to dusky tone. Try your hands on some super creamy lip colors for an elegant and natural look.
[sc:mediad]
Popular Shades: Tango, Candy Floss, Hazelnut, Mulberry Slush, Flamboyant Fuschia
Price: Rs. 249
6. Lakme Enrich Satin Lipsticks
Lakme Enrich Satin lip colors are classic, vibrant and pocket-friendly. You can't help but love those 40 charming everyday lipstick shades for their suitability for all skin types, great color payoff, and sleek trendy packaging. Being rich in vitamin E and olive extracts, they also have buttery soft texture that gives a satin smooth finish.
[Also Read: Most Expensive Lipstick Brands]
Popular Shades: P149, P154, P135, R352, M427
Price: Rs. 260
7. Street Wear Color Rich Ultra Moist Lipstick
The brand Street Wear is another hot favorite of teens that offers plenty of choices for lipstick for college goers at significantly low prices. They contain shea butter and vitamins, which keep the lips perfectly hydrated for the whole day while gliding over them effortlessly. Conversely, the pearl content of them contributes to the natural shiny finish.
Popular Shades: Berry Berry, Peachy Sizzle, Pink Champagne, Xoxo, Mystic Mauve
Price: Rs. 220
8. Colorbar Velvet Matte Lipsticks
These vitamin E-rich lip colors from Colorbar can give your lips a whole new dimension with a velvety smooth texture. They come with a unique two-in-one formulation, which keeps the lips soft and supple while providing a beautiful long-lasting matte finish. And guess what? The price tag of these lippies is surprisingly low!
Popular Shades: Hot Hot Hot, Peach Crush, Secretly Pink, Addictive Magenta, Over The Top
Price: Rs. 299
9. Lotus Herbals Pure Colors
How about treating your lips with some pure herbal lip colors in a budget-friendly way? Lotus Herbals has come up with a nourishing blend of jojoba and aloe vera in its Pure Color range of lipsticks, which is very much appealing to teenagers. Go grab one if you are in need of a smooth and rich lip color to add to your oomph factor as a trendy college girl.
[Also Read: Coral Lipstick Shades]
Popular Shades: Peach Crème, Coral Rose, Orchid Kiss, Pink Blush, Rosewood
Price: Rs. 245
10. Avon Simply Pretty Color Bliss Lipsticks
Though available only through Avon representatives, these Simply Pretty Color Bliss lipsticks are a sure bet for any college-goer. The highly moisturizing formula contains vitamin E, jojoba oil and soybean oil, which gives soft supple lips with long-lasting color. They are available in 20 dazzling shades so that you can outshine your friends every day.
Popular Shades: Cherry Red, Fresh Melon, Darling Mauve, Whisper Pink, Romance
Price: Rs. 189
There are also many other brands, which have reasonably priced everyday lipstick collections for trendy and stylish college girls. Just pick your favorite shades and you'll definitely love what you get for the price you pay.