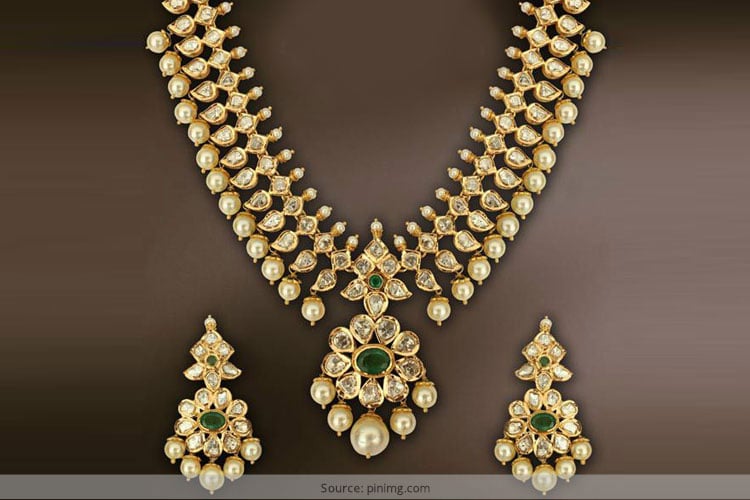 Wedding season is here! And whether it's your wedding or of someone's that's close to you – you will have a lot of preparations going on. You're probably running around buying gorgeous ethnic wear, stunning foot wears, new makeup kits and some fine jewelry. Speaking of jewelry, most people search for cut and glistening diamonds to buy, but have you ever considered purchasing uncut diamonds? Many brides-to-be have started buying jewelry sets with uncut diamonds.
What are uncut diamonds, you ask? An uncut diamond is a stone that hasn't been carved into any specific shape by an expert cutter. Nor has it borne any polishing. So basically they are the truest form of diamonds you can have!
These are the diamonds that have been collected directly from the mines and usually have a yellow or brownish hue. The stronger the tint is, the less precious the stone is. Some uncut diamonds that are colorless, are extremely rare and hence they are priced highly.
What Are Uncut Diamonds Used For?
Well, the low quality stones are sent to be used in industries, to cut glass and other cutting and grinding purposes.
But what really matters are the good quality ones. They are taken to be processed in to either cut, polished diamond sets or raw diamond jewelry sets (which you eventually drool over!)
So, why go for jewelry with raw uncut diamonds? Although, their shine is less magnificent, but in comparison to cut diamonds they are actually less expensive as per each carat. Why is this? Mainly because no complex cutting or high-priced polishing process is done on them.
So how do you really know if you're getting your money's worth of diamonds? A diamond's carat is as per the measurement of its weight; 200 mg of stone is equivalent to 1 Carat. So with this, the larger stones are as precious, as they are rare to find.
[sc:mediad]
Yet this is not really the case with rough diamonds. Unpolished diamonds of a higher carat are not necessarily costlier than the smaller ones. This depends on the amount of visible flaws on the stone's surface. If an uncut diamond has several noticeable flaws, it will have to be cut out to remove them. Therefore, meaning that for a rough stone, a high carat may not cause it to be more valuable than a diamond that is tinier but cleaner.
But that's not all! Another factor determining the value of the rough stone is its shape and whether the shape is such that a big polished stone can be extracted from it or not. If on cutting it, the stones drawn out are small, then it will not be as valuable as a piece of rough diamond from where larger stones are obtained.
Yeah, it got a little monotonous there with all the facts and figures. But keeping these points in mind will help while purchasing.
So that is why, nowadays more and more ladies are opting for raw diamond jewelry and uncut diamond sets. Let's have a look at some drop dead gorgeous uncut diamonds jewelry designs.
1. The Simple Design
This gold designer uncut diamond simple necklace has been embedded with rubies and emeralds and pearls drops. It also has a matching pair of pretty gemstone earrings.
2. The Floral Design
This 22 Carat gold set with a floral design is beautified with studded stones. The stones include emeralds, rubies, south sea pearl drops, and of course, raw diamonds.
3. The Drop Design
This gold necklace and earrings set has been carved in to drops. Each drop has been embedded with uncut diamonds and rubies.
4. The Broad Chokers Design
This heavy gold neckpiece has broad chokers and is studded with uncut diamonds. Along with diamonds there are rubies and emeralds studded in to it as well.
5. The Leafy Design
This 22 Carat uncut diamond necklace has been designed such that it has leafy claps. It is also studded with pear shaped emeralds.

6. The Peacock Design
Have a look at this gorgeous necklace which is a Nakshi peacock design. The jewelry is embedded with unpolished diamonds.
7. The Layered Design
This is a mesmerizing example of a layered design, Polki necklace. It too is embedded with uncut diamonds.
So there you have it, all the details and descriptions you could need to know about raw diamonds and uncut diamonds sets designs. Now, you're all set to go purchase your favorite jewelry sets, whether it is for your engagement day, wedding day or any other special occasion.
These uncut diamond designs will combine amazingly with any traditional outfit you own and make you feel beautiful on your special day. So go get shopping!