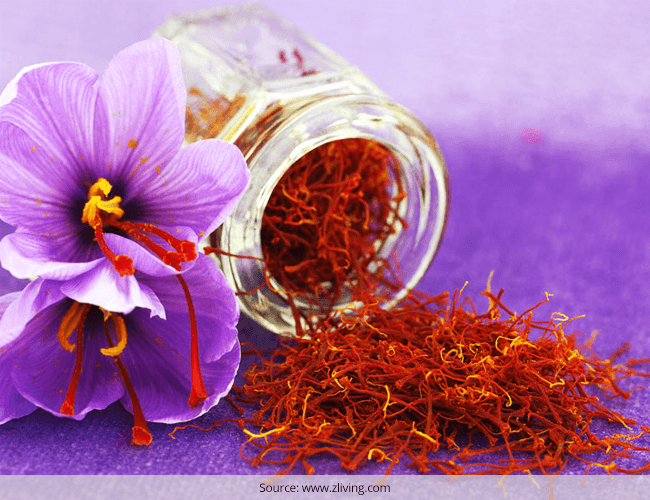 Red is a pious colour in Indian tradition going by its usage in vermillion (sindoor), cosmetic items and wedding attire. But red is also known for its culinary and medicinal properties.
We are referring to the king of spice – Saffron (reddish yellow in colour) being used in the kitchens since ancient history. Called zafaran (meaning yellow) in Arab language and kesar in Indian Ayurveda, saffron is a plant used to make saffron spice. It is the world's most expensive spice owing to its cultivation process. But saffron has found its place of pride in beauty as well. Ask your grandma and she will be more than happy to share time-honoured secrets of saffron in nurturing skin and hair. Let us know a little about this ingredient that makes us look amazingly pretty and glowing.
[Also Read: How To Use Saffron For Skin]
History of Saffron
Saffron has been found in Egyptian, Greek and Roman kingdoms since antiquity when it was used as a dye, medicine and perfume. Cleopatra's ode to beauty lay in the saffron-infused water that she used for bathing. Alexander the Great was so bowled over the healing powers of saffron that he pushed his army men to use none other than saffron in cooking. So, as we can see saffron has been a multi-skilled condiment since ages.
Beauty Tips using Saffron
Saffron has been a main ingredient in fairness creams. That's because it helps in reducing the skin tone and removing and hiding skin blemishes. Here are some tips for using saffron in your beauty regimen to get that flawless complexion. There are several homemade saffron face packs that can be used to get flawless skin.
1. For Acne & Blemishes
Saffron's antifungal properties make it the best to tackle pesky pimples and acne. Mix 4-5 basil (tulsi) leaves with about 10 saffron strands into a fine thick paste. Apply it on your face for about 10-15 minutes and wash it with cold water. Now see your face say goodbye to pimples and acne.
2. For Glowing Skin
Beauty springs from inside and rightly so. Mix few saffron strands with milk and drink it regularly as a tonic. You will see your complexion change for the better and glow naturally on its own over a period of time. Even pregnant ladies are given saffron-based milk with the belief that the new born baby would be fair looking.
[sc:mediad]
3. For Bald Hair
Arresting hair fall is easy. To a pinch of saffron, add liquorice followed by milk. Now apply this mix on the bald patches of your scalp. Not only will it stop hair fall, it will also promote new hair growth.
4. As Skin Toner
Natural skin toners have their own set of benefits and they are extremely fruitful for our skin. Soak a couple of saffron stands in rose water and apply it on your face. Do this after you have scrubbed your face well of dead impurities.
5. For Dry Skin
Take ½ tbsp yogurt and mix it with saffron water (made by soaking few saffron strands in water and left overnight). Apply the mixture all over your face and leave it until dry. Now wash off.
6. For Skin Lightening
Saffron is widely acclaimed for its skin lightening properties, which is why it is also used in face creams to boost the face glow.
How to identify Real Saffron
Purity suffers when we go to pick quality materials. And it's the same with saffron too. Many fake shops selling saffron mix the original kesar with coloured ingredients. The stamp of original saffron lies in its deep red colour and orange tips and not white or yellow spots which are found in spurious saffron. The second way to test out the originality of saffron is to soak it in water. While real saffron takes all of 15 minutes to release colour, fake saffron instantly releases colour without any sense of aroma. It is therefore advisable to buy saffron in strands, not in powdered form as it will become increasingly difficult to find out if the powder is pure or fake.
[Also Read: Saffron Oil For Skin]
Now that you have read the beauty benefits of saffron, try them out today. After all, beauty needs to be nurtured and preserved well.