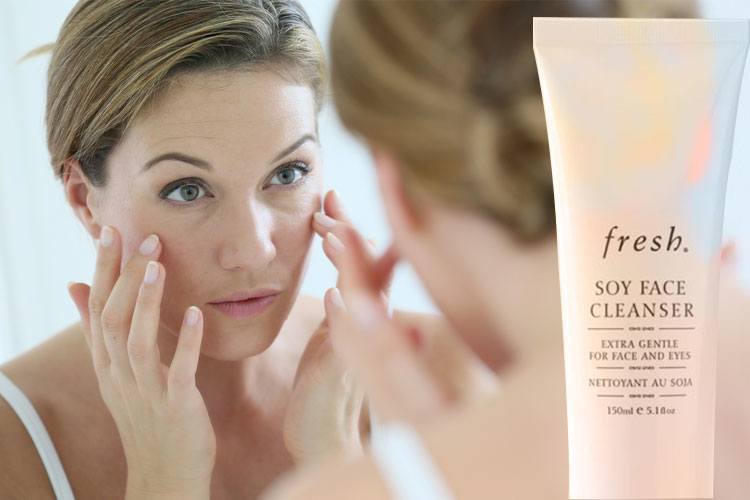 It is the age of botox and line augmentation which is picking up like fire. There are natural methods to looking beautiful too like soy for instance.
Soy has estrogen-like chemicals called isoflavones, which help in keeping your skin smooth and wrinkle-free. It's a secret weapon that enhances your looks. All you need to do is take in one to two servings a day to give your skin the required boost.
Uses of Soy can be taken in multiple forms – as soybeans, tofu, soy latte (milk) or soy powder.
Proof of the Pudding
Research on cosmetic products keeps on happening, on national and international scale. After all, their purpose is to give the never-ending customer a basket of choices. In a human study done sometime back which was published in the European Journal of Nutrition, a soy-based supplement proved its worth by improving skin texture and firmness, that too after six months of use.
How is soybean different from other plant foods? It is because of its high-quality protein content. Did you know that soy has umpteen fiber and isoflavones? It is aglycones (a form of soy isoflavones) that diminish fine lines and wrinkles. When it comes to skin care, soy reverses sun damage and tightens up sagging skin.
Health Benefits of Soy
Low Cholesterol: If there is any product that promises least of calories yet great amounts of protein and yet no cholesterol, it is Soyabean. While animal milk is loaded with cholesterol, it's not the same with soy milk. If you have a family history of heart disease and high cholesterol, then switch over to soya milk.
Lose Weight: Since soy milk has lots of fiber, it tones down your hunger pangs thereby keeping you fuller for a longer period of time. Besides this, soy milk helps rid of body toxins too.
[Also Read: Lip-Smacking Smoothie Recipes for Weight Loss]
Protein high: According to a popular published source, soybeans serve as complete protein. This means they have all the essential amino acids that we need from food. Did you know that a cup of cooked soybeans contains about 22 grams of protein, which is equivalent to a serving of steak? Surely, this is a good piece of news for all vegetarians.
[sc:mediad]
[Also Read: Low Calorie Foods with High Protein Content]
All in all, go eat moderate amounts of soy foods if you want to sport a nature fresh skin.
Soya recipe for Sagging Skin
Try out this wonderful recipe if you want to boost your beauty by hiding skin flaws such as crow's feet, under eye circles and fine lines.
[Also Read: Say Goodbye to Saggy Skin Post Weight Loss]
Ingredients
1 cup yellow soybeans
¼ tsp salt
2 tbsp honey or sugar (or unsweetened)
½ tsp vanilla (optional)
Preparation Time: 10 minutes
Cooking Time: 30 minutes
Procedure
Soak beans and leave them overnight in a large bowl.
The next day, dispose of the beans that have not softened or expanded in size.
Now rinse the beans in water and separate away loose skins.
Combine beans and 2-3 cups of water in a blender.
Make a puree of it until smooth.
Strain milk and pulp through a sieve. Make sure to press beans in order to remove milk.
Put 2-3 cups of water and soymilk in a stockpot and bring it to a boil.
Stir and skim foam.
Keep simmering it for about 20 minutes and add more water if required.
Add honey or sugar to taste or skip it if you want unsweetened taste. You can add vanilla too, for added flavour.
Chill the milk and store it in the refrigerator.
Now that you have got to know about Soy and its benefits for health and cooking, do share them with your family and friends and try them out. They won't disappoint you!
[Also Read: Moisturizers for Oily Skin]