Isn't there something demure about the crisp, neat look of black-and-white? It especially looks appealing atop our nails all seasons. Although there are many trending nail paint colors to choose this season or even the Halloween nail art that comes up every year. But the black-and-white nail art designs are definitely not seasonal. So we looked up and rounded up 10 best black and white nail art ideas to inspire you all day, every day.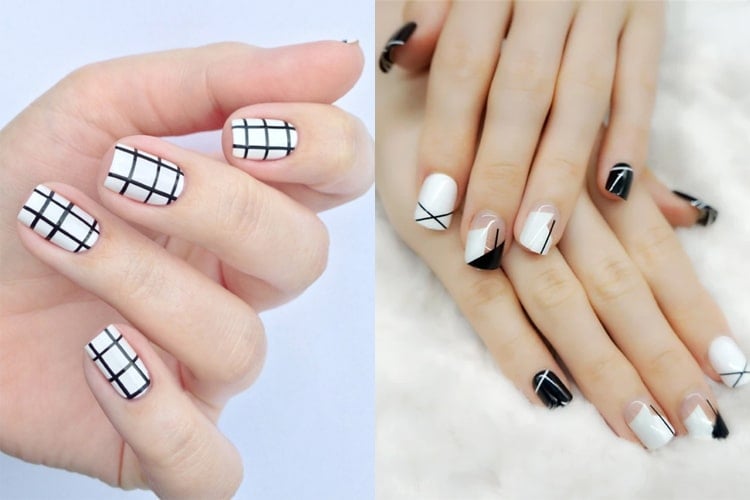 Cool Black And White Nail Art Designs To Choose From:
Are you ready to fall head over heels in love with these two classic nail paint duos? Here are the ideas:
1. Negative Space Design:
Are we famously infatuated with this? Yes, yes, and yes. The black-and-white negative space-nail art is a beautiful rendition and easily achievable using black, white, and clear polish.
2. Paisley Nail Design:
We've seen enough of red, white, and black paisley nail designs. It's now time to show some love to black and white paisley art designs. Fancy much?
3. Polka Dots Art:
One of the most adorable nail designs in this category. What's more 50s than wearing a black base paint flagged with a faint sweep of polka-dots? Absolutely nothing!
4. Barely-there Stripes:
The barely-there-stripes nail art is subtle and gives you another reason to love it. Plus, it will beautifully transition from work to party hours; much as you like it.
5. Striped Look:
Combine your milky nail paint with black stripes for a delicate looking design. The accented nail art can be created using any other color but none give out 'amaze results as this.
6. Astrology Signs:
For those addicted to all things astronomical, take cue. This moon phase rendition is above all beautiful things. We're digging it.
7. Stardust:
Regal sweeps of stars in demure black, white, and nude coat can stark your nail style diaries. Use these three polishes for one impressively stardust collection.
8. Chanel Embossed Designs:
You can literally spearhead this nail trend starting now. These Chanel embossed nail art designs are predicted to be huge in 2019.
9. Animal Prints:
Take your obsession for animal prints to another level with this rare nail art design. Opt for a creamy white and glossy black to nail this look.
10. Geometric Shapes:
Need a change from regular geometric shapes? You may screenshot this design and request your nail artist to add strategic shapes similar to this.
Try any of these 10 black and white nail art designs for a chic take. And do tell us which ones you like most in the comment section below.