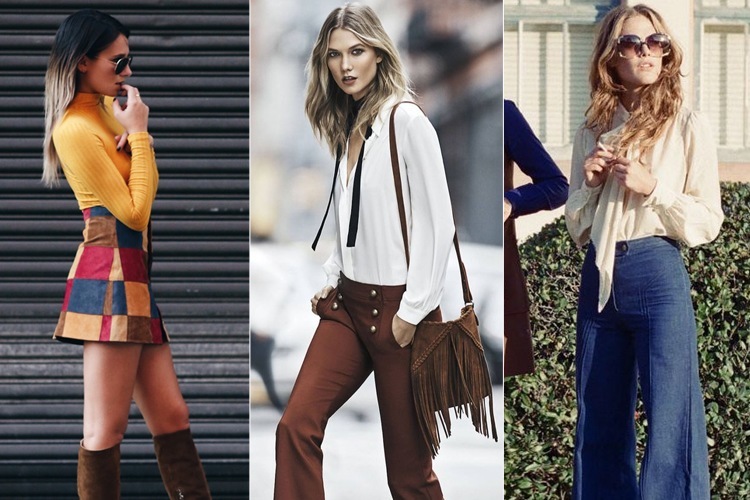 We love the flower power 70s, and with many good reasons to back our claim that too. Those bell bottom pants rocked, the flowery ponchos were seductive and the ankle-length boots made us swoon. Back in the 70s, women were empowered with a sense of fashion, seductive and very subtle yet very stylish. Keeping that in mind, we would like to make it a floral passionate touch in this day and age, so let's take a look at the 70's fashion, the trends and styles that defined feminine charms like no other era brought.
[Also Read: How To Do 60s Mod Makeup]
70s Trend Clothing
The mistake we make when emulating the 70's fashion and wearing 70s Trend Clothing, is that we do not complete the look. Right from the clothing styles to the hair and makeup, and the attitude too, a look needs to come out as defined with all included. So here are ways to make the disco scene happen and the 70's fashion and the 70s Trend Clothing come through.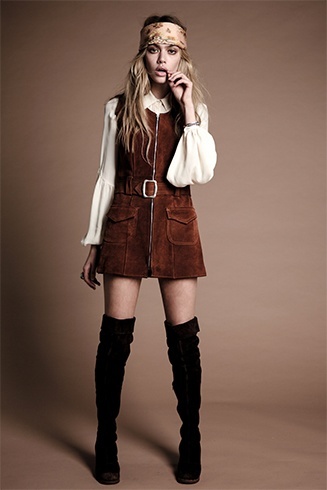 Some Looks Of The Womens 70s Fashion Trends To Emulate
1. Patchwork mini skirts with self-colored long sleeved tops and the look should be done up with a pair of ankle-length suede neutral toned boots. This is how the 70s fashion saga bestows itself on you!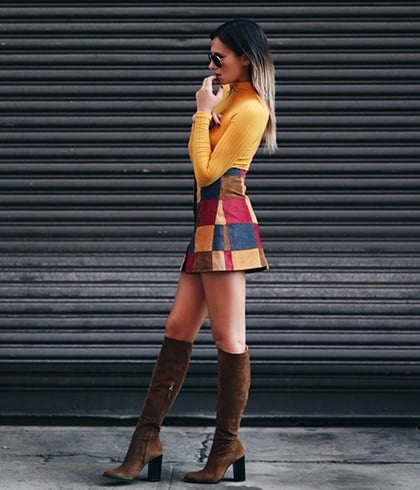 2. You could emulate the 70s fashion style for work on a Friday or a Monday, and your boss would raise an eyebrow. Bell bottom formal pants with a crisp white shirt; suspenders from the waist up to the shoulders and the hair left in feather waves. Complete the look with heels.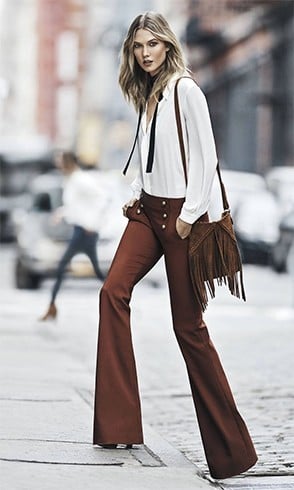 3. Floral and stripes ruled the seventies and you could mix and match patterns and prints or self-colored individual pieces to make the sensual ways of the 70s dance around. Perfect for an all girls night out or a baby shower too, summers are surely going to be hotter!
[sc:mediad]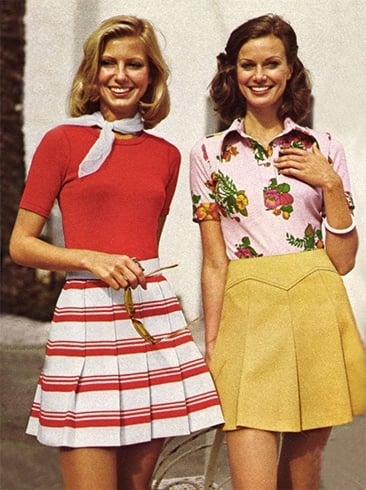 4. Oneise bell bottoms in floral touches with chunky kamarbandhs or belly waist trinklets around the waist could be one of the 70's fashion icons styles on the lines of Agneetha or Zeenat Aman that you could emulate.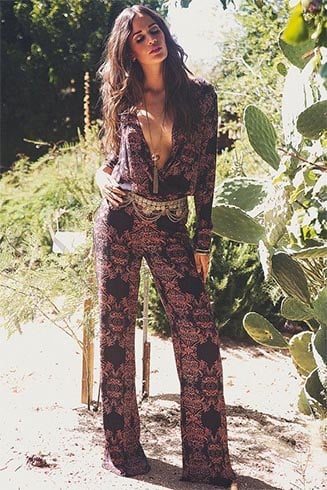 5. Tunic skirts and bell bottoms with bobby knotted tops were signature styles of the lovely flower power seventies, and with the 70's disco fashion scene being not so loud yet very seductive, you could make heads turn in the darkest shadiest places wearing such looks!
[Also Read: Stylish Tips On What To Wear With Floral Shorts]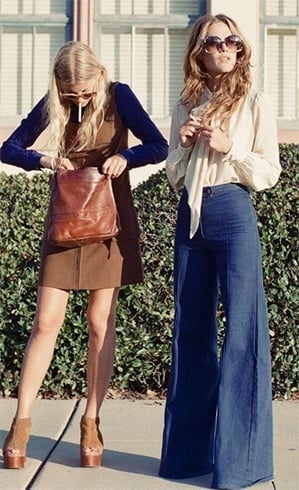 6. Desi and batik printed or bandhini hipsters with spaghetti tops or sleeveless cholis bring back memories of the 70s, when women were confident of their curves and didn't have to think twice about flaunting them as well.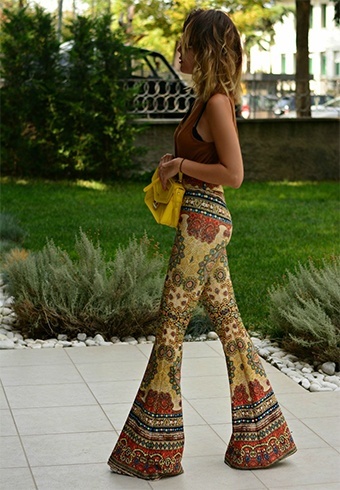 7. Quite bohemian and chic, you could wear psychedelic printed 70's hippie fashion for the party tonight, and boots in the same shade to complete the look with. If you are going all out on the 70s saga, wearing your hair loose with loud blusher for the cheeks and dark kohl rimmed eyes would enhance the affair.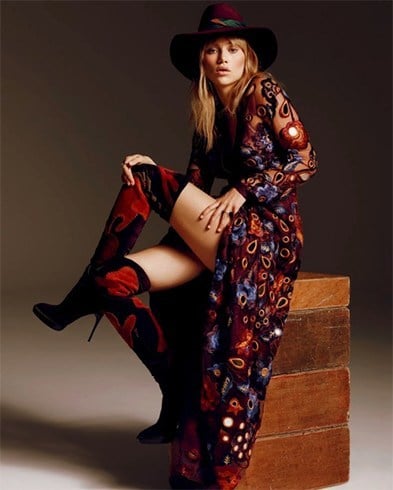 8. Button front skirts and striped shirts for the Friday dressing with ankle length boots or heels for the feet would be a nice way to bring back a little of the seventies at the work place, what say?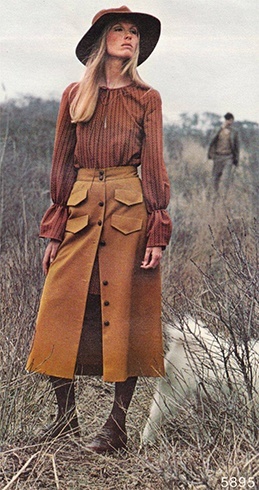 9. We aren't expecting a car wash service, but watching those hot pants in cotton and rayon as worn by the girls back in the 70s, gives us an idea for pool parties. Should you not be comfortable wearing a bikini, you could opt for this look with heels for the feet!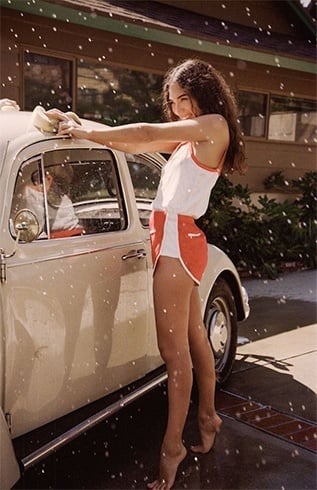 10. Wondering what to pair your embellished cholis and tops with? Try the seventies look pairing them up with denims and bell bottoms, afro hair and minimal makeup. Heels are a must for the feet to flaunt your sassy style in!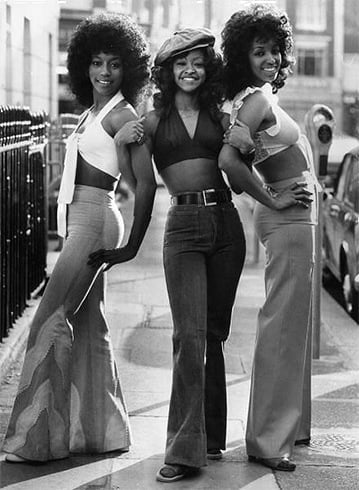 Do write in and let us know how you liked this post on the 70's fashion for teenage girls and women, but remember, when styling up, you need to have the right hair do, the attitude and the 70's fashion accessories as well!
Images Source: pinterest.com