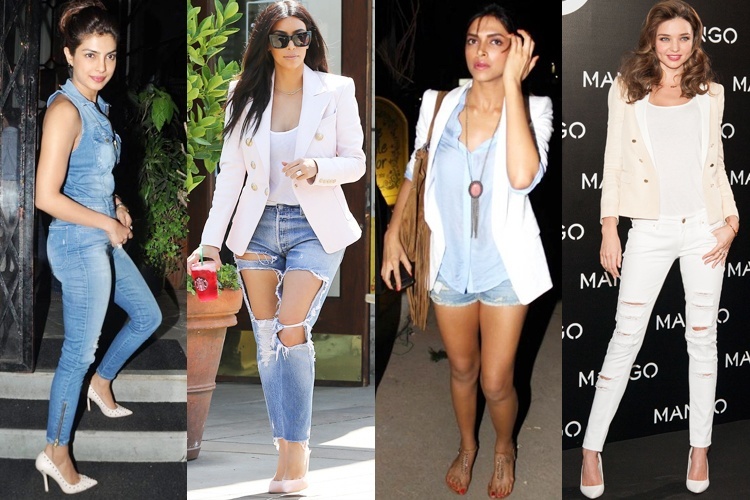 Denims have been around forever and there have been so many trends and styles that have developed with them as the focus point. And just when you thought that there's nothing more that can be done with denim, our celebrities here will prove you wrong. Check out the celebrity denim style, how the celebs opt to wear their denims. Let them show you all the crazy, fun and super trendy ways in which you can style your denims.
[Also Read: Denim on Denim – A Cool Style Among Celebrities]
1. Anne Hathaway
The jury's still out on whether this look is yay or nay, but looks like Anne Hathaway loves the denim-on-denim look for sure. She paired a denim shirt with darker jeans and completed her look with kickass ankle boots.
2. Deepika Padukone
We love it when Deepika Padukone goes casual. She proves that she can look like a million bucks not only in fancy dresses but also in casual clothing. Here, she pairs her denim shorts with a pale blue shirt and tops it off with a white blazer. Both the shorts and the blazer end at the same height, which is what makes this look über casual yet trendy.
3. Rihanna
Rihanna teamed up with the clothing brand River Island and launched her line of clothing. And what else would she wear to the launch of her new line but a piece from her collection? The jeans gave an illusion that she was wearing two jeans, one on top of the other. This look is definitely not for everyone, but then again Rihanna is known for her whacky fashion sense. We have to give it to her, she is totally rocking the look.
4. Anushka Sharma
Anushka knows how to go casual. Check out her look here; she pairs a super relaxed fit jeans with a bright pink shirt and completes the look with a pair of comfortable ballerina flats. Now that's how you rock a pair of jeans.
[Also Read: Why We Love And Adore Anushka Sharma]
5. Gwyneth Paltrow
A striped top with blue jeans is a classic combination and Gywneth Paltrow knows it. Here she is looking casual and chic.
6. Sonam Kapoor
If you've been wondering whether Sonam Kapoor ever goes casual, then here is prove that she does. The fashionista toned it down and looked casual in a pair of dark skinny fit jeans paired with a plain white spaghetti top and black boots. She wore a bohemian-style shrug on top to add interest to her outfit and to keep her look from being too plain.
7. Emma Stone
Emma Stone sure knows how to look stylish in travel wear. She was spotted at the airport wearing dark jeans, sneakers, a basic white top and a long trench coat on top. We love, love, love this look!
8. Shradda Kapoor
Shradda Kapoor looks cute as a button in this look. The denim shirt goes well with her white shorts and the strappy sandals keep the look girly and fun. Thumbs up!
9. Kim Kardashian
Kim goes all out with the ripped jeans trend. Her jeans are not just slightly ripped, but rather have entire pats cut out. A very risqué look but as we all know, Kim likes to push the boundaries when it comes to fashion and style.
[Also Read: Does Kim Kardashian Only Own A Handful of Outfits?]
10. Malaika Arora Khan
Malaika has a rocking figure and usually likes to show it off in figure hugging clothes. But here she goes for a super casual look with worn out jeans rolled up and a boxy plain black top. The entire outfit is saved from looking boring with the addition of those bright yellow shoes.
[sc:mediad]
11. Keira Knightley
Keira Knightley shows us how it's done. We love this look on her! Loose jeans, a crop top and oxford shoes are just what you need to create a chic look that is also super comfortable.
12. Miranda Kerr
We are trying to stop drooling over Miranda Kerr's outfit but we just cannot. From the ripped white jeans to those sexy white heels to the pastel blazer we love everything about it. Mind. Blown.
13. Dakota Fanning
Dakota Fanning was caught in vacation mode. The actress wore a cute off-shoulder denim dress with a straw hat and looked totally adorable.
14. Priyanka Chopra
Priyanka Chopra keeps it simple in this denim jumpsuit from Guess. The jumpsuit fits her perfectly, outlining her figure and showing it off to its best advantage.
15. Taylor Swift
Taylor Swift looked so trendy in black denim overalls and a white crop top. The outfit showed off her toned waist and we love the finishing touch – black ankle boots.