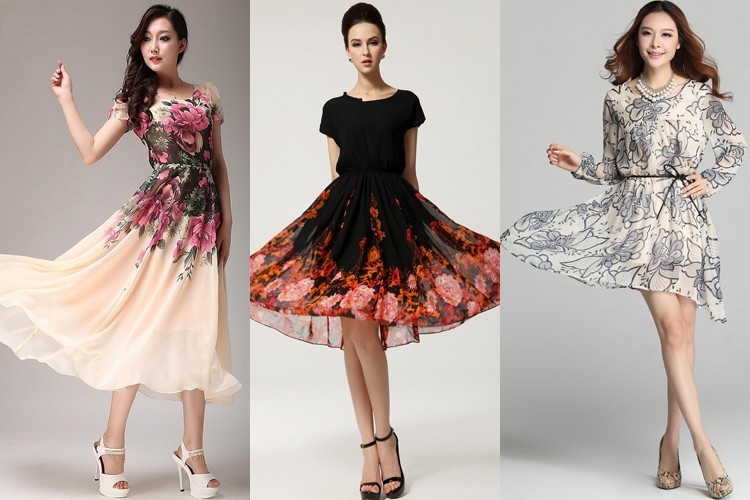 Fashion from the 1950s was all about looking every bit classy, which is why with the beehive hair and the winged liners, PYTs back then swore to the core wearing beautiful printed chiffon dresses to look the part. At work or at play, college goers to the working woman back then, every beautiful damsel down the road was dressed chic and tidy. Chiffon as a fabric can be played with in hues and patterns, styles an designs unmatched, which is why in the 2000s we've seen celebrities dolling up in the same. Here are ten very pretty chiffon dress designs from the 50s that you should try at least once. Take a look and get inspired.
[Also Read: Designer Dresses Vs Nature]
Perfect vintage ensemble for a girls night out
Planning to wear something unique with those heels and party all night with the gang of girls, think of the prettiest vintage 1950s White Chiffon Cocktail Dress that brings back the cocktail saga nights and the tiki culture of the 1950s
A little blue for Friday office parties
Says who you cannot doll up like the working women of the 1950s in a cute White Chiffon Bird Print Cocktail Dress? Go right ahead and wear this beautiful blue number- your boss wouldn't mind it too!
An ivory chiffon dress for the date night
Printed chiffon dresses never fail to impress. We bet, he would be floored. With orange being the new black and a subtle touch of ivory bestowed, the moonlit night saga with him and you may just turn spicier than what was expected.
[Also Read: Low Cut Dresses To Up the Hotness Meter This Summer]
Beat the MONDAY BLUES at work
Bring in a little more colour and vibrancy to beat the MONDAY BLUES with a blue chiffon vintage 1950s dress. The cute floral prints sure steal the heart and we heart-heart-heart this dress much!
Pink chiffon daisy dress for the spinsters party
While the other girls are busy dolling up in new-age trends, you should think a little different and outstanding. Try the pinkish-peach chiffon printed dress in daisy touches for the evening, and be the reason why other girls in the group burn green with jealousy and envy!
[Also Read: Modern African Print Dresses]
Floral patterns for a cocktail event
If you've been wondering what to wear this time, and if the climes are too hot for indian ethnic, go chic with a vintage touch in the floral chiffon dress.
An organza touch for the bridesmaids
Bridesmaids can wear it short too, and an organza printed chiffon dress would match the theme and décor as well. Bring on the glam look while your bestie takes her vows, and stun the people around!
[Also Read: Princess Ball Gown Dresses That Took Our Breath Away]
Lady in red at the prom
Be a little different from the other girls, because boys dig partners who know how to be classy. This is why the red floral printed dress with chiffon fabric and sheer would be a safe bet and an eye-catching number to flaunt your beauty in!
[sc:mediad]
A vintage engagement
The theme is set and its all about being vintage and glam at the engagement. Should you not opt for indian ethnic wear, stun your in-laws the right way and with a positive impression to make in a chic vintage chiffon satin dress!
For the wedding reception
If white and red be the colours of your wedding, at the reception you could opt for a vintage chiffon dress with red roses. All eyes would be on you, and for sure you would stun the many onlookers too!
And there are many more from where we found these beautiful chiffon numbers for you to choose from. Have fun darlings and go a little vintage this festival season!